Easy Mushroom Appetizer With Cream Cheese And Sausage
This Easy Mushroom Appetizer With Cream Cheese And Sausage is a must have for any party. You make it ahead and heat it up for about 30 minutes depending on the size of the mushrooms you decide to purchase. You fry the sausage ahead of time, drain it and add one eight oz cream cheese. Easy Appetizer! You scoop the sausage and cream cheese mixture in the washed uncooked mushrooms after removing the stems. You can chop the stems and cook them with the sausage, if you desire, before adding the cream cheese. It makes the mixture go a little further. This recipe comes from my sister-in-law, Linda. She has made these for probably 40 years! Love these!
You can eat these with a fork or eat them as a finger food. I could only get large mushrooms the day I decided to make these, so I only made 15 large mushrooms filled with the cream cheese sausage filling mixture. My favorite sausage is Jimmy Dean Maple uncooked sausage in a tube. Fabulous! If you can get the smaller sized mushrooms you should be able to fill about 24-30 mushrooms. Yummy! Trust me, you will not have any of these appetizers leftover……enjoy!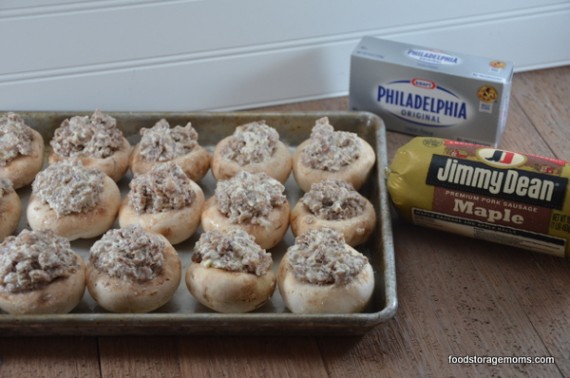 Easy Mushroom Appetizer
Easy Mushroom Appetizer
Ingredients
15

large mushrooms or 24-30 smaller mushrooms-washed and dried-remove the stems

1-8-

ounce

cream cheese softened

1-16-

ounce

package of Jimmy Dean Maple sausage

or your favorite flavor

Chop the stems if desired to add to the cooking sausage

green onions-chopped fine

optional I never use these
Instructions
Preheat the oven to 350 degrees.

Cook and crumble the sausage and drain the grease if any. Stir in the softened cream cheese.

Scoop the mixture into each mushroom. Bake for about 15-30 minutes depending on the size of the mushrooms.

Serve hot.
Are you like me and hang out around the appetizer or finger food table? I love appetizers! Enjoy!