20 Stunning Christmas Layer Cakes
The holidays are that special time of year where it's perfectly acceptable to create works of art with desserts. These 20 stunning Christmas layer cakes are no exception.
These bakers have taken all your holiday favorites, such as peppermint, eggnog, gingerbread, pistachios, cranberries, apples, pecans, and even S'mores, and turned them into edible masterpieces.
These impressive layer cakes may take a bit more time to create and decorate, but they're worth the extra time and effort to make the holidays merry and bright!
Your friends and family will appreciate the outrageously delicious and insanely gorgeous cake(s) that you make. Which one of these beauties will you make first?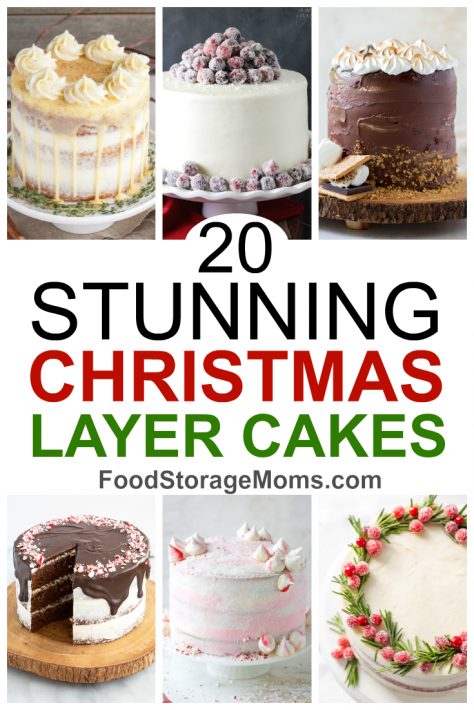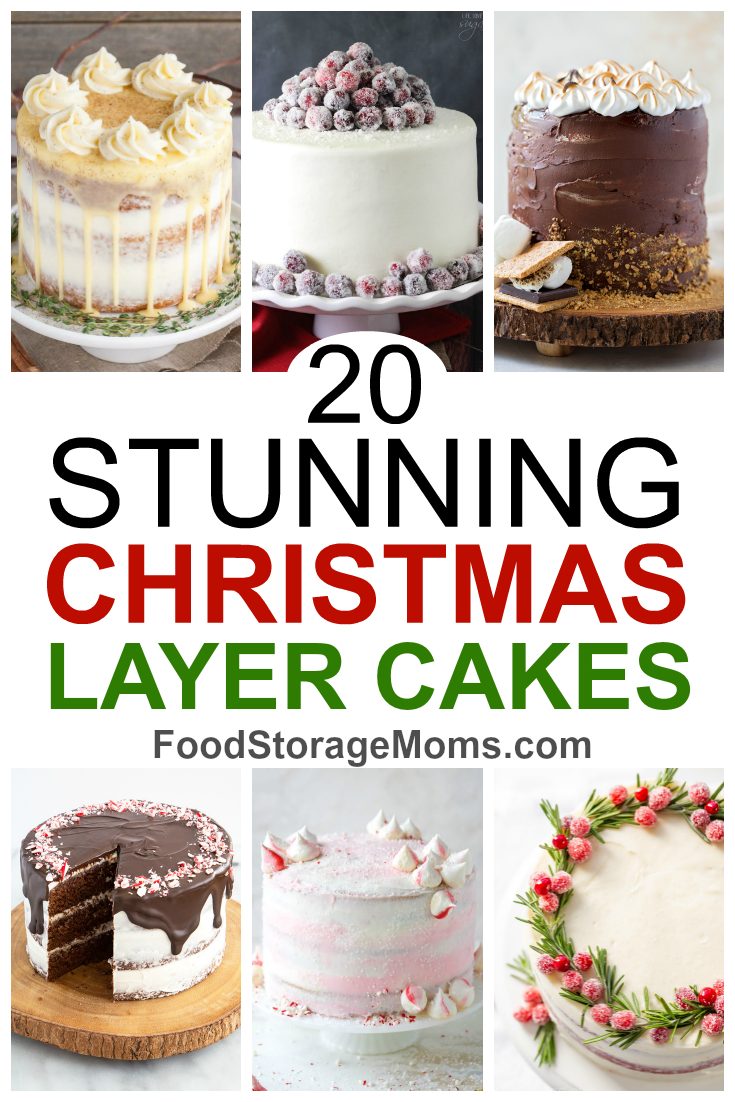 1. Candy Cane Crunch Cake
Candy Cane Crunch Cake by A Beautiful Plate
Crushed candy canes adorn this 3-layer chocolate mint cake. A peppermint Swiss meringue buttercream icing separates the layers and covers the remaining cake.
For a stunning finish, a dark chocolate peppermint glaze drips down the sides of the cake, while crushed candy canes add to the delightful decoration. Beautiful!
2. Salted Caramel Apple Cake
Salted Caramel Apple Cake by Brown Eyed Baker
Dense, moist, and full of applesauce, this wonderful cake is 3 layers deep with a cinnamon and cloves flavor profile. Buttercream frosting gets topped with a salted caramel sauce that's further garnished with chopped peanuts.
This heavenly cake will leave your friends and family in awe of your baking talents!
3. Pecan Pie Layer Cake
Pecan Pie Layer Cake by Life Love And Sugar
This dessert proves that pecans belong in a cake just as much as they do in a pie! The brown sugar cinnamon cake layers are separated with a homemade pecan pie filling.
The entire cake gets a cinnamon frosting with the remaining pecan pie filling adorning the very top of the cake. Spectacularly delicious!
4. Caramel Gingerbread Cake
Caramel Gingerbread Cake by Liv For Cake
This gingerbread cake is over-the-top gorgeous, as well as delectable. From its caramel buttercream icing to its gingerbread cake layers, it also boasts a gingerbread streusel and homemade caramel to further make this one showstopper of a holiday cake!
5. Pomegranate Christmas Cake
Pomegranate Christmas Cake Recipe by Natasha's Kitchen
Let this beautiful pomegranate cake grace your Christmas dessert table this year. The white layered cake is frosted with a pomegranate-infused icing between the layers, while the entire cake is encased in a white cream cheese frosting.
A ruby red homemade pomegranate topping sits on top of the cake, making it a colorful centerpiece among your desserts.
6. Pistachio Layer Cake
Pistachio Layer Cake by Life Made Simple Bakes
Pistachio lovers will go nuts over this 3-layer masterpiece of a cake. Ground pistachios are folded into the almond-infused cake batter, and are also used to decorate the top of the iced cake. The mascarpone frosting is a rich finish to this marvelous cake.
7. S'mores Layer Cake
S'mores Layer Cake by Life Made Simple Bakes
Camping's favorite dessert gets up-leveled into a 3-layer cake that's awesome and impressive! From its graham cracker base to its fudge frosting topped with homemade meringue, this cake will be an instant hit with adults, as well as kids.
8. Pink Peppermint Layer Cake
Pink Peppermint Layer Cake by How Sweet Eats
Pastel pink and white hues encase this sweet vanilla layer cake with peppermint cream cheese frosting. Peppermint swirl meringues adorn the frosting and add a whimsical touch. It's a beautiful work of art, perfect for the holidays!
9. Ferrero Rocher Cake
Ferrero Rocher Cake by Let The Baking Begin
If you love Ferrero Rocher candy, you'll love this cake. Hazelnut sponge cake layers make up this spectacular 4-layer cake, that takes it to another level with Nutella buttercream between each layer.
There are also wafer sandwiches in there for some crunch! Chopped hazelnuts and crushed wafers are pressed into the frosting on the sides of the cake. Gorgeous!
10. Apple Cider Layer Cake
Apple Cider Layer Cake by The Little Epicurean
A 3-layer cake that's filled with cooked apples? Yes, please! Add to that an apple cider buttercream frosting. Would it be too much to serve it with a cup of apple cider?
11. Red Velvet Cake
Red Velvet Cake by Saving Dessert
This cake says Christmas all the way from its sugared cranberries and greenery on top to the luscious red velvet cake. The cake has hints of cocoa and a moist, light crumb, and is frosted with a cream cheese icing. Delicious!
12. Spiced Hot Chocolate Layer Cake
Spiced Hot Chocolate Layer Cake by The Kitchen McCabe
Who doesn't love a yummy cup of hot chocolate? Now you can have that same delicious flavor, with a little surprise spice added, in the form of this beautiful layered cake that tastes just like hot chocolate!
It's chocolate through and through with a decadent ganache between the layers. Divine!
13. Spiked Eggnog Cake
Spiked Eggnog Cake by Liv For Cake
Eggnog lovers will flip over this cake that tastes just like their favorite holiday beverage. A white chocolate drippy ganache covers this 3-layer eggnog flavored cake.
Full of cinnamon, nutmeg, and eggnog, you can add some rum (optional) for a little spike. If not, just use vanilla extract. Lovely!
14. Cranberry-Orange-Walnut Cake
Cranberry, Orange, and Walnut Layer Cake by Super Golden Bakes
Walnuts, cranberries, and orange zest flavor this 3-layer holiday cake that is iced with a mascarpone frosting. Sugared cranberries decorate the top, making it a festive Christmas dessert for holiday gatherings.
15. Gingerbread Layer Cake
Gingerbread Cake by Tornadough Alli
This 2-layer rich gingerbread cake gets a cinnamon cream cheese frosting topped with a decadent caramel drizzle.
Pipe on a little more cream cheese frosting in the middle and garnish with some bright red cranberries for a stunning visual. A true holiday treat!
16. Chocolate Peppermint Cake
Chocolate Peppermint Cake by The Little Epicurean
Chocolate and peppermint are best friends as represented by this beautiful 3-layer chocolate dessert. A creamy peppermint-flavored buttercream frosting covers the cake.
Add a little melted chocolate to the top for a drippy look down the sides. Crushed peppermint adorns the top for a festive look. Sweet!
17. Tiramisu Layer Cake
Tiramisu Cake by Baking A Moment
If you love this classic Italian dessert in its original form, you'll adore Tiramisu in layer cake form, too! Fluffy sponge cake layers get soaked with a rich coffee syrup, while the filling is made from mascarpone cheese and whipped cream.
Once assembled, the cake is frosted with whipped cream and sprinkled with cocoa powder for a pretty finish. Delizioso!
18. Italian Cream Cake
Italian Cream Cake by Melissa's Southern Style
The pecan and coconut batter makes this Italian cream a rich and heavenly cake that's only surpassed by the sensational cream cheese and butter frosting that's bespeckled with toasted coconut and pecan pieces. Outrageously decadent!
19. Cranberry White Chocolate Cake
Sparkling Cranberry White Chocolate Cake by Life Love And Sugar
Nothing says Christmas better than a red and white cake decked out with sugared cranberries! This beauty boasts 3 layers of vanilla-flavored white cake with fresh cranberries that have been folded into the batter.
The icing is a white chocolate ganache that's topped with a sparkling pile of sugared cranberries. Truly a glorious cake!
20. Christmas Chocolate Toffee Cake
Christmas Chocolate Toffee Cake by OMG Chocolate Desserts
Chocolate and toffee are two awesome combinations and that you'll find in this decadent Christmas cake. The chocolate cake layers are separated with a silky ganache filling that includes toffee bits.
The entire cake is surrounded with a caramel whipped cream, and topped with white chocolate curls. Oh, my!
Final Word
It doesn't matter what day of the year it is, I love to make cakes. This is why I've put together this list of 20 stunning Christmas layer cakes. I love to make 6-inch, 8-inch, and 9-inch layer cakes. Life is so good, right?
There is something so awesome when you decorate a cake with your kids or grandkids, right? It's all about memories, and I love it! Keep prepping, we must keep at it. May God bless this world, Linda