20 Top Chicken Dinner Recipes
Ready to update your go-to chicken dinner? I've selected 20 chicken dinner recipes to make your weeknights a little easier and a lot more delicious. From wings to rotisserie, from egg rolls to enchiladas, chicken dinners are always a crowd-pleaser. Putting together a savory and nutritious meal doesn't need to be complicated, and chicken dinners are a great place to start.
From skillet dinners to oven bakes, from pasta to pot pies, and from slow cookers to instant pots, you're sure to find a new family favorite from this diverse and mouth-watering selection of 20 top chicken dinners!
20 Chicken Dinner Recipes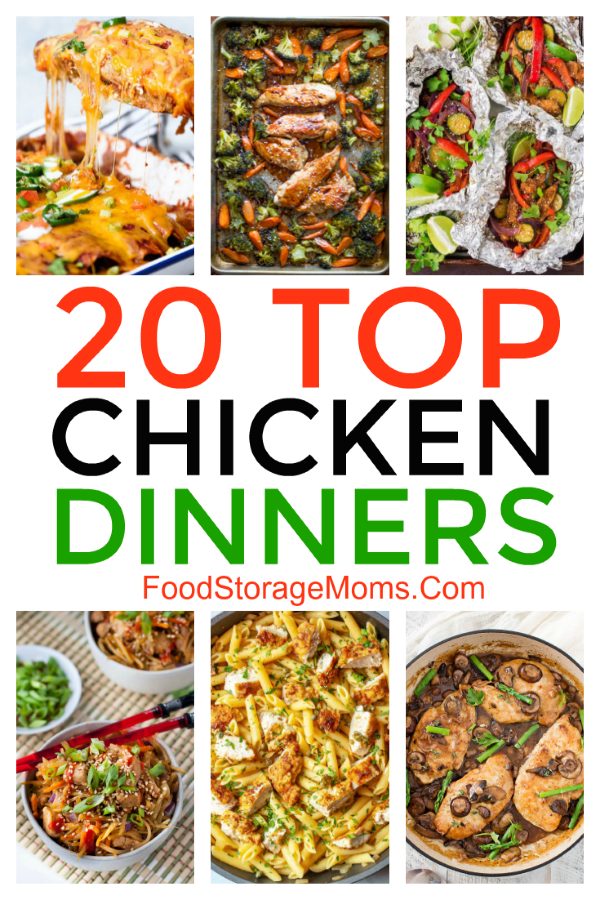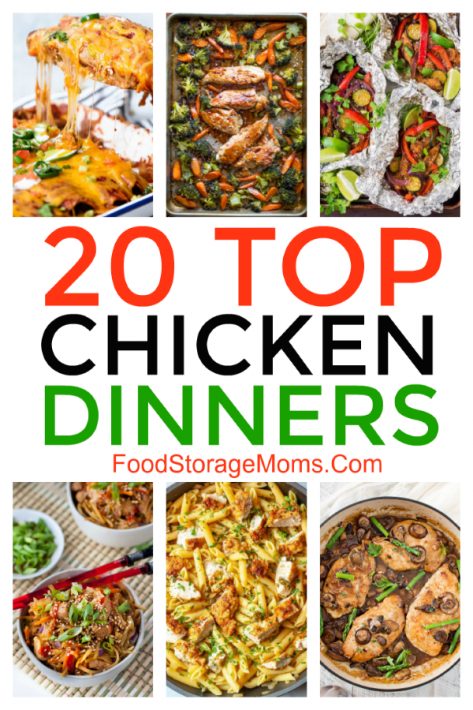 1. Bacon-Wrapped Stuffed Chicken
Bacon-Wrapped Cream Cheese Stuffed Chicken by Homemade Hooplah
You only need 4 ingredients to make this mouth-watering chicken dinner. Stuff the chicken, wrap it in bacon-y goodness, bake and enjoy!
2. Skillet Chicken Pot Pie
Skillet Chicken Pot Pie by The Cooking Jar
Make this comfort food favorite right in your skillet and then bake until its bubbly and golden brown!
3. Chicken Piccata Pasta
Chicken Piccata Pasta by Simply Recipes
Combine chicken piccata and pasta for an easy and flavorful meal that everyone in the family will love. Kid-approved.
4. Dutch Oven Balsamic Chicken
Dutch Oven Balsamic Chicken And Vegetables by Zesty Olive
What could be easier? Just assemble all the ingredients on a sheet pan and bake for 20 minutes. Boom – dinner is ready!
5. Garlic Herb Chicken Sheet Pan
Garlic Herb Chicken & Sweet Potato Sheet Pan Meal by Cafe Delites
Let your Dutch oven do the work of cooking this delicious meal which is practically hands-off, except for adding the ingredients to the pot.
6. Instant Pot Chicken
Instant Pot Chicken With Mushroom Gravy by Savory Tooth
Here's a quick weeknight chicken dinner made in the instant pot. Savory gravy dresses the chicken. Serve with a side of rice or mashed potatoes to help mop up that gravy!
7. Mexican Sweet Potato Chicken Soup
Mexican Sweet Potato Chicken Soup by Eating Bird Food
Here's a healthy chicken dinner option in the form of soup made with sweet potatoes and veggies, and seasoned with dried guajillo Mexican peppers.
8. One Pan Sesame Chicken
One Pan Sesame Chicken by How Sweet Eats
Make this skillet of deliciousness with chicken thighs and healthy veggies. Top with soy sauce, rice vinegar, and sesame seeds, among other yummy seasonings, and enjoy.
9. Grilled Chicken Fajitas in Foil
Grilled Chicken Fajitas In Foil by Well Plated
For easy cleanup, consider this chicken fajitas dinner cooked in foil packs. Cook them on the grill or in your oven, serve up, and enjoy the mess-free cleanup, too!
10. Instant Pot Chicken Lentil Soup
Instant Pot Chicken Lentil Soup by Happy Foods Tube
This Instant Pot chicken soup requires just a few steps, but can be cooked and ready to eat in under 30 minutes. Be sure and make enough for leftovers!
11. Chicken Bacon Ranch Casserole
Chicken Bacon Ranch Casserole by Wholesome Yum
Here's a low-carb, easy chicken casserole with just 7 ingredients, a few minutes of prep time, and a cheesy delicious meal to eat at the end!
12. Honey Barbecue Grilled Chicken
Honey Barbecue Grilled Chicken by Averie Cooks
If you're looking for a chicken dinner that's ready in about 10 minutes, try this zesty barbecue grilled chicken recipe. For full-on flavor, marinate overnight, but you can skip that if you're in a hurry because it will still taste amazing!
13. Chicken Artichoke Olive Skillet
Chicken Artichoke Olive Skillet by Running To The Kitchen
If you love the Mediterranean flavors and enjoy olives, then try this chicken and artichoke skillet recipe for a flavor-packed meal.
14. Lemon Chicken Sheet Pan Gnocchi
Lemon Chicken Sheet Pan Gnocchi By Sweet Peas And Saffron
If easy cleanup is a factor for you, try this simple sheet pan chicken meal. You can even prep the veggies days ahead so that all you do is place the yumminess on the sheet pan and then bake.
15. Sesame Chicken Egg Roll In A Bowl
Sesame Chicken Egg Roll In A Bowl by Peace Love And Low Carb
Forget the pork and try this delicious chicken egg roll in a bowl recipe with broccoli slaw. It has all your classic Asian inspired flavors and is a fun and easy weeknight meal.
16. Easy Chicken Enchiladas
Easy Chicken Enchiladas by Skinny Taste
Use shredded rotisserie chicken if you're in a hurry, or make your own for this easy enchilada recipe, guaranteed to be a family favorite.
17. Slow Cooker Buffalo Chicken
Healthy Slow Cooker Buffalo Chicken by My Everyday Table
Here are two ways to make this Buffalo chicken – slow cooker or instant pot. Either way, make enough for leftovers so you can repurpose it for another meal. Win-win!
18. Korean Chicken Sheet Pan Recipe
Sheet Pan Korean Chicken And Vegetables by Dinner Then Dessert
Serve up some garlicky chicken and veggies with this easy sheet pan Korean dinner. Clean up is a breeze, too!
19. Honey Sesame Chicken Wing
Sticky Honey Sesame Chicken Wings by Cafe Delites
Marinate these wings for the ultimate flavor-punch and then bake. Serve with steamed veggies and/or steamed rice. Kids and adults love them!
20. Easy Chicken Marsala
Easy Chicken Marsala by The Chunky Chef
Here's a delicious one-pot chicken dinner that's pure comfort food. Serve over pasta, mashed potatoes, or rice for a hearty and filling meal.
Final Word
Don't you love to see some new chicken dinner recipes? I sure do! It's all about teaching the world to cook from scratch, right? These are easy and simple recipes we can all make and enjoy. Thanks for being prepared for the unexpected. May God bless this world, Linda