20 Incredibly Cheesy Recipes
Cheese lovers will swoon over this collection of 20 incredibly cheesy recipes. Whether you're looking for an appetizer, snack, breakfast, lunch, or dinner idea, these recipes will inspire you to try a new way to enjoy your favorite item – cheese!
From classic cheddar cheese to a fancy cheese like brie, you'll find a variety of cheeses in this collection of recipes designed to satisfy your craving for a melty and gooey cheese fix.
Upgrade your mac and cheese recipe or make a savory pull-apart cheese-stuffed bread. How about fried cheese sticks or dippable fondue? Or try an elegant grilled cheese or a comforting cheesy chowder.
Indulge your love for cheese by trying these recipes that are sure to be a hit with your family and friends.
Kitchen Tools You May Need:
Some Of My Other Favorite Recipes:
20 Incredibly Cheesy Recipes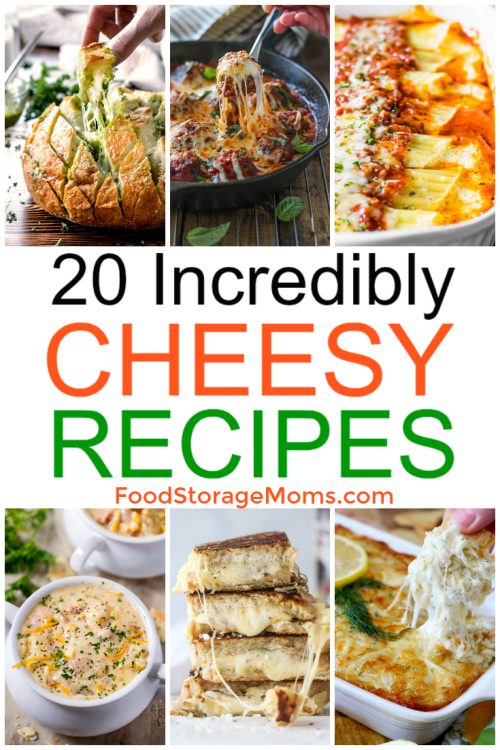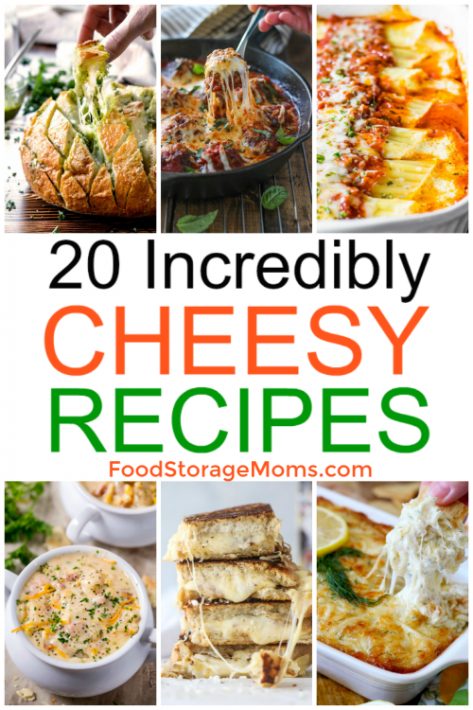 Easy Cheesy Manicotti by Homemade Hooplah
No one, not two, but three cheeses fill these manicotti shells for a very cheesy Italian pasta meal. Ricotta, mozzarella, and parmesan are seasoned and stuffed into the shells before being covered with a rich tomato sauce.
Garnish with mozzarella cheese for the last 10 minutes of baking for the ultimate cheesy meal.
Cheesy Meatball Skillet by The Cooking Jar
Here are three awesome reasons to make cheesy meatballs: meatballs and spaghetti, meatball submarine sandwiches, and meatballs as appetizers.
Add a little Parmesan cheese to your meatball mixture and make these in a skillet smothered with marinara sauce, and you guessed it, more cheese! Try a mix of Parmesan and mozzarella for good measure. So good!
Cheesy Crack Chicken Casserole by Sweet And Savory Meals
Chicken casserole gets up-leveled with the addition of pasta, bacon, veggies, cream cheese, and cheddar cheese for an outrageously delicious meal. You won't be able to stop eating this – it's addicting!
Cheesy Pull-Apart Bread by Carlsbad Cravings
You're just 4 ingredients away from the best savory bread you've ever eaten. Take any dense bread, like sourdough, cross-hatch slice it while leaving the bottom intact, fill it with melted butter, pesto, and then stuff it with cheese and bake. Totally swoon-worthy!
French Onion Grilled Cheese Sandwich by How Sweet Eats
Grilled cheese has never tasted this amazing. Caramelize sliced sweet onion in butter with dried thyme seasoning. Spread sliced sourdough bread with butter and thyme and add gruyere cheese and then the caramelized onions.
Grill the sandwich until golden and the cheese has melted. Crazy good!
Mushroom and Cheese Omelette by Recipe Tin Eats
If you love cheddar cheese (and who doesn't?), make this easy omelette (or omelet) that's filled with mushrooms, garlic, and of course, cheddar cheese. Try a sharp cheddar for a stronger flavor.
Make sure and grate your cheese so that it melts easily when you fold the omelet over. Make this for breakfast, lunch, or dinner!
Hot And Cheesy Crab Dip by Lemon Blossoms
You can't have a party without an appetizer dip, and you really need at least one dip that drips with cheesy goodness. Here's a hot crab dip that meets all those requirements and more.
It's simple to put together with lump crab meat, garlic, dill, mayo, and grated Swiss cheese. Mix it, bake it, and serve it to rave reviews!
Four Cheese Pizza by House Of Nash Eats
Pizza is not pizza without cheese, so in celebration of that fact, make this four cheese pizza soon! And if you have to add other non-cheese ingredients, that's okay, too.
Just make sure you include these four kinds of cheese: mozzarella, fontina, crumbled goat cheese, and pecorino romano. You'll adore the flavor combo.
Baked Scalloped Potatoes With Cheese by Zesty Olive
Scalloped potatoes are a comfort food favorite, and this cheesy recipe doesn't disappoint. Grated cheddar cheese and parmigiano reggiano cheese top the thinly sliced potatoes along with heavy cream, onions, and seasoning.
Bake until potatoes are tender and the cheese is bubbly. What could be better than potatoes and melted cheese?
Fried Cheese Sticks by Sweet And Savory Meals
If you've never tried to fry cheese before, then use this recipe! You can easily (and without much mess) fry mozzarella cheese sticks to perfection.
Just dredge them in buttermilk and seasoned breadcrumbs before frying. Serve with a marinara sauce for dipping. Delish!
Baked Macaroni And Cheese by Baking A Moment
Nothing can compare to homemade mac and cheese that's as savory as it is cheesy. Make this creamy meal on the stovetop and then bake it for a boost of flavor from the three kinds of cheese which are extra-sharp cheddar, mozzarella, and gruyere. This recipe will be one of your most requested!
Cheesy Bacon and Egg Hash by Cafe Delites
Bacon and eggs get a cheesy upgrade with this quick skillet meal. Golden potatoes, crunchy bacon, a little onion, fried eggs, and lots of melted mozzarella cheese make this meal a flavor-packed delight that works well for any meal of the day.
One-Pot Cheesy Chicken Broccoli Rice Casserole by Jo Cooks
If you've only got one skillet and 30 minutes, make this cheesy chicken casserole. Full of deliciousness from chicken, rice, broccoli, and cheddar cheese, your family will love this comfort meal.
The rice cooks right in the skillet thanks to the chicken broth. Just add the broccoli and cheese halfway through for a yummy finish. Easy and quick!
Cheese Bombs With Garlic Butter by Dinner At The Zoo
If you love garlic bread then you must try these bites of cheesy heaven that are super easy to make. Grab a can of refrigerated biscuits, add a chunk of cheddar cheese in the middle of each biscuit round.
Then wrap the biscuit around the cheese, brush with melted garlic butter, add a sprinkle of Parmesan cheese, and bake. Little bites of cheesy goodness!
Classic Fondue Recipe by Mel's Kitchen Cafe
Cheese lovers will swoon over this delectable fondue recipe. Using gruyere and swiss cheese, it get seasoned with garlic for an irresistible dipping session with your favorite breads and veggies.
This is a non-alcoholic version so the kids can join in on the cheesy fun, too!
Cheesy Cauliflower Gratin by A Spicy Perspective
If you love mac and cheese but are trying for a low-carb option, make this tasty cauliflower gratin. Take roasted cauliflower florets, add in a cheesy and creamy sauce, and top with panko bread crumbs.
Bake until this cheesy perfection is lightly brown on top. Awesome!
Slow Cooker Cheesy Ham Chowder by The Chunky Chef
Ham and cheddar cheese are best friends, and here they expand their circle with the addition of corn and potatoes all in a seasoned creamy chowder that you can simmer all day in your slow cooker.
This cheesy chowder is perfect for cooler weather when you need a bowl of warming comfort.
Baked Brie With Sun-Dried Tomatoes by Taste And Tell
This appetizer will be the star of the show with its gorgeous garnish of sun-dried tomatoes atop a glorious wheel of baked brie.
You can have this assembled quickly, and it only takes about 12 minutes in the oven for it to warm up to a melty cheese extravaganza. Perfection!
Tater Tot Breakfast Casserole by Simply Recipes
This casserole combines sausage, eggs, tater tots, and cheddar cheese for a meal that works for breakfast, lunch, or dinner. Brown your sausage and pour it into a baking dish.
Sprinkle with shredded cheddar cheese, pour in the egg mixture, layer the tater tots on top and bake. Leftovers are excellent the next day, too!
Bacon Cheeseburger Pasta by Amanda's Cookin'
All your favorite flavors of a cheeseburger can be found in this pasta casserole. Ground beef and elbow macaroni get a savory kick from bacon, Worcestershire sauce, and plenty of cheddar and mozzarella cheese.
Make it right on the stovetop in one skillet and serve it up to your hungry family. It's kid-approved, so make it with confidence!
Final Word
I hope you enjoyed my post today on these 20 incredibly cheesy recipes! There is something so comforting about cooking from scratch and eating at the table with family or friends.
Please let me know if you have tried making any of these recipes. Life is so good! Please keep prepping because we must. May God bless this world, Linda