What Is The Difference Between Flu and COVID-19?
A fever, chill, cough, and body aches seem like the same symptoms for both COVID-19 and other things like the flu and a cold. So, what is the difference between flu and COVID-19?
This post is not political in nature. I believe it is important for us to make informed decisions on how we prepare based on what we know. With that being said, I am going to explain the difference between the flu, a cold, and COVID-19 for you to make the best-informed decisions for your family!
Please keep in mind, I'm not a doctor, nurse, or anyone in the medical field. I wrote this post to inform you, my friends, about the differences between a few illnesses based on some research I've performed. As always, when in doubt, call your favorite medical professional if you have any questions.
Difference Between Flu and COVID-19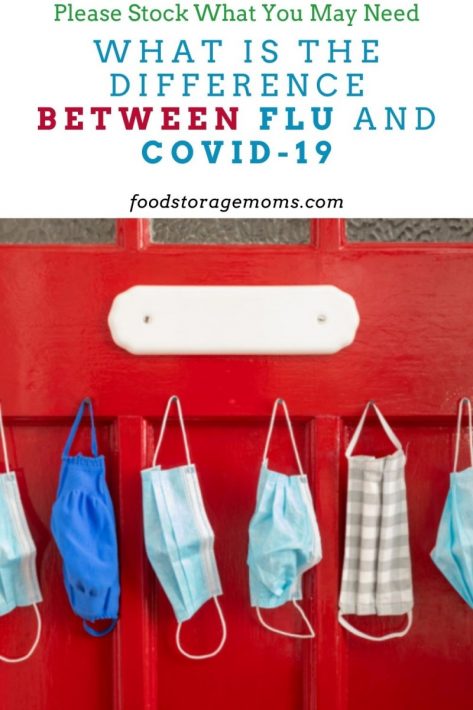 What is COVID-19 or Coronavirus?
COVID-19 is a new strain of a coronavirus. We actually have been infected over the years with coronaviruses that cause the common cold. This Covid-19 strain is new and mutated.
This new strain of coronavirus can cause a severe illness in certain groups of people. Older people, as well as those with underlying conditions, seem to be the most at risk of developing serious symptoms from COVID-19.
There is no cure or vaccine, currently, for this new strain.
The symptoms of COVID-19 include the following:
Fever/chills
Dry cough
Difficulty breathing or shortness of breath
Tiredness/exhaustion
Body aches and pains
Headaches
Sore throat
Diarrhea /abdominal issues (according to the CDC contact tracing department)
A runny nose and sinus congestion are very uncommon in this new strain.
What Is a Cold?
As you may have heard, there are 4 strains of a coronavirus that can cause the common cold. While a cold may feel miserable, the symptoms are much more mild than COVID-19 or the flu.
The symptoms of a cold include:
Runny or stuffy nose
Cough
Fatigue
Watery eyes
Sore throat
Body aches and pains
Sneezing
Headaches, sometimes
A cold lasts about 7 to 10 days. With a cold, the symptoms are not usually caused by the infection, but your body's immune system's efforts to try to get rid of it.
What is the Flu?
The flu is actually a completely different virus than COVID-19 or the coronavirus. The virus that causes the flu is called influenza. Each year, we have the influenza A and influenza B that we can get a vaccine for.
This upper respiratory infection is caused by a virus that affects your nose, throat, and lungs. It can last about 5 to 7 days.
They symptoms of the flu include:
Fever/chills
Dry cough
Fatigue
Body aches and pains
Sometimes a runny or stuffy nose
Sore throat, sometimes
Diarrhea in children
With the flu, the vaccination does help prevent it, but you can still get the flu even after you've had the flu shot. However, if you have received the flu vaccine, your symptoms are milder than if you didn't get the shot.
Difference Between Flu and Covid-19
As you can tell, COVID-19 is very similar to the flu when it comes to the typical symptoms. So, what is the major difference between flu and COVID-19? Is COVID-19 just another type of flu? Here's what you need to know:
Symptoms Appear at Different Times
With COVID-19, you can get symptoms anywhere from 2-14 days AFTER exposure. Flu symptoms usually appear 1-4 days AFTER exposure. This means that you will typically know you are sick much quicker with the flu than you may with COVID-19.
COVID-19 is More Contagious
Scientists have noticed that COVID-19 seems to be more contagious and spreads more quickly than the flu. This means that more people will get it than those getting the Flu. When more people get something, there are more people who will have severe symptoms, it's a matter of numbers as things spread.
Lung Injury and COVID Pneumonia
One of the major differences between the Flu and COVID-19 is that COVID-19 causes pneumonia in many patients with severe symptoms. Those with COVID pneumonia can become severely sick enough to require major medical treatments such as oxygen or even a ventilator.
The pneumonia that COVID-19 causes is a different kind of pneumonia. Most pneumonia causes the lungs to become inflamed and filled with fluid on one side. COVID-19 pneumonia tends to take hold in both lungs. The air sacs fill with fluid which limits the ability to take in oxygen causing shortness of breath, cough, and other symptoms.
Because COVID-19 causes this type of pneumonia that affects both lungs, it can cause lasting lung damage even after the disease has passed. It can take months for your lungs to improve. Time will tell what the long term effects are for those who contracted Covid pneumonia.
Lung injury is more frequent with COVID-19 than with the Flu.
COVID-19 is More Deadly
We may not realize it because we have seen thousands of people die of the flu every year. But, here is the breakdown of how many people die of the flu compared to COVID-19 based on current numbers:
| | | |
| --- | --- | --- |
| 2019-2020 | COVID-19 | Influenza |
| How many people got it? | 9.9 million (in USA) | 38 million (in USA) |
| How many people died? | Over 230,000 | 22,000 |
Different Complications
Another difference between the flu and COVID-19 is that we are seeing different complications caused by COVID-19. COVID-19 has caused blood clots and multisystem inflammatory syndrome in children.
Difference Between Flu and COVID-19 Chart
Instead of running to the doctor with every sniffle, you can use the chart below to help you determine if you have the flu, COVID-19, or a cold.
| | | | |
| --- | --- | --- | --- |
| Symptoms | COVID-19 | Flu | Cold |
| Fever | Often | Often | Rare |
| Fatigue | Sometimes | Sometimes | Sometimes |
| Cough | Often | Often | Mild |
| Sneezing | No | No | Often |
| Aches & Pains | Sometimes | Often | Often |
| Runny or stuffy nose | Rare | Sometimes | Often |
| Sore throat | Sometimes | Sometimes | Often |
| Diarrhea | Rare | In children | No |
| Headaches | Sometimes | Often | Rare |
| Shortness of breath | Often | Rare | Rare |
| Loss of taste and smell | Often | Rare | Rare |
How to Prepare for COVID-19 This Winter
Scientists don't know everything about this new COVID-19. What we do know is that when people get severe symptoms, it is more deadly than the flu. However, many people have mild symptoms.
The bottom line is that because we don't know a lot, or even the long term effects, scientists are doing the only things they know how to prevent the spread of any virus. We have socially distanced ourselves, wore masks, and even been on lockdown.
As the virus peaks and hospitals begin to fill up, we should be preparing for another 4 to 6-week lockdown. You will need:
Food for 4 to 6 weeks
Water for 4 to 6 weeks
Activities, games, crafts, or things to do while at home
Masks
Gloves
Hand sanitizer
Soap
Shampoo
Hygiene products
Toilet paper (it's already running out again)
In addition to being prepared for another 4-6 weeks shutdown that many of us cannot afford, I encourage you to read some of my posts to help get you through this:
Difference Between Flu and COVID-19
Final Word
There are many opinions, theories, and things going around on social media and in the news regarding the Covid-19 pandemic. The best thing we can do when preparing for any sickness or pandemic is to be prepared. Be sure to have food and water as well as over the counter medications you may need as you deal with things over an extended period.
The more prepared you are at home, the less likely you will need to go out into the chaos. If you are just starting out in your prepping journey, please read my post "Prepping for Beginners: A Guide to Get You Started." May God Bless this world, Linda
Copyright Images: Side View Of Hospital Bed AdobeStock_141077764 by denisismagilov, Red Door With Face Masks AdobeStock_377882260 by mrriley