Food Storage Containers (Buckets Are The Best!)

The best things you can store in food storage containers are shown right here today on the blog. It may seem really silly to some people that I'm showing you what we can store in buckets. I live in Utah and I think it's so much easier for the people that live here to be able to purchase food storage containers, large buckets, bags of food and #10 cans. I went to visit my daughter in another state nearby and I had to go to three stores before I could find enough white bread flour, amazing! Since I always make a large batch of bread I pictured getting one twenty-five-pound bag. I had to buy three five-pound bags because that was all that was available. I was just hoping to buy enough extra to leave some for my daughter's flour storage bucket. Mom's do that for their daughter's, right?
I had a reader ask me yesterday how I do the lettering on my food storage containers. Well, I have a daughter who used to do vinyl lettering and I was so lucky to have her make the words I needed for all my food storage buckets. I know you can buy the vinyl lettering online, or just use your computer and use the largest FONT that you like and cut them out and use packing tape to tape them on the buckets or containers.
What We Can Store In Food Storage Containers:
By now you know I color code everything, it's who I am. I was so glad yesterday that a reader used that same statement "it's who I am"! I love that girl! We were talking about lettering on buckets and containers. We both like the lettering and containers to look alike, it's who we are! Well, in this picture below the buckets are all five-gallon buckets with matching Gamma Lids. I only know one place I can buy them and it's one of my favorite stores: Pleasant Hill Grain Buckets and Pleasant Hill Grain Gamma Lids.  I've shown below how I organize some of my fuel sources. The blue buckets store charcoal briquettes (no fluid starter) because they will store indefinitely if stored in a dry airtight container. The red ones store oak lump charcoal. The black buckets are NOT BPA free and so you will not want to store any food items in them. I was thrilled to have a customer service person from Pleasant Hill Grain call me last year when I ordered these to let me know that I should not store any food items in the black 5-gallon containers because they are NOT BPA Free. How many stores would do that, right? I wash my pine cones, bake them and then store them in the black buckets. The green buckets store scrap wood I get from craft stores and My sweet husband cuts the chunks into smaller pieces so I can store them in airtight containers.
Here's the deal, if you have a small home like I do on a postage stamp lot you store stuff in buckets. If you have an apartment, you totally understand my dilemma. If you have a large yard or a lot of land you probably have bins filled with charcoal, lump coal, pine cones, and scrap wood. I would love that, but I have very little storage so I must make do with the limited space we have. I have to be prepared for the unexpected, even with my small house and yard. This is why I store stuff in buckets stacked four buckets high. These are four of my fuel choices I can store in my garage. I buy one color a year (12 buckets and Gamma lids) at a time. You can buy white 5-gallon buckets at most Walmart stores in Utah with several different colors of Gamma lids. I could not find any in the stores where one of my daughters has a home.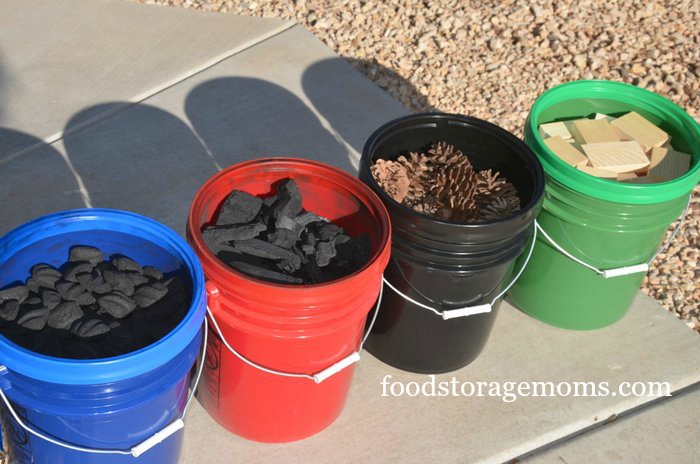 The 2-gallon buckets shown labeled below are used to store powdered sugar, brown sugar, sugar, and bread flour with 2-gallon size Gamma lids. They only come in white, but the size is great for my pantry shelves. Here again, I can only find these at Pleasant Hill Grain Two Gallon Buckets and Pleasant Hill Grain Two Gallon Gamma Lids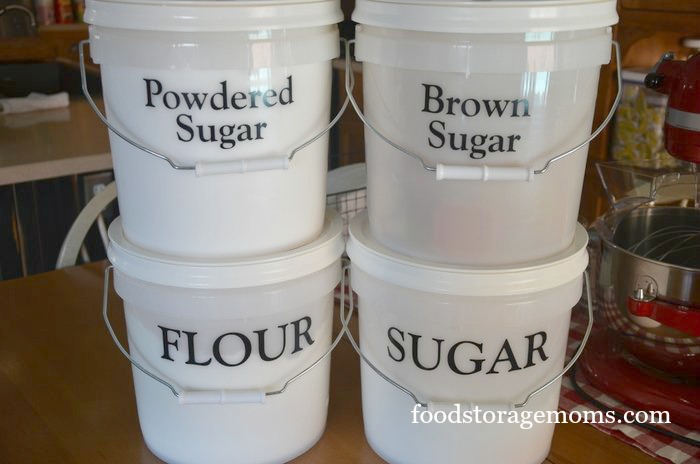 The next group shows 5-gallon buckets with Gamma lids that I use to store bread flour and sugar. These more heavy buckets find a home in the bottom of my pantry so I can refill the 2-gallon buckets as needed.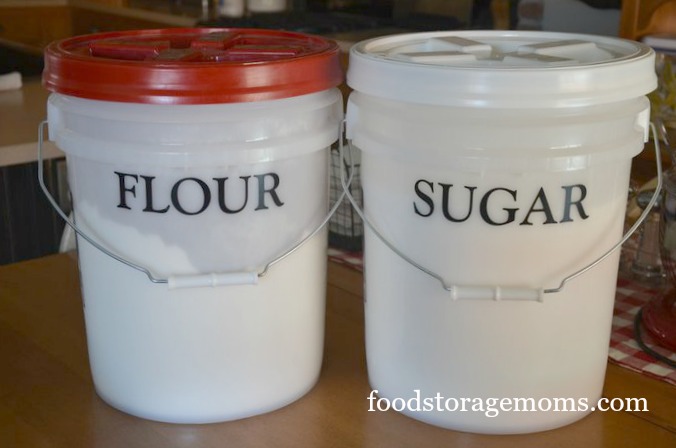 These three buckets are 4-1/4 gallon units with Gamma lids. The 5-gallon Gamma lids fit them, but I do not know where I purchased these smaller ones. I have had them for years.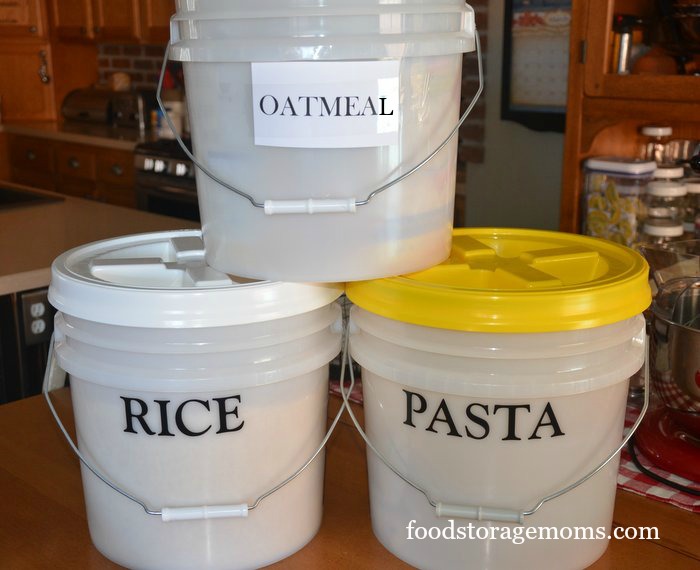 The ones below are 6-gallon buckets I get my hard white wheat in from Lehi Roller Mills. I do not like the lids they come with because you have to pry them off and hammer them back on. I buy the red Gamma lids to replace the originals as shown on the left side of the picture below. When I buy new hard white wheat I fill the clean buckets with the red Gamma lids already attached. I save the 6-gallon buckets for my mobile washing machines and portable toilets and they work great.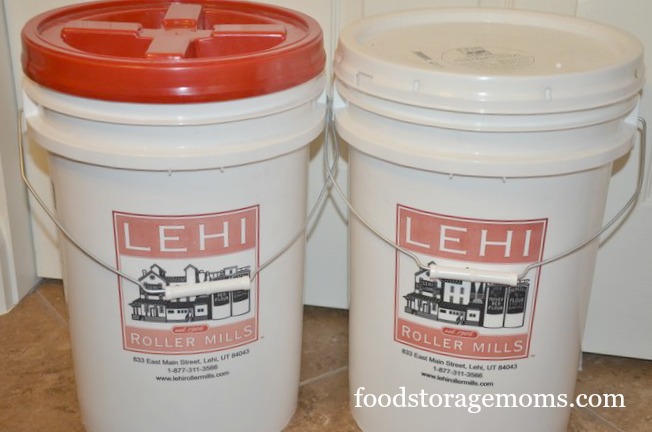 The bucket below is a 5-gallon bucket with a green Gamma lid because this is how I store my homemade laundry detergent. I never do anything small. Ask my daughters. I have enough laundry detergent for 8 years or longer, I'm sure.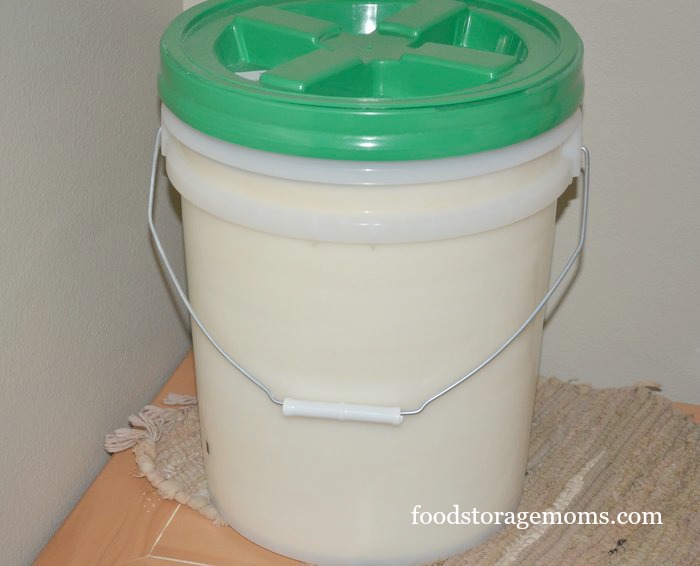 Now, these are just a few of the best things you can store in food storage containers. I never get rid of good strong buckets like these, you can always use buckets. Please be prepared for the unexpected. May God bless you and your family for being prepared.
Readers:
June: I not only stock up things in my house in case of an emergency but I also have a storm shelter I stock items in because I live in a trailer. I reuse my big Tidy Cat Litter buckets. I wash them out and air them out and I put my charcoal one.