How To Make Melt And Pour Soap
I have tons of pictures today to show you how to make melt and pour soap. My goal has been to learn how to make my own bars of soap. Now, I'm not talking about making it with lye, I wasn't interested in doing that right now.
This is one of the easiest and safest ways for me to make it. It's a cartwheel moment for me! Anytime I teach myself how to make something I've been hesitant to try, I'm super excited with the results. I then wonder why I hadn't tried making melt-and-pour soap before.
I'm for sure a picture person, I have to have lots of pictures to see how to do things. So here we are my friends, with several pictures to show you how to make it step by step. I just wish you could smell the room where I'm making these, oh my gosh! It's not too strong, but just right.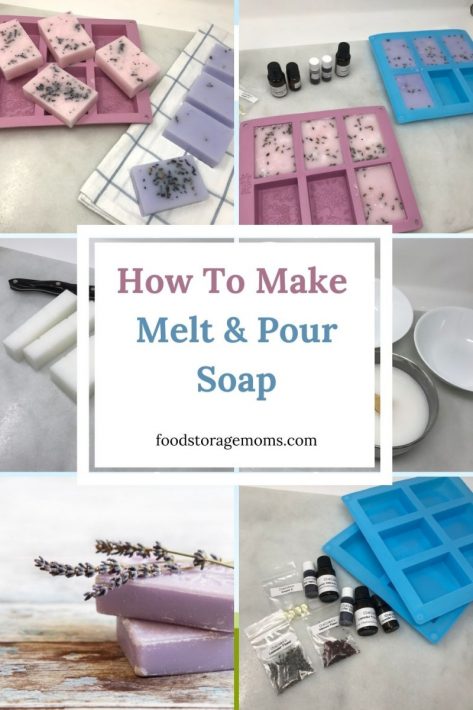 Melt And Pour Soap Ingredients
This is what came in the box that I purchased from Chelsea's Hibiscus & Lavender Set
2 one-pound sections-Goat milk melt and pour soap base
1/2 ounce Lavender Fragrance Oil
1/2 ounce Hibiscus Fragrance Oil
5 (ml.) Lavender Essential Oil
1 packet of crushed Hibiscus Flowers
1 packet of Dried Lavender Buds
Lilac-Liquid Soap Colorant
Apple Red-Liquid Soap Colorant
Vitamin E Capsules (I didn't use these)
2 Bar Soap Molds (plain/no design) I purchased 2 others
2 Pipettes for Measuring Fragrance Oil
Complete Soap Making Instructions
Equipment Needed:
Double Boiler or Microwave
Large Glass Container for microwave
Wooden Spoon
Candy Thermometer (I just winged it and did not use a thermometer)
Melt And Pour Soap Steps
Gather all your equipment so you don't have to look for it. Now's the time to be thinking about what color, if any, you want to make your soap. If you want a fragrance now's also the time to decide which one. You can use the pipette (I forgot to put it in the picture) to measure the amount of fragrance. I just poured it in ever so slowly. Slowly pour the colorant into the bowls below or it may be darker than you were expecting.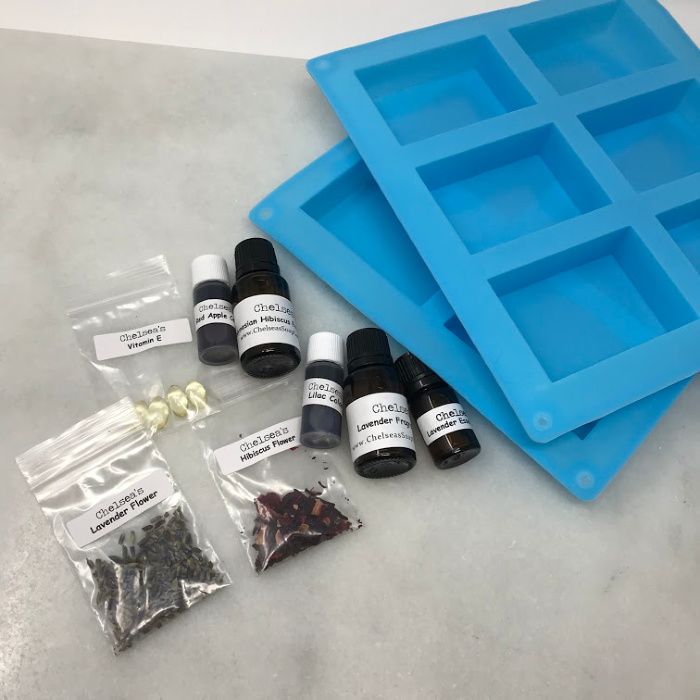 Grab A Good Knife To Cut The Soap Base
It's actually really easy to cut the soap bars lengthwise and crosswise. I wanted to be able to stir the chunks in the double boiler and have it melt a bit faster.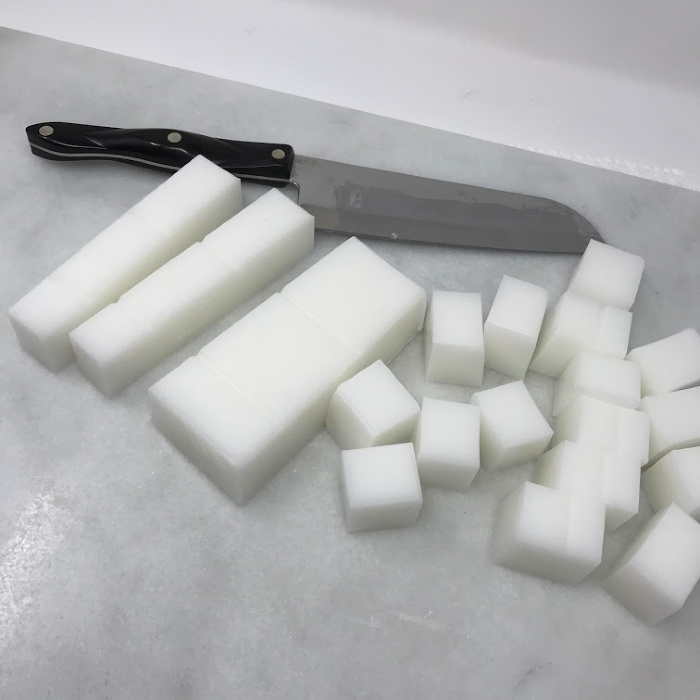 You can also use a large glass measuring cup to melt them in the microwave. I opted for the double boiler. Just fill the water in the double boiler and place the cubes in the upper part of the pan. Heat slowly, just until melted. If you choose to microwave it, start with 15-20 seconds at a time. You will need to repeat this often. DO NOT LET IT BOIL OR IT WILL RUIN THE BATCH. Soap will melt at 140 degrees and should never go over 160 degrees.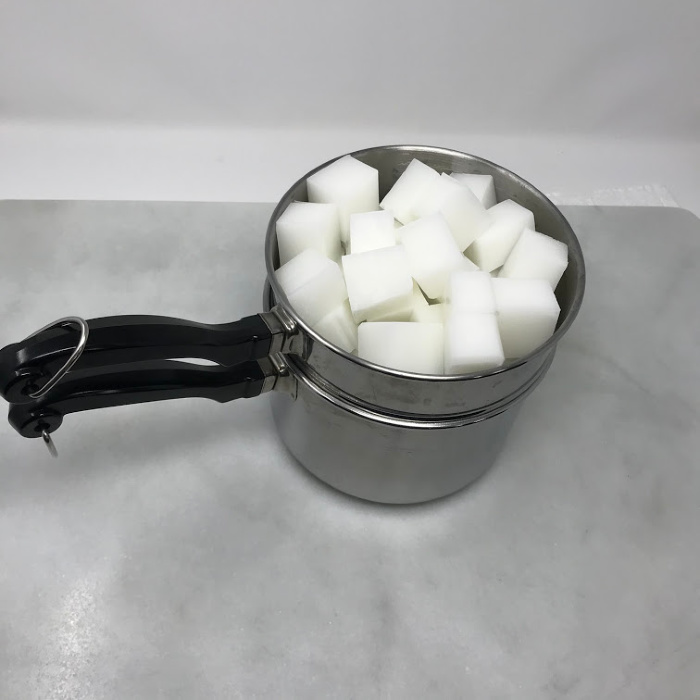 Melted Soap Base
This is what it looks like when it starts melting. I stirred it constantly over a low to medium flame on the stove using the wooden spoon.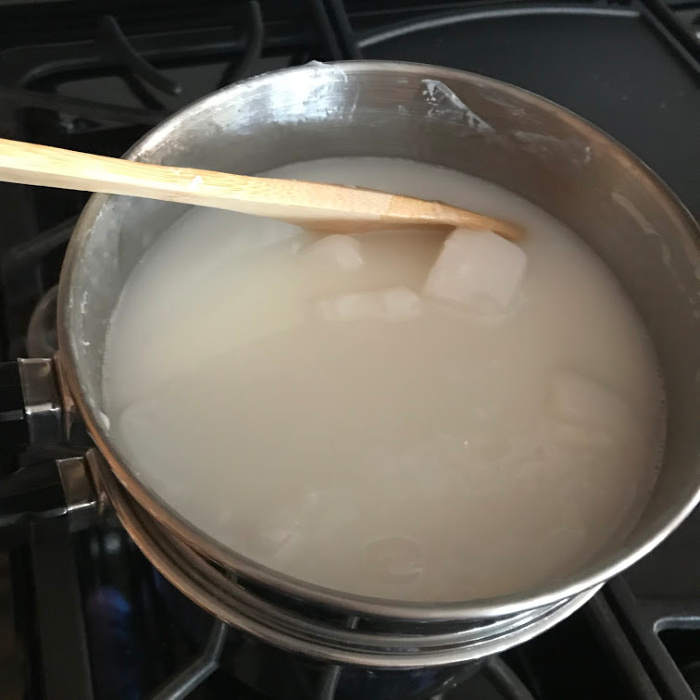 Mixing Bowls For Color & Fragrance
You can see the two bowls, one for each colorant, and fragrance. I wish I had had two wooden spoons. I had to wash the spoon in between the two mixtures.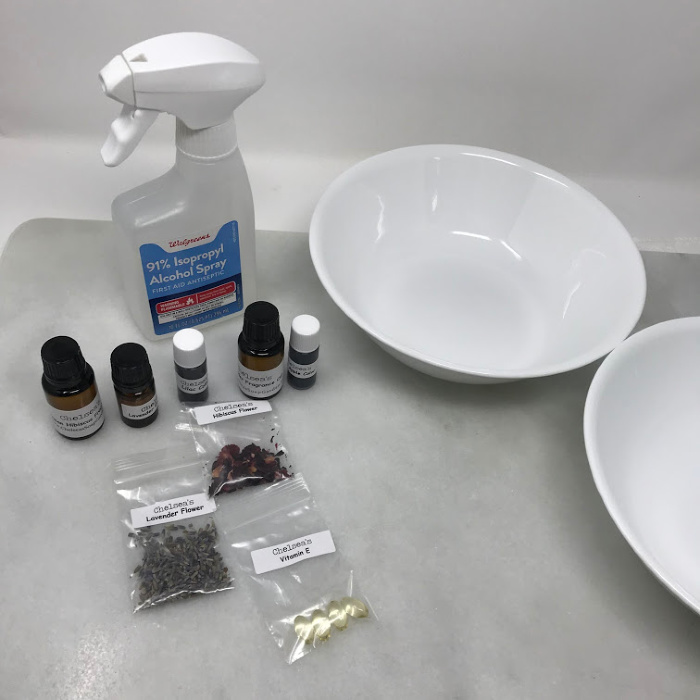 Ready To Mix
You need to work rather quickly because the soap sets up very fast. It's so fun to make, but I will buy the ingredients separately next time. It will be cheaper next time around.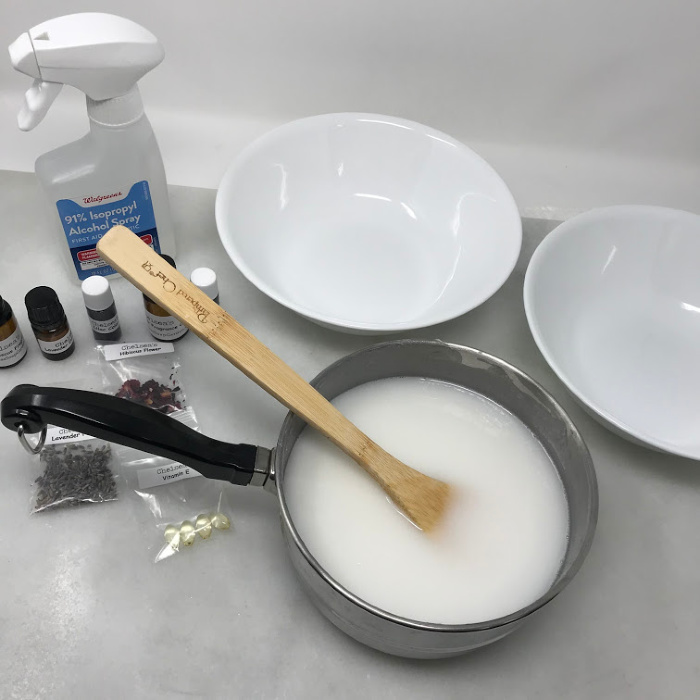 Melt And Pour Soap Is Ready
Here is where you add the colorant, the fragrance, and the flowers. Please use a clean wooden spoon, and you must stir quickly because it starts setting up very fast. I actually stirred the flowers into the soap mixture because I have seen where it doesn't adhere to the soap and falls off. You could also sprinkle some on top and carefully push it down a little in the bars. One tip is to use an alcohol spray to smooth the bubbles or ripples on top of the soap bars.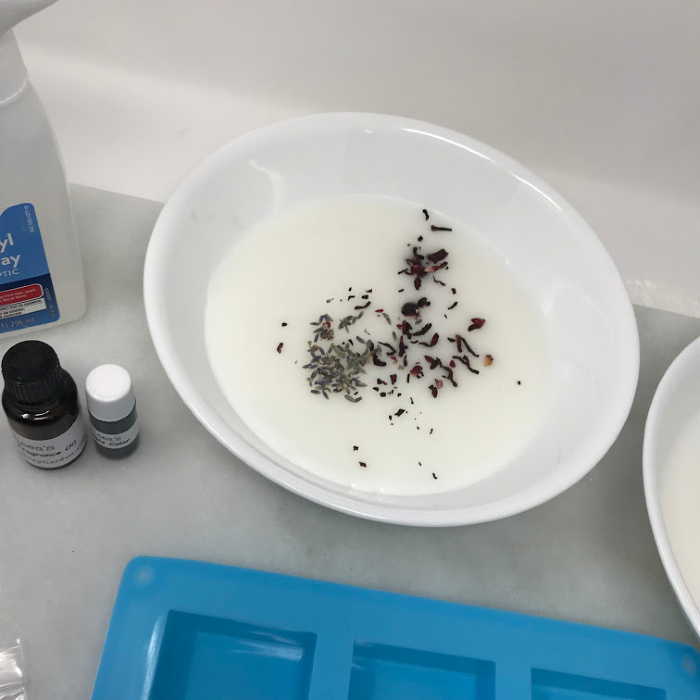 Melt And Pour Ready To Mold
I was afraid I would need something to pour it, but I didn't. I just used the pan I melted the soap in. It was easy, I promise. Just go slow and it works. You may want to spray the molds with a little non-stick spray to keep the molds from sticking. Please note, I did not use any spray and they came out perfectly. The bars will be ready in about 2-3 hours. If they are stubborn wait another hour or so. This would be a really fun activity to do with children and grandchildren.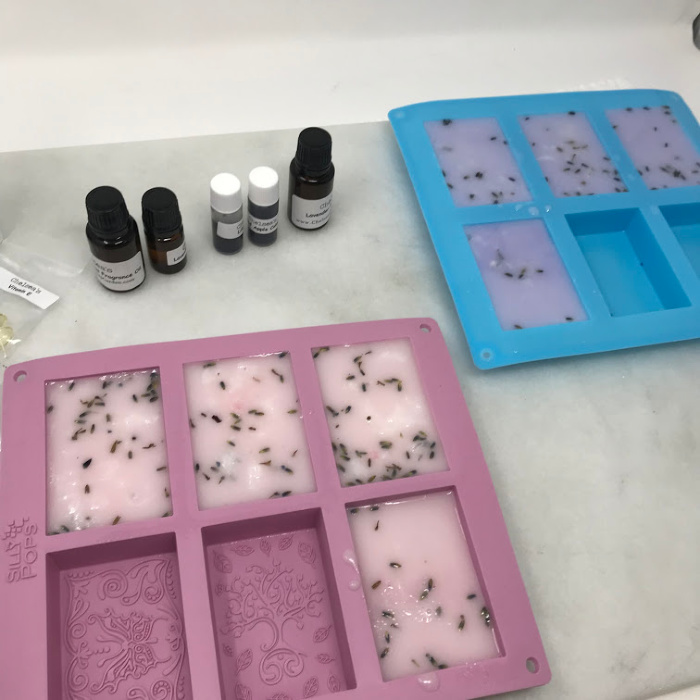 The Finished Product
Please let me know if you have made bars of soap, I love to hear from you.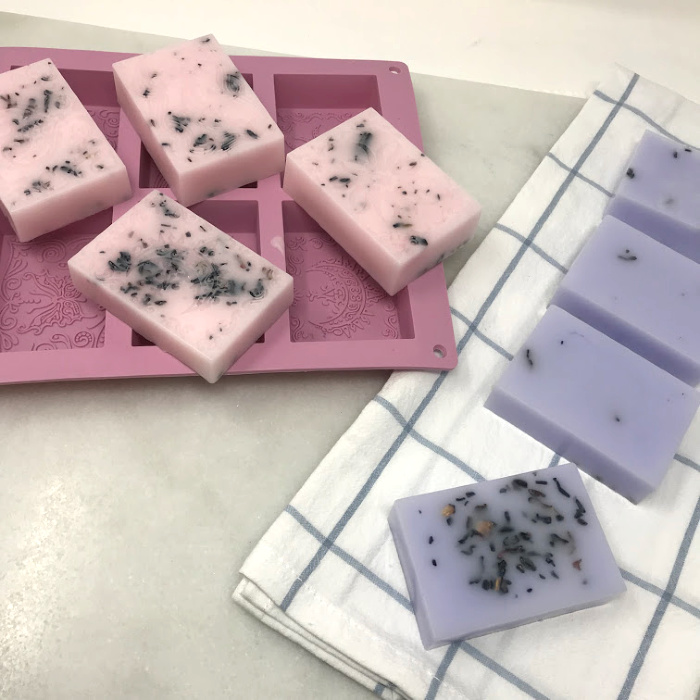 How Do I Store These?
Spread the bars out on a shelf and lightly cover them with a clean piece of cloth to keep them clean and dust-free. Wait about 4 weeks and then you can gather the bars according to the fragrance and place them in containers. I layer my bars with a piece of cloth or a brown paper bag. Store in a cool dark place. They will stay good for about 1-2 years depending on the area where stored. Please keep them cool and dry.
Where To Buy The Melt & Pour Soap Base
Thank you, Amanda Sue, for directing me to this website to purchase the items we need to make these bars a whole lot cheaper: Bramble Berry
Final Word
Sometimes we have to step outside our comfort zone and learn some new skills. It may be melt and pour soap, or bread making. We can do this, I promise. Thanks for being prepared for the unexpected. May God bless this world.
101 Homesteading Skills We Need To Teach