Today it is all about how to dehydrate apples. They are so easy to dehydrate and store. We can grab a handful as we run out the door, put them in our kid's lunch boxes. There are so many ways to use some dehydrated apples, like snacks, pies, in muffins, etc. Oh, and the many varieties of apples is never ending, these were on sale today.
I wish I could say they were grown in my backyard, no my yard is way too small for fruit trees! I cut the apples in half to help speed up the drying time. I dipped some of the apples in a lemon-water solution to keep from going dark, and the other half I dried plain and natural.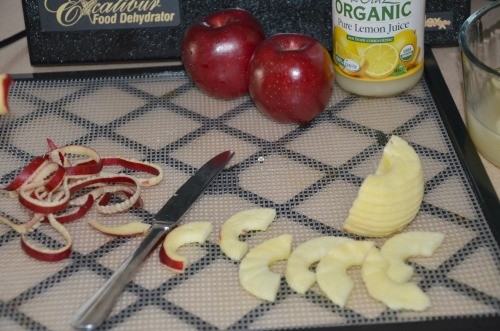 Here is the lemon-water (one cup lemon juice to one cup water).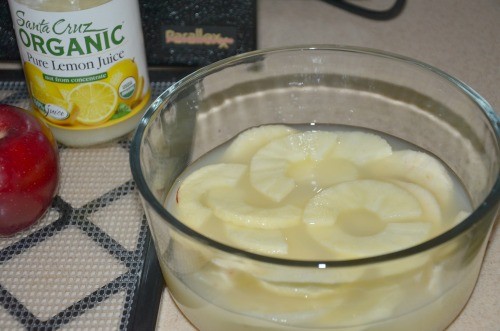 The finished product! The lemon/water ones have a slightly different flavor because of the lemon solution, but they do not have a strong lemon taste.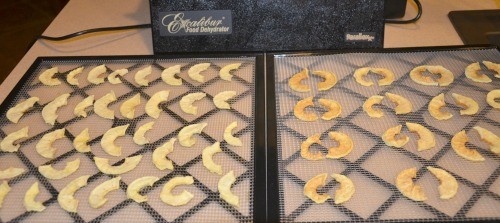 How To Dehydrate Apples
1-6 Apples (Cored, sliced, peeled or unpeeled)
1 Cup Water (Optional)
1 Cup Lemon Juice (Optional)
Instructions:
Wash, slice and core them. You can peel them or dehydrate with peeling. ***The one cup lemon juice and one cup water solution is optional to keep them from turning brown during the drying period. I set my Excalibur Dehydrator at 135 degrees for about 4 hours. The drying time all depends on the humidity in the air. Please check your own dehydrator temperature requirement. I will place the dehydrated apples in glass jars and use my FoodSaver jar sealer to "seal" them.
PRINTABLE recipe:  Recipe by Food Storage Moms