Today it is all about how to dehydrated fruit snacks-strawberries! These are great as a snack or added to a salad. No chemicals or preservatives. If you have a garden full of strawberries, it would be even cheaper to make these. I buy my strawberries because it's really hot here in Southern Utah and I haven't figured out YET how to grow really juicy strawberries! That is on my to do list for the next growing season.
How To Dehydrate Strawberries:
1. wash the strawberries and remove the stems
2. slice as evenly as possible because they will dry more uniformly. I like to use this tool: Chef'n Strawberry Slicester Hand-Held Strawberry Slicer
. Call me lazy but this makes the strawberries all the same width.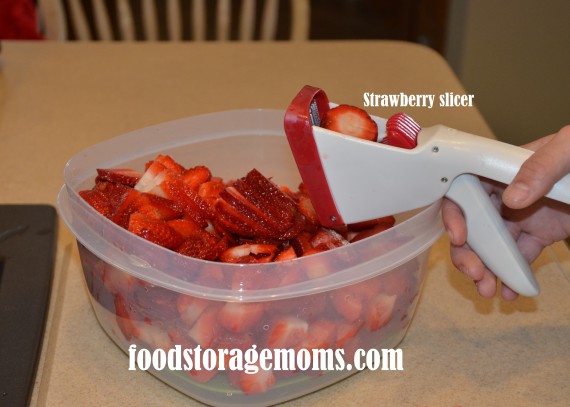 Here I am slicing the fresh strawberries with zero chemicals or preservatives into a bowl. I am getting them ready to dehydrate naturally in an Excalibur Dehydrator. You can slice them by hand of course, or slice them with a strawberry slicer to make them more uniform in size.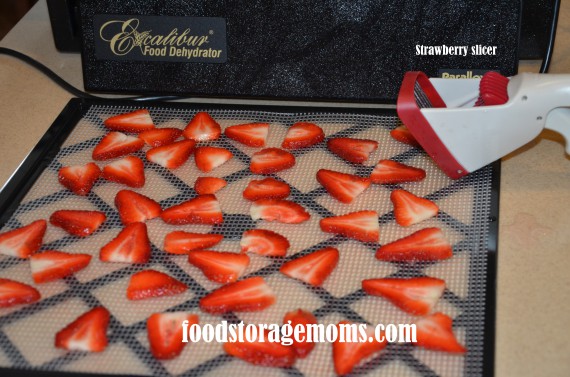 Here I am spreading the freshly sliced strawberries in a single layer on the drying rack above. My Excalibur dehydrator states to set the temperature at 135 degrees. These took four hours to dry. Now remember, the time to dry will always depend on the humidity of the room in which you are drying them.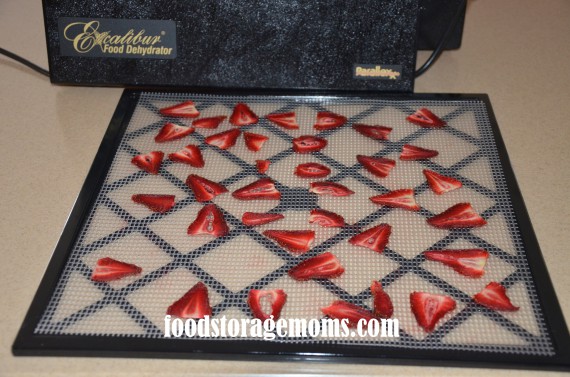 Here are the dehydrated strawberries. Yep, there are some strawberries missing in this picture…my grandkids kept eating them! Love it!
Strawberry Health Benefits:
1. Vitamin C is a great immune booster
2. Vitamin C protects our eyes from getting cataracts
3. Fights the bad cholesterol
4. High in antioxidants
5. Great for helping stop inflammation in arthritis
How To Use Dehydrated Strawberries:
1. throw a handful into a fresh spinach salad, add some almonds and homemade poppy seed dressing
2. throw some into lunch boxes for lunchtime snacking
3. throw some into a bag to munch on while parked waiting for music or sport lessons
4. add some to homemade muffins
5. sprinkle some on pancakes before flipping the pancake to add a special flavor
You can see why we keep reading to load up on fruits and vegetables. Life is good when our body is strong and healthy.
Ingredients
Strawberries, washed and sliced
Instructions
Place the strawberries in a single layer and dehydrate at 135 Degrees (Excalibur Dehydrator). Please check your dehydrator for its specific temperature. These took about 4 hours. The dehydrating time all depends on the humidity where you are dehydrating them.
No chemicals or preservatives needed if you eat them within 2 weeks if stored in an airtight container.
This post may contain affiliate links, including Amazon.com. Using links to these sites means I may earn a small percentage of the purchase at no extra cost to you.
Follow Me In Social Media: