How To Use Fresh Basil-Dehydrate It-Freeze It
Today I am sharing how to use fresh basil from your garden or farmer's market. The leaves are very fragrant, a little round leaf with a pointed tip. The leaves are used in many main dishes, side dishes, as well as a natural health remedy. It's a really good source of  Vitamin A, so when you make that yummy spaghetti sauce add some freshly snipped chopped leaves to your sauce. Your heart will love it.
How is your garden doing this year? Some years mine grows better than other years. The one thing that has always grown well for me is fresh basil. My friend, Sarah got me started on it years ago. We were next door neighbors and she would come over to my backyard and clip off some of my leaves for dinner, or whatever. I loved it!  The thing about it is the fact that it takes off and grows like crazy. I mean like it is fast growing. You cut it back and the next day there is more to cut back.
Fragrant Basil Leaves:
I want to share some tidbits about those fragrant leaves. The leaves have some natural inflammatory health benefits to help inhibit pain from arthritis and inflammatory bowel conditions. The leaves also help stop free radicals from oxidizing cholesterol in the blood stream. If you have a cold or a cough chew on some basil leaves to calm a cough. Indigestion can be soothed by adding 1/2 teaspoon of dried basil to a cup of warm water to sip. Who would have guessed?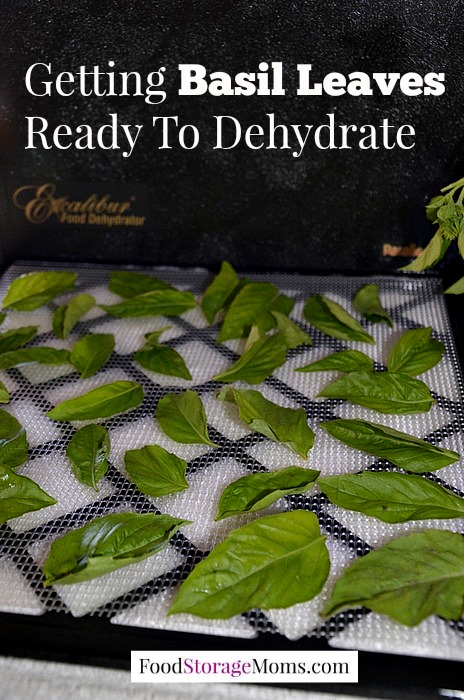 Dehydrate It:
This little white 6-inch plate is what ended up after dehydrating it for about 6 hours. I only did one tray. Now, I know why it's so expensive in those little spice jars.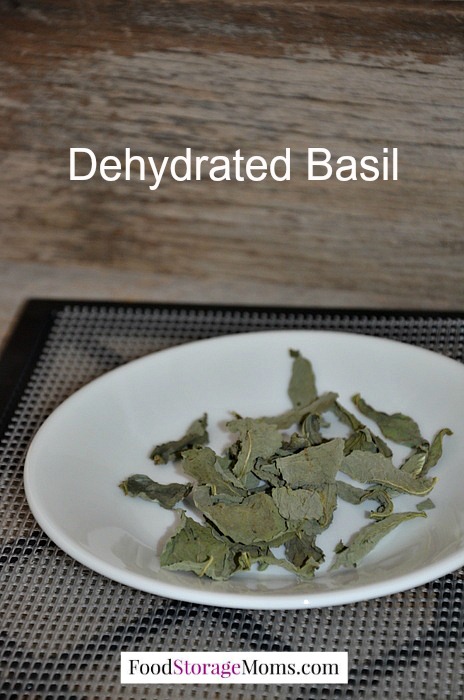 I am just giving you the heads up, I will not be dehydrating it again at the suggested 95 degrees in my dehydrator because I can dry them outside for FREE in the sun. Well, I still might, but this putting the stuff in rubber bands is so much easier. I store my dehydrated and crumpled the leaves in pint jars using my FoodSaver to remove the air. I cannot get by without my Food Saver.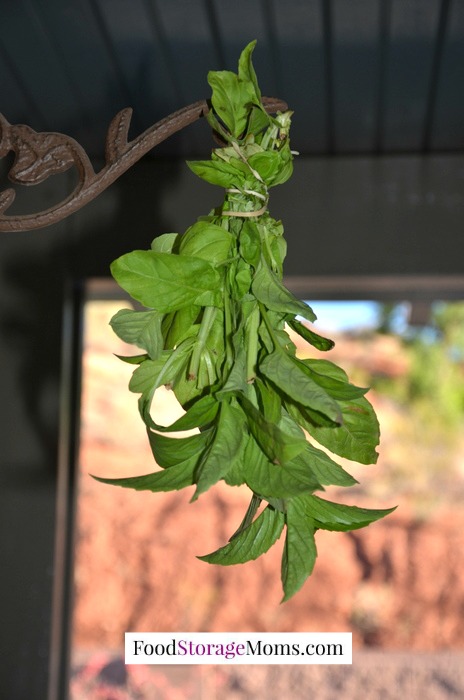 You can use ice cube trays and freeze some chopped up leaves in water or olive oil in your freezer and pop one of those cubes out when you need them. Or you can store the frozen "ice cubes" in a baggie in the freezer. My daughter makes the best pesto with basil, pine nuts, garlic, parmesan cheese and olive oil. Here is the recipe. You can store the pesto in these little silicone containers and freeze it too! I love them because you just pop out the product you have frozen.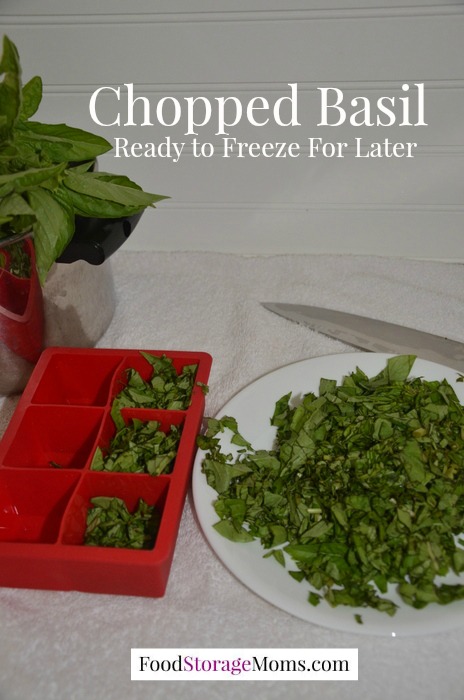 Freeze It For Later:
I added water but you can add olive oil to the containers above to freeze some "cubes" of it so they are ready to throw into your favorite soup or dish. I store the "cubes" in a baggie so I can use my silicone containers for other things.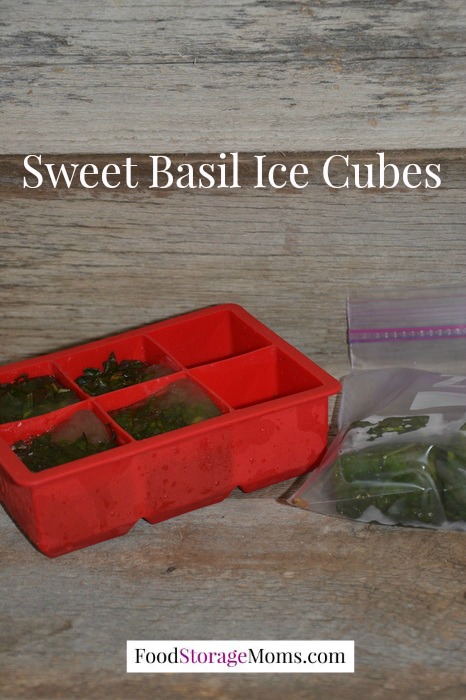 Do you love the smell of fresh basil as much as I do?