Grocery Shopping: 6 Awesome Facts You Need to Know
If you're like most people, you probably think of grocery shopping as a mundane task. But there's more to it than just picking up some food staples. In fact, there are all sorts of interesting facts and tidbits about grocery shopping that you may not know. Here are 6 awesome facts that you need to know about grocery shopping.
My goal has always been to help my readers be prepared to face as many contingencies as possible. In today's world, most of us aren't faced with disasters or emergencies very often, but we are challenged to find the funds to cover the rising costs of food, clothing, and shelter. Today, let's look at how to save money as we deal with feeding our families.
1. You can save money on groceries by creating a grocery budget and shopping list.
Anyone who has ever stepped foot in a grocery store knows that it is all too easy to overspend on food. But with a little advance planning, you can save big on your grocery budget. First, take inventory of what you already have on hand.
This will help you to avoid buying duplicates of items that you already have plenty of. Next, make a list of the items that you need and stick to it when you are shopping. It is also helpful to create a budget for your groceries and try to stay within that budget as much as possible. Keep an eye out for sales and special offers.
We all are tempted to make impulse purchases when visiting the grocery store. Having a weekly meals plan and then shopping to fulfill that plan can make all the difference in buying what your family likes to eat, eating meals that are healthy, and staying on point to meet financial goals as best you can.
2. Grocery stores often offer discounts on specific days of the week.
Grocery stores offer a variety of ways to save money on groceries, and one of the most popular is through discounts. Many stores offer discounts on specific days of the week, such as "Senior Citizen Discount Day" or "Family Discount Day."
By offering these discounts, grocery stores are able to attract more customers and boost sales. However, it's important to keep in mind that not all discounts are created equal. For example, some discounts may only apply to certain items, or they may be valid for a limited time.
As such, it's important to read the fine print before taking advantage of a discount. But if you're looking for ways to save money on your grocery bill, keep an eye out for store discounts, they can be a great way to stretch your budget.
There are also times of the year when things are cheaper, particularly when items are offered in peak season. Take some time and learn when fruits and veggies are at their peak and buy what you need then.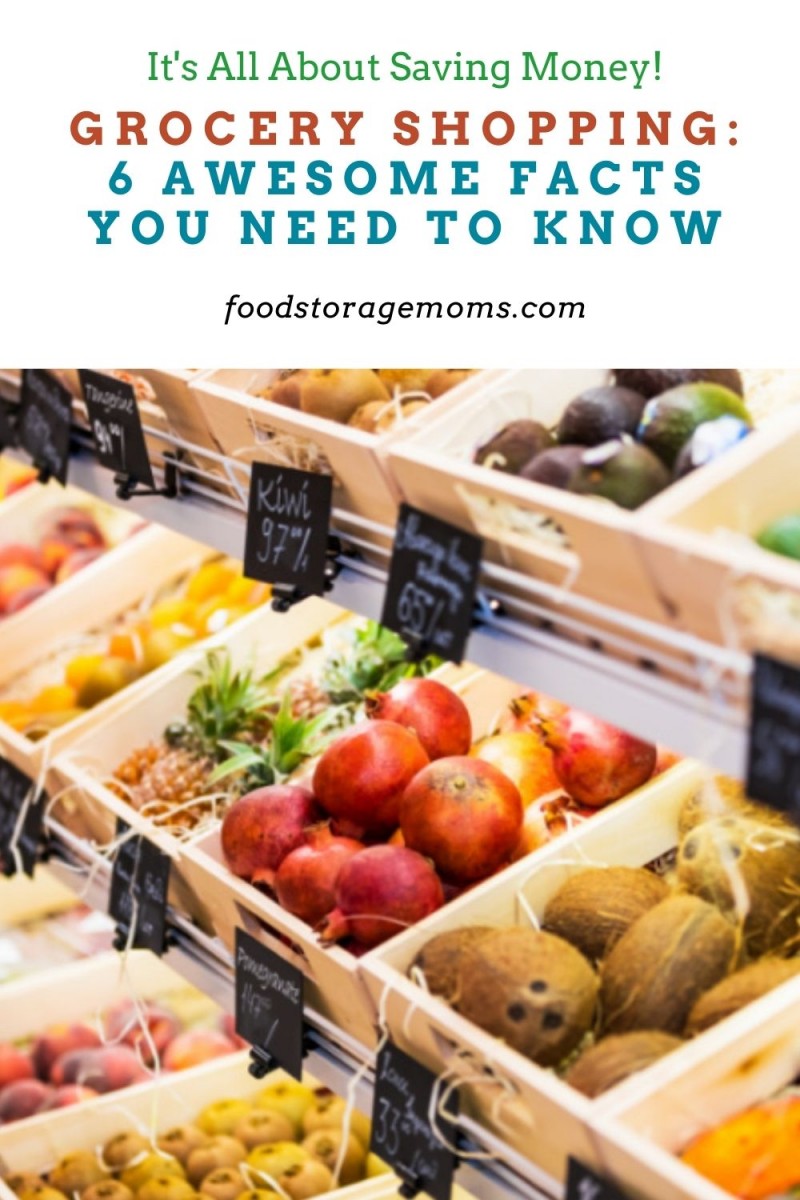 Make sure you follow my What to Stock Up On series!
3. Buying in bulk can save you money, especially if you have a large family or eat a lot of one type of food.
When it comes to food shopping, buying in bulk can be a great way to save money, especially if you have a large family or tend to eat a lot of one particular type of food. At first glance, the idea of buying a 10-pound bag of rice or a 1-gallon jug of olive oil may seem like a lot, but when you break it down, it's often cheaper per unit than buying smaller quantities.
And, since many bulk items often have a long shelf life, you won't have to worry about them going bad before you can use them up. Plus, if you have the storage space, buying in bulk can help to cut down on your overall grocery bills. The next time you're at the store, consider picking up a few extra items, you may be surprised at how much money you can save in the long run.
I suggest you keep your eyes open for case lot sales that most stores have a few times a year. I like buying my soups, canned veggies and fruit, and other staples by the case. You also can save if the items are "store brands" rather than the "name brands" since they are generally cheaper. Compare prices by unit pricing to make sure which product is really the least expensive.
When making comparisons, also make sure they have the same quality ingredients so you are eating the most healthy products while you save monty.
Buy in bulk at:
4. Frozen fruits and vegetables are just as nutritious as fresh produce, and they're often cheaper too.
One of the best ways to save money at the grocery store is to buy frozen fruits and vegetables. Not only are they typically cheaper than fresh produce, but they can also be just as nutritious.
In fact, many frozen fruits and vegetables are picked at their peak ripeness and then flash-frozen, which helps to preserve their nutrient content. Frozen produce can also be a great time-saver. For example, if you're short on time, you can simply pop a bag of frozen broccoli into the microwave rather than having to wash and chop fresh broccoli.
Plus, frozen fruits and vegetables can last for months in your freezer, so you don't have to worry about them going bad. So next time you're at the grocery store, consider stocking up on some frozen fruits and vegetables. You might be surprised at how much money you can save.
5. Pre-packaged snacks and meals are often more expensive than cooking from scratch.
If you're trying to save money, cooking from scratch is typically the way to go. Pre-packaged snacks and meals tend to be more expensive than if you just made them yourself.
This is because companies have to factor in the cost of packaging, production, and shipping when they price their products. In addition, companies often add a markup to cover their advertising and marketing costs. When you're looking to save money, it's usually best to cook from scratch. However, there are some exceptions to this rule.
For instance, if you're short on time or you're looking for a particular specialty item, it might make more sense to buy a pre-packaged product. But in general, cooking from scratch is a more budget-friendly option.
Another issue is the healthy approach to meal preparation if you make items or full meals from scratch. You know exactly what is included in the prepared item, you control the amount of sodium and sugars. are added, and you can maintain the level of freshness you want. I seldom buy bread since I can make my own for less and I know how much better it is for me and my family members.
6. You can save money by avoiding single-serve items while grocery shopping
Similar to buying in bulk, if you're looking to save money, one place you can start is by avoiding single-serve items. These individually packaged items may be convenient, but they often come with a premium price tag. For example, a single serving of coffee costs more than brewed coffee, and a single serving of yogurt costs more than a larger tub of yogurt.
You can also save money by avoiding individual servings of snacks, such as chips or cookies. Instead, opt for bulk packaging or make your own snacks at home. By avoiding single-serve items, you'll be able to save money and enjoy the same level of convenience.
Let's consider one more money-saving approach to shopping:
7. It's cheaper to buy meat that's been frozen than fresh meat that's been thawed.
When it comes to meat, there's a big difference between fresh and frozen. Fresh meat has never been frozen, while frozen meat has been chilled to below freezing temperatures. Both have their advantages and disadvantages when it comes to price. Fresh meat is usually more expensive since it's more expensive to ship from the processing plant to the store, although it has to be kept in a freezer, it is cheaper to store until sold while protecting the product, stores experience more spoilage with their fresh meats, and the stores can store the meat longer when frozen. Frozen meat is often cheaper since it can be bought in bulk and doesn't have to be used right away.
It's also important to note that frozen meat can last much longer than fresh meat, up to a year in some cases, so it can be a more cost-effective option in the long run. When it comes to price, then, frozen meat is typically the better deal. But ultimately, the decision between fresh or frozen comes down to personal preference. Some people prefer the taste of fresh meat, while others find that frozen meat is just as good. There's no right or wrong answer, so it's really up to you to decide what's best for you and your budget.
More Grocery Shopping Tips
Final Word
Grocery shopping is a necessary evil for most of us, but it doesn't have to be as bad as many of us make it out to be. With the right information and some organization, you can cut your grocery bill and even have fun while doing it! What are you waiting for? Start planning your next grocery trip using these tips. I hope that you're able to use these tips while you're grocery shopping. Let me know of any other tips you can pass on to my readers, they love me to share. May God Bless this world, Linda
Copyright Images: Grocery Store AdobeStock_171788038 by Scanrail