Dehydrate Frozen Vegetables
I just heard how to dehydrate frozen vegetables from a reader from a few months ago. I wish I could remember the woman's name. She mentioned to me that she watches for sales on frozen vegetables. I'm updating this post today, with better pictures and more tips.
Then she starts dehydrating them, no peeling, no slicing or cutting. Why hadn't I thought of this before? I love this because I love the fact that I will not worry about what is in my freezer if we lose power.
Here's the deal, most frozen veggies can be dehydrated. Please note, I do not use oxygen absorbers because I only do enough vegetables that I can use within 6-12 months.
Organic Mixed Vegetables
I bought this bag of frozen organic mixed vegetables with shelled edamame for about $6.30 at Costco. The bag has green peas, carrots, sweet corn, green beans and shelled edamame. What I like about this idea is the cost. Here's the deal, I checked online for some commercially processed dehydrated organic vegetables to see how much they would cost compared to the cost of this bag. I already have the quart jars and the FoodSaver YouTube (by Food Storage Moms) so I did not have that expense.
Cost Comparison
I did find some organic freeze dried peas in a #10 can for about $40.00 plus shipping. Ouch! Regular dehydrated vegetables in a #10 can cost about $18.00 plus shipping. So I feel really good about getting 1-1/2 quarts of dehydrated veggies for under $7.00. This amount would be comparable to what a #10 can would have in it. I have never seen a #10 can be filled to the brim and I have opened several of them. Now, I am not going to buy these for long term storage. I will use several quarts of dehydrated vegetables over the winter. I will just throw them in a soup or chicken pot pie after re-hydrating. Easy peasy, and frugal.

Ready to dehydrate
Here are the frozen vegetables ready to dehydrate. No washing….ready to spread on the trays. Gotta love it! I also like the fact that this bag of vegetables has no added chemicals.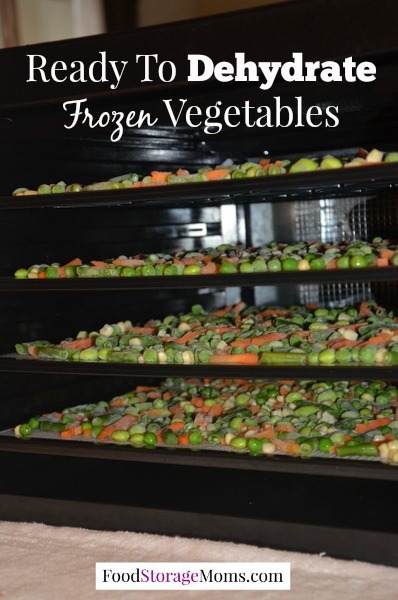 Dehydrated @ 125 degrees
I dehydrated these @125 degrees and they took about 10 hours. Please look at your dehydrator model to see what temperature is correct for your machine. The time to dehydrate will always depend on the humidity in the room where you are dehydrating.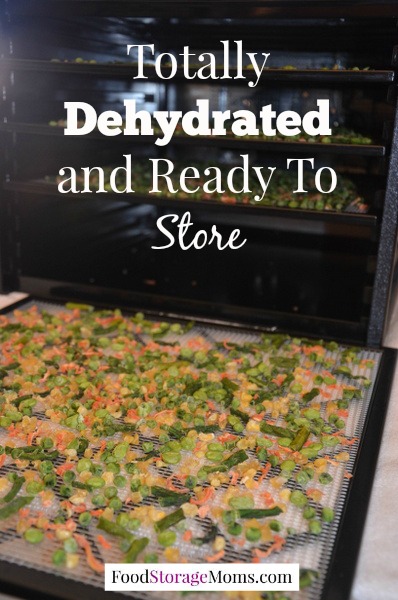 FoodSaver To Store Vegetables
Here is how I store mine after dehydrating. I do not use oxygenators because I will use these within a year. Can you picture some yummy vegetable soup?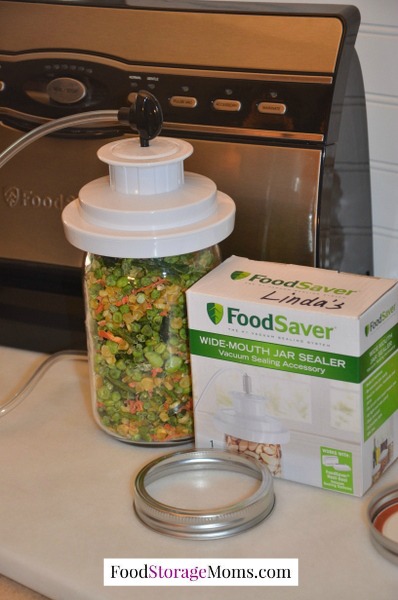 I hope you can find your favorite veggies on sale so you can dehydrate them and save money!
Food Saver and Food Saver Sealers-Wide Mouth and Food Savers-Regular Mouth