15 Reasons People Love Food Storage
In today's society, food storage is a must. No one knows when disaster might strike, and being prepared is the best way to ensure that you and your family will be able to survive. There are many reasons why people love food storage, and here are just a few of them.
When Mark and I were first married, we built a few shelves to store what little food storage we could afford. At the time it seemed like a lot of food storage in our minds. I was lucky to have learned to make bread, and how to do some water bath canning of food we grew in our garden while growing up.
It wasn't until we purchased a home on a 1/2 acre of land that our family grew most of the food we consumed each year. This was back in 1977 or so and I learned to pressure can food. We lived close to Utah State University had a state extension service available to test the pressure can gauges.
We lived close to so many orchards where we could pick fruit to bottle for the year. My girls still talk about snapping green beans and filling pints to pressure can them for the year. That large lot was where we got our first experience raising strawberries. The girls loved to help plant them, keep the weeds down, and then to pick a bunch for a dinner treat when they matured. We tried both June bearing and everbearing varieties over the years.
We always had bottles of pears, peaches, apricots, applesauce, and grape juice. It was a blessing to teach our girls how to garden and preserve our bounty.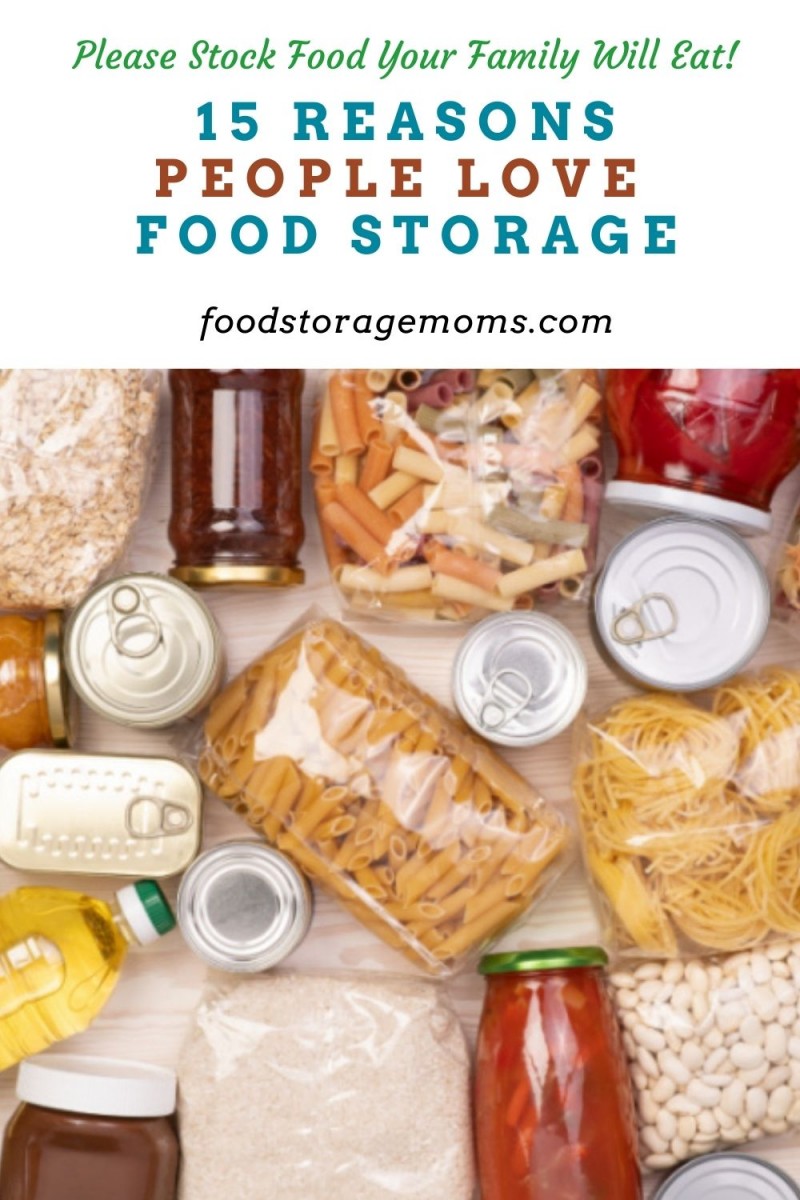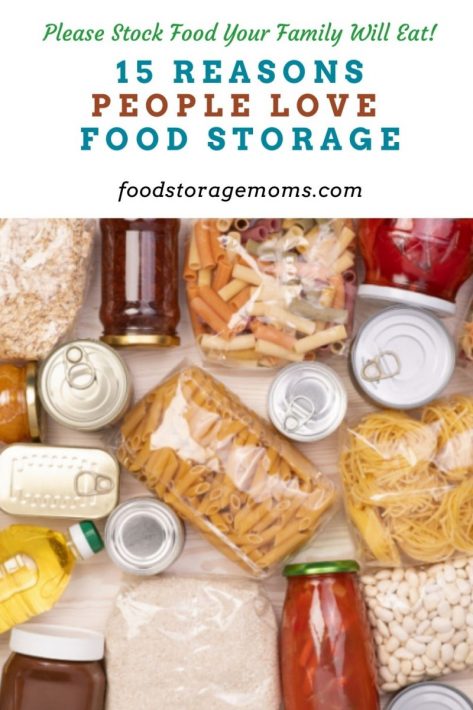 15 Reasons People Love Food Storage
1. Be Prepared for Anything
Allows you to be prepared for anything, whether it's a power outage, natural disaster, or just a busy week. Having food storage can give you peace of mind knowing that you and your family will be taken care of.
2. Saves Money
Saves money in the long run by buying food in bulk and taking advantage of sales and coupons. Plus, you'll save money because you won't be paying more for something you already have stored! If planned out and done right, having a quality garden that grows what your family likes to eat can also save some money.
3. Avoids Waste
Food storage can help avoid food waste by portioning out food and only taking what you need. This not only saves money, but it's also better for the environment. Also, when you properly store food, you won't have to worry about it being bad when you actually NEED to use it.
4. Natural Disasters
In the event of a natural disaster, food storage can be a lifesaver. It can help you weather any "storm," whether it's a hurricane, tornado, or earthquake.
5. Peace of Mind
When you have food storage, you'll have peace of mind knowing that you and your family are taken care of no matter what happens. Food storage can help you rest easy at night knowing that you're prepared for anything.
6. Famine
Food storage can help you survive in the event of a famine. Even if food is scarce, you will have enough to last until things improve. Although there are always rumors of famine, it's so nice to know that you are prepared and have enough food for your family to eat.
7. Customizable
You can customize your food storage to fit your family's needs and preferences. This way, you're not stuck with food that you don't like or won't eat. If you are going to need to dive into your food storage, it does make it nice when your kids actually like the food you have stored. Of course, in certain situations, if you're hungry – you're hungry!
8. Religious Reasons
For some religious groups, food storage is suggested. This is often done in preparation for the End Times or other apocalyptic event. I don't have a lot to say about this, but this is truly one reason people do love food storage!
9. Daily Emergencies
Emergencies happen every day, whether it's a power outage, bad weather, or a broken-down car. Having food storage can help you get through these tough times. Although most of us are prepared for an emergency that we can't quite see, it makes sense to also be prepared for those unexpected daily emergencies!
10. Economic Uncertainty
In today's economy, food storage is more important than ever. With job security becoming increasingly uncertain, it's important to have a back -up plan in case of tough times. With the cost of everything going up, including food items, it makes sense to have food stored ahead of time. A properly executed plan helps to smooth out the cost of things we use each day, and doing it with food just makes sense.
11. A Sense of Self-Reliance
Many people find a sense of self-reliance in knowing that they can take care of themselves and their families in a crisis. Food storage gives you the ability to do just that.
12. Survivalist Mindset
For some, food storage is about more than just being prepared for everyday emergencies. It's about being prepared for the worst-case scenario and being able to survive no matter what happens.
13. No Need to Worry About Spoilage
With food storage that's planned out and effectively executed, you don't have to worry about food spoilage. This is especially helpful if you live in a hot climate or have power outages often.
14. Personal Reasons
For some people, food storage is simply a personal preference. They like knowing that they have food on hand in case of emergencies, but also enjoy the peace of mind that comes with being prepared.
15. Saving Time
Food storage can save you time by having food already prepared and on hand. This way, you don't have to worry about going to the store when the shelves have already been wiped clean by others who didn't plan ahead. Buying food now and storing it for later means you are prepared!
How can I start with food storage?
Now that you know some of the reasons people love food storage, you might be wondering how you can get started. Here are a few tips:
Start small – Don't try to store everything at once! Start with non-perishable items like canned goods, dry goods, and cereals. Then, work your way up to perishable items like meat, dairy, and produce items you have bought in cans or you learned to can yourself.
Make a list – Before you start buying food for storage, make a list of what you and your family will actually eat. There's no point in storing food that will go to waste. Use that list to shop for discounts using coupons, store flyer specials, bulk purchases made available, like case lost sales, and farmers markets. Buying things when in season also makes sense.
Rotate your food – As you use food from your storage, remember to rotate it so that the food doesn't go bad. This means using the oldest food first and replenishing your supply as needed.
Plan ahead – When you are making meals, plan ahead and cook extra so that you can have leftovers to store. This is a great way to make sure you always have food on hand.
What happens if I can't get my hands on food in an emergency?
If you find yourself in a situation where you can't get your hands on food, there are a few things you can do:
Forage for food. This might mean looking for edible plants or fruits, or even hunting and fishing. If you know how to do this ahead of time, it will be much easier in a crisis.
Barter for food. If you have something to trade, you might be able to get food from someone else. This could be a skill, like gardening or carpentry, or even something as simple as a flashlight or battery-operated radio.
Scavenge for food. This should be a last resort, but if you are desperate, you might be able to find food in abandoned buildings or cars. Be careful, though, as this food might not be safe to eat.
Check out local food pantries and food banks. Find out where they are ahead of time. Trying being first on their list.
Some local churches will help. You'll be surprised how many local congregations will help those in need.
Final Word
No matter what your reasons are for food storage, it's important to have it! It can help you in so many ways, from saving money to surviving a natural disaster. If you don't have food storage, now is the time to start! May God Bless this world, Linda
Copyright Images: Food Storage AdobeStock_436367062 by photka