How To Dehydrate Tomatoes-Healthier Than Processed Ones
Have you learned how to dehydrate tomatoes? Tomatoes are really easy to dry and use in salad dressings, salads (crumbled) and casseroles. Oh, and if you make some sun-dried tomatoes in olive oil with some spices they are great on panini grilled sandwiches. It's summertime and we are hopefully all trying our hand at gardening this year. I want to show you how easy it is to dehydrate just about everything in our gardens!
Today it's all about tomatoes. I cut the core out of some tomatoes and sliced them about 1/4 inch thick before placing them on the dehydrator rack. I did not peel them. Now, you need to understand that Roma tomatoes are the best for dehydrating or sun drying. They have fewer seeds, have less water and are meatier. I used regular slicing tomatoes because they were the ripest tomatoes I had in my garden today. It takes approximately 4 pounds of fresh tomatoes to yield approximately one quart of dehydrated tomatoes. Now you can see why the bottles of sun-dried tomatoes in olive oil with spices at the store are so expensive.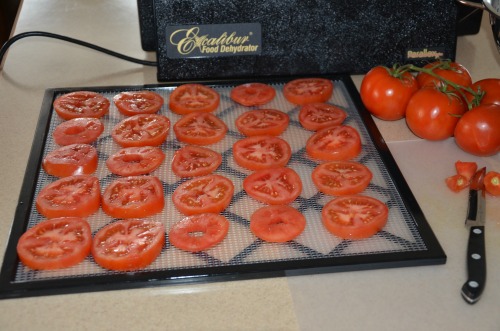 You can put sliced and quartered tomatoes outside in the sun on homemade screens or racks and they will take about 3-4 days to dry. You will want to turn them at least once a day to have them dry evenly. The temperature outside should be hot with very low humidity in order to dry correctly. I would cover them with cheesecloth or netting to hopefully keep critters off of them.
If the weather turns to rain, move the racks under an awning or protective cover. Remember all tomatoes, no matter what kind, will dry differently. Some have more water/moisture in them and will need additional time to be completely dry. I like to gather them up when pliable, but not too dry and crispy. They will mildew if they are not completely dry.
I have used a dehydrator for years. My old 2-foot square gold harvest one did not have a timer, but it worked great. I have dehydrated a few things outside, but for me, if I can set the timer in the house with an electric one that has a timer, that's a bonus for me. If you have some fruit or veggies that you think you won't be able to eat just get your dehydrator out. I dry excess bananas, lettuce, spinach, kale, basil and so much more. The list goes on and on. If you eat it you can probably dry it. Meat gets a little trickier because of the fat content. I have dehydrated some hamburger, it's actually very good.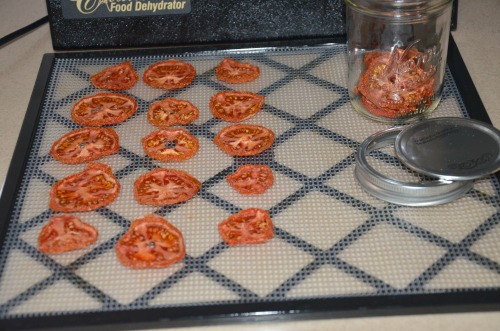 This is the finished product…..ready to place in jars and seal with my FoodSaver jar sealer. I take these slices and put them in my blender to make tomato powder or flakes.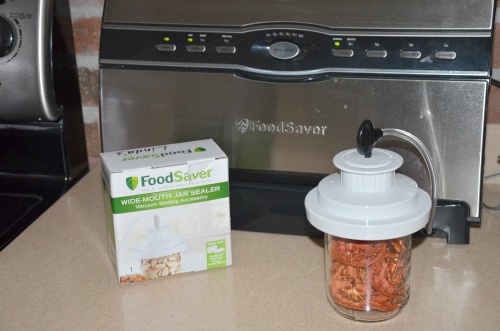 Dehydrate Tomatoes- Make Tomato Powder/Flakes
1. Tomato paste ratio is 1 teaspoon tomato powder to one teaspoon warm water. Mix until smooth, use in recipes calling for tomato paste.
2. Tomato sauce ratio is 1 teaspoon tomato powder to 3 teaspoons warm water. Mix until smooth, use in recipes calling for tomato sauce.
The reason I love dehydrating tomatoes is that I can make a little or a lot of tomato paste or sauce. The tomatoes are so easy to dehydrate. This is the dehydrator I use: Excalibur 3926TB Food Dehydrator, Black
Dehydrate Tomatoes-To Use In Olive Oil
I only do one quart at a time of sun-dried tomatoes in olive oil. I fill a quart mason jar with my round dehydrated tomatoes. I then add the following:
3 cups olive oil
2 tablespoons Italian Seasoning
1/4 teaspoon garlic
2 Tablespoons of balsamic vinegar (I prefer traditional Modena)
2 teaspoons lemon juice
1 teaspoon salt
freshly ground pepper to taste
Place the lid on the jar. I roll or shake the jar to combine the flavors. Place them in the refrigerator. These are so yummy on sandwiches! Enjoy!
How To Dehydrate Tomatoes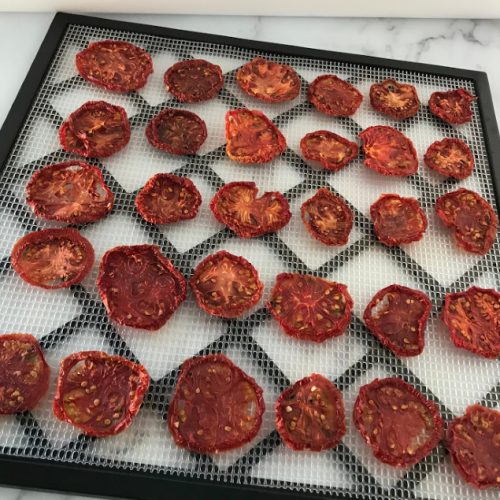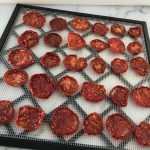 How To Dehydrate Tomatoes by FSM
Ingredients
1-6

tomatoes (No chemicals or preservatives. Just fresh tomatoes.)
Instructions
Wash and core (stem) the tomatoes. Slice the tomatoes about ¼ inch thick and place on the dehydrator racks. I DO NOT PEEL them. I set the temperature at 155 degrees per my Excalibur Dehydrator instructions. Please check your dehydrator for correct temperatures. The time will always depend on the humidity where you are drying yours. You can use the dried tomato slices for making paste, puree or just to season what you are cooking. I dry them until they are a little flexible but not brittle. Today they took about 5 hours. These are great to use in soups, spaghetti sauces, or to eat as a snack!
Please let me know if you decide to dehydrate tomatoes and how the project goes, I would love to hear from you.