This Is A Great Time To Pick Up Space Heaters On Sale
This time of year space heaters are on sale. Clearance or end of season sale. Most retail stores have all of their space heaters marked way down. This is a perfect time to pick up a heater,  and you can continue to save for a solar power source like the Goal Zero YETI 1250 if you do not have a generator. I tested out my Goal Zero YETI 1250 with a space heater. Here's the deal, if you have a fireplace you should be good to go if you have wood, coal or whatever your city allows for fuel. What if you do not have a fireplace? What if you do not have a wood burning stove?
If you live in a very cold climate I worry about the pipes freezing. The last two years here in Southern Utah I have lent out my space heater to thaw pipes….yes even in my warm climate area. This is crazy….across the nation the weather has been well below the freezing temperatures we have seen in past years.
So my experiment today was to see how my space heater would work with my Goal Zero YETI 1250. I picked this heater up at Costco for about $60.00. I bought it last year at the end of the season. It is by no means a fireplace…I get that. I know that at night I can keep warm with blankets, etc. This particular space heater is a Presto Heat Dish (parabolic electric heater). It is a 120 Volts AC, 1000 Watts heater.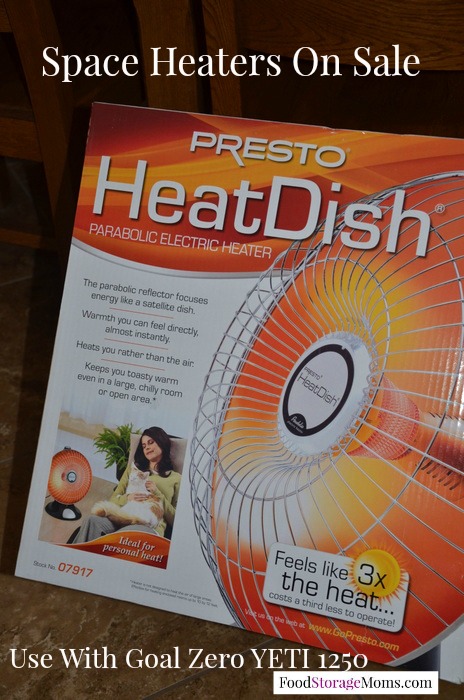 So this one would work with my Goal Zero YETI 1250 Watts.
I will only use this heater for an emergency. Our electricity in my city is very expensive. BUT if I need some heat I will have my solar power Goal Zero to back me up in a disaster or unforeseen emergency to use along with this little space heater. This is the first home I have ever owned that does not have a fireplace or wood burning stove. It is what it is, so I will make do with this little heater and blankets.
My cute niece, Maralee mentioned during her power outage in New Jersey during Hurricane Sandy, the biggest issue was heating the house and trying to stay warm. She said her best friend mentioned, "why did I buy this house with tall ceilings?" She meant that the heat from the fireplace was going straight up to the ceiling….they were all huddled around a fireplace that put out very little warmth. She assured me that she had water and food. She knew I would love to hear those words. Here is Maralee's Hurricane Sandy story.
I hope you can find a heater of your choice if you have no other emergency heat source on sale. Plug it in and test it to make sure it works and then you will be ready for the unexpected. Save for a solar power source and you will be ready for the unexpected. I love the fact I do not need to depend on any power source but the sun…thank you Goal Zero for your awesome products! Please check out the sales on space heaters while they are clearing out their inventories for the summer.
Please review these posts and YouTubes for anyone you know who uses a nebulizer or CPAP: GOAL ZERO USES