How To Dehydrate Grapes For A Healthy Snack
This post is about how to dehydrate grapes. I picked up some red/purple grapes at Costco so I could demonstrate how easy grapes are to dehydrate. I must say, I started out with a very large bowl and ended up with a pint mason jar of dehydrated grapes. Let me say this….those #10 cans are totally worth the price. Of course, if you grow your own grapes you would love dehydrating them because they are almost FREE in bumper crop years. My sweet husband removed the grapes from their stems and cut each grape in half so I could serve them to a dehydrating class I taught at The Kitchen Corner in St. George, Utah. I was busy dehydrating bananas and apples.
Below is the finished product, dehydrated grapes with zero chemicals or preservatives. These are ready to pack in lunch boxes, take camping or seal in mason jars with a FoodSaver.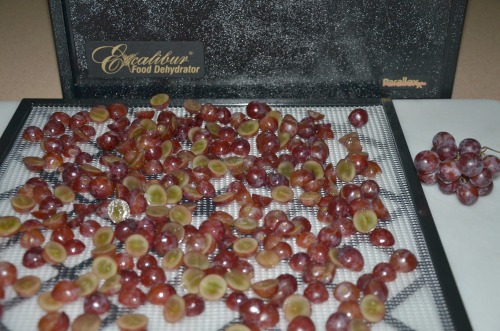 Let me know what grapes you have dehydrated….I would love to know! Enjoy!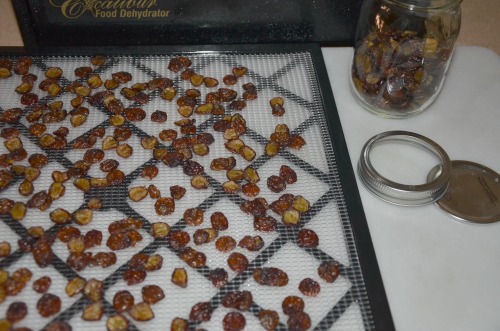 How To Dehydrate Grapes
Ingredients:
Grapes of choice-wash, remove from stems. Slice in half, if desired. If you don't slice the grapes they will take longer to dehydrate. These are purple seedless grapes.
Instructions:
Place the grapes evenly on the dehydrator racks and dehydrate according to your dehydrator's instructions. I used an Excalibur Dehydrator and set the temperature at 135 degrees. I dried them until they were wrinkled and pliable. They took about 16 hours. The time will vary depending on the humidity of the room or area where you are drying the grapes.
PRINTABLE recipe: Recipe by Food Storage Moms
Information on grapes:
Although many people only think of grapes in the context of their use in making wine, grapes are loved by people throughout the world for their fresh flavor eaten alone, and also as ingredients in many prepared foods like salads. Grapes have been shown to have a number of health benefits we all could take advantage of by eating more each day.
Some people eat grapes because they've been helpful in minimizing stress on the kidneys. The grapes do this by lowering the acid content of the body's uric acid. Grapes contain a lot of water which is something we all need plenty of each day. Others have found that grapes help reduce the number and severity of migraine headaches. They have found that the extract from grape seeds, along with grape juice both help.
Like a number of other fruits, grapes are good for eye health as they benefit the retina. They are also good for our bones since they contain iron, copper, and manganese. As we age we tend to struggle with bone related issues like osteoporosis, and grapes can help minimize these age related maladies. Older people also struggle with periodic bouts of constipation. Grapes can act as a type of laxative to help move things along in the intestinal tract. Grapes are also a food to help us lower our cholesterol levels, something we all should strive to do.