This is my quick and easy French bread you can make at the last minute for any meal. It's very simple to make, it's moist in the center and a little crispy on the outside. This recipe is an old family recipe, and my four daughters would sell the bread door to door to make a little spending money when they were younger. We sold it at church bazaars and at school functions. We got orders ahead of time when people were having spaghetti and meatballs for dinner. It's a favorite bread when taking dinner to neighbors with a pot of chicken noodle soup.
The original recipe from almost 40+ years ago calls for shortening. I use butter these days, but most any oil could be substituted. Here's the deal with this recipe, it says it makes three loaves. You could make two larger loaves or make the three skinny loaves I made with a pan I have had for years. You can make this bread dough in a large bowl or use a Bosch bread mixer like I did. As you know, I love pictures to visualize what I am going to make, so today here are my pictures for this bread. I have a PRINTABLE recipe available at the bottom. The thing I like about this recipe is that it doesn't need eggs. If you have chickens that produce eggs that is great, but I rarely buy eggs these days because I am trying to eat less dairy. So let's get started with this easy French bread recipe.
Just so you know, I dump everything in my Bosch and start mixing. Yep, I start it on low and work up to high, it's an easy to make this recipe, I promise. It's actually a no-fail recipe that anyone can make. You can actually make French bread rolls with the same recipe. Just mold them differently and cut the cooking time according to how big you make the rolls. You can make these loaves on a greased cookie sheet as well. You may remember, I worked at a fabulous Kitchen store and I loved to buy the fancy kitchen tools because I enjoy cooking and baking almost everything.
Easy French Bread
Ingredients:
2-1/2 cups hot water
4 teaspoons SAF instant yeast
3 tablespoons sugar
1 tablespoon salt
1 tablespoon shortening (I used melted butter)
6 cups white bread flour
Step One-Instructions:
I dump everything in a bowl or my Bosch bread mixer and mix the dough about 6-8 minutes.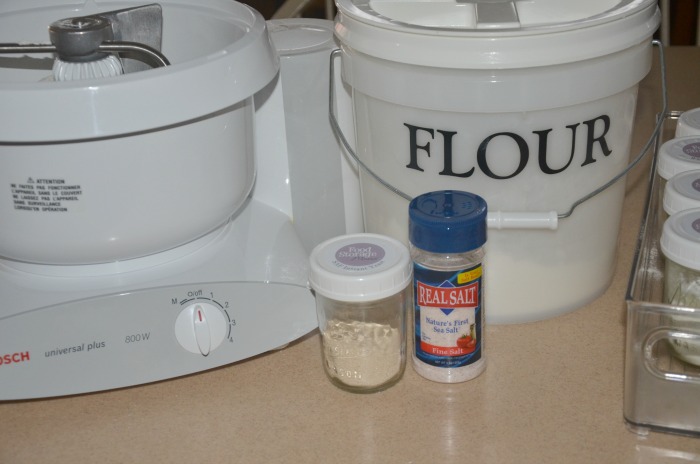 Step Two:
I then cut the dough with a dough cutter into three sections. OXO Good Grips Multi-purpose Stainless Steel Scraper & Chopper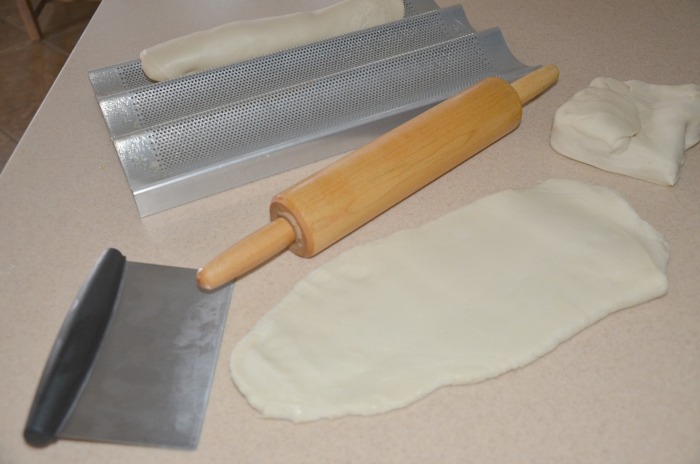 Step Three:
I roll out the three pieces of dough into a rectangle shape and roll up into a tube shape and place on a greased cookie sheet or French bread/baguette pan as shown: Chicago Metallic Commercial II Non-Stick Perforated Baguette Pan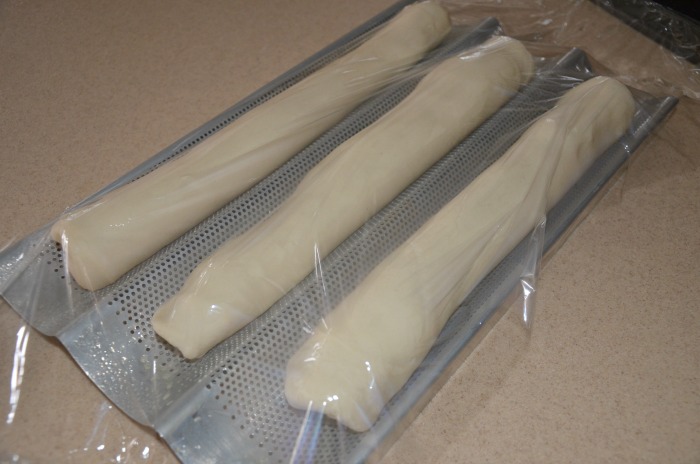 Grease some plastic wrap and cover the dough and let rise until double in size. Just before placing the loaves in the oven to bake, use a sharp knife to slice a few shallow cuts on the diagonal on the top of the dough. Preheat the oven to 400 degrees and bake for 25-35 minutes or until golden brown. Lightly brush the baked loaves with butter on the tops and serve while warm.
PRINTABLE recipe: Recipe by Food Storage Moms
My favorite things:
Bosch MUM6N10UC Universal Plus Stand Mixer, 800 Watt, 6.5-Quarts with Dough hook, scraper and double beater.
Kelly Kettle Ultimate Stainless Steel Small Trekker Camp Stove Kit. Boil Water, Cook Fast, Survive.
Nordic Ware Natural Aluminum Commercial Baker's Half Sheet
This post may contain affiliate links, including Amazon.com. Using links to these sites means I may earn a small percentage of the purchase at no extra cost to you.
Follow Me In Social Media: