Why You Need Cast Iron Pans
Most of us have a cast iron pan in our home, but not everyone knows what to do with them. If you're considering a cast iron pan, I wanted to share some tips on why you need cast iron pans. Cast iron pans are amazing to have for cooking in your own kitchen. They last forever, which is awesome! Let's talk about these pans and why you may just need to run out and buy one right now.
Cast Iron Will Last Forever
One of the first things that you'll hear about cast iron cookware is that they last forever, and that's true! It's among the most durable materials and can also be repaired when it's been damaged. But not to worry, cast iron is nearly indestructible. That doesn't mean that you shouldn't treat it with care, however. 
Even if you notice that your cast iron is starting to rust, that doesn't mean that it's reached the end of the road. Simply use a gentle scouring pad to remove the layer of rust from your cookware.
Provides a Natural Non-stick Surface
Do you grow as tired as I do of food sticking to the bottom of your pans? With a cast iron pan or skillet you won't have to worry about that ever again. Just be sure that your cast iron pans are well seasoned or have plenty of oil and fat to ensure that nothing sticks. Another incentive to using more oil and seasonings that you'll notice your food will taste better.  
This is especially important to remember when you first purchase your cast iron cookware because it hasn't had the chance to build up layers of seasonings. Preheating your pans and cast iron skillets before frying is also something that you should keep in mind. A lot of companies now sell them preseasoned, yay! Lodge Cast Iron Set
It's Extremely Versatile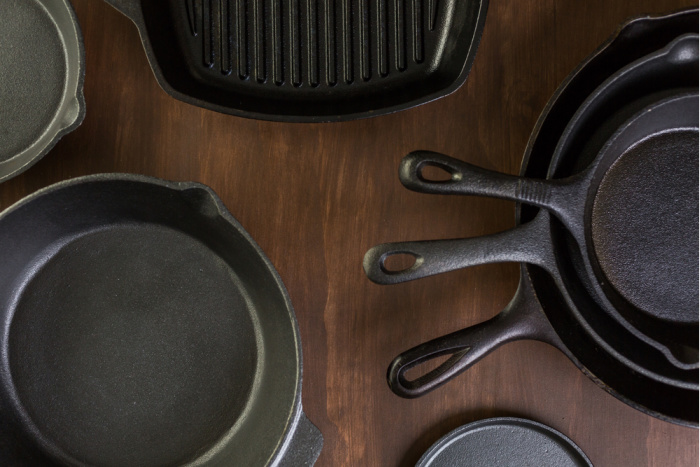 Cooking with cast iron pans and skillets provides you with more heating methods. Not only can it be used on top of your stove, but also placed in the oven or on top of an open flame. That's especially important to note if you enjoy a hot breakfast while you're out on a weeklong camping trip.
These awesome cast iron pans also bring you versatility regarding what you can cook with it in the kitchen. You'll be able to pan fry, sear, saute, roast, broil, braise, and bake with them. This includes cooking with them for every mealtime, whether it's breakfast, dinner, or making sweet desserts. Have you ever tried a warm gooey skillet chocolate chip cookie before? Don't forget a scoop or two of vanilla ice cream melting on top. Yum!     
Excellent Option for Deep Frying
So you don't have a deep fryer? No problem. Cast iron does an excellent job of retaining heat, making it one of the best cookware options for all your deep frying needs. So, not only can you sear meat with it, but delicious crispy fried chicken as well.   
Easy to Clean Up
Make sure your cast iron pans and skillets are clean once you're done in the kitchen. That's always good to keep the pan in great shape. Just keep in mind that you shouldn't reach for the soap when you do. All you need to do is rinse your cast iron in really hot water while using a stiff brush for scrubbing off any leftover food or debris. If you're still having trouble getting food unstuck from your cast iron, go ahead and boil water over the stove with it and then repeat the process.  
Please remember you also don't want to allow your cast iron pans to drip dry, so grab a clean towel and dry them immediately. This way you're preventing any rust from forming. I usually pat them dry and put them back on the burner to dry completely for a minute or two.
Pass Them On
You need a cast iron pan because then you can pass them on to your kids and grandkids. Cast iron skillets will last for many generations to come. Plus, you can pass on your skill of cooking from scratch using them. 
Final Word
Cast iron pans and skillets are one of the very few things in life that only get better with age. That's not something that you can say about other cooking ware, and even ourselves for that matter.   
You can use your cast iron pans for almost every cooking need that you have, but keep in mind that you don't want to cook acidic foods with it until after you've been cooking with your cookware for awhile. Check out these amazing cast iron recipes for more ideas on how you can get started on your cooking journey when using your brand new cast iron pans. May God bless this world, Linda
Copyright Images: Cast Iron Pans Deposit photos_104361386_s-2019, Cast Iron Pans on Wood Deposit photos_104362818_s-2019