How To Dehydrate Kale For Your Food Storage Stash
Do you know How To Dehydrate Kale? Today I am going to show you how easy it is to dehydrate it and leave the Kale dried or make Kale powder. Here's the deal, I can only freeze so many food items and place them in my freezer to store them. I love glass mason jars to store my Kale and Kale powder. You can add the Kale to soups, smoothies, lasagna, taco meat and the list goes on and on. I realize a lot of people really like it baked, stir-fried and in smoothies. This is just one more way to preserve the extra Kale we have when we have a bumper crop. There are times when we purchase too much Kale and we want to preserve, but maybe not freeze it.

This wide mouth pint jar has three sheets/racks of fresh Kale dehydrated, then pulverized down to this amount. Approximately  1/4 cup so far….I am not done dehydrating yet.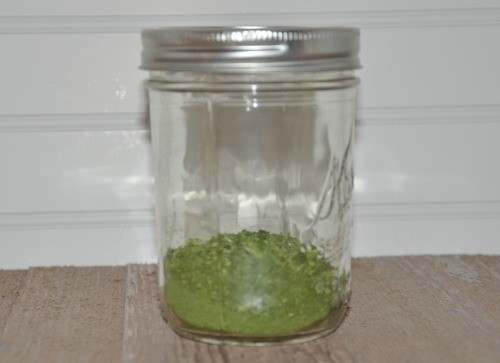 The picture below shows you how I chopped the Kale to place it on the racks to dehydrate.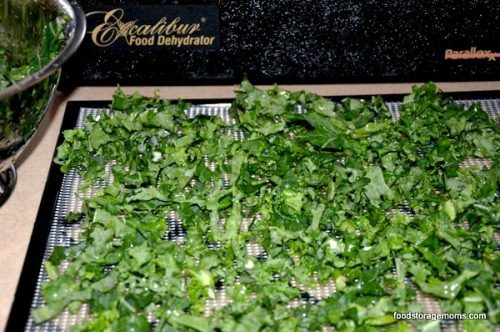 Here is what the dehydrated Kale will look like when finished drying. It will crumble when touched. Have you tried dehydrating pineapple? It's my favorite!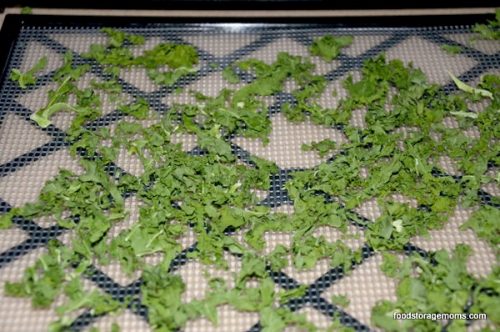 Benefits of Kale:
1. High in Vitamin K
2. Filled with powerful antioxidants
3. High in iron
4. Great anti-inflammatory  food
5.High in Vitamins A & C
How To Dehydrate Kale
Ingredients:
Fresh Kale, washed and chopped
 Instructions
Place the Kale on dehydrator racks. I dehydrated this Kale in an Excalibur Dehydrator at 125 degrees for about three hours. The time will always depend on the humidity of the room where you are drying the food item. Place in mason jars to store.
*Please note you can also make Kale powder by pulverizing the dehydrated Kale in a blender or Magic Bullet type machine. Use ½ teaspoon powdered Kale per smoothie, depending on the amount desired.
PRINTABLE recipe: Recipe by Food Storage Moms