15 Foods I Would Stock For Sure
Today it's all about the 15 foods I would stock for sure. This is a small list, but let's be real, some people are new to the food storage life and need some ideas to help them get started. It's always a smart idea to plan ahead and this list is a great way to set your plans in motion.
The same holds true when you're trying to provide your family with food on the table after an emergency has already happened. Once a disaster hits, it's already too late to start a stockpile of your family's favorite foods to make it possible to survive and thrive during an emergency.
Now is the time to stockpile so you'll be ready with a loaded pantry before this type of situation occurs. These are 15 foods that I would stock for sure.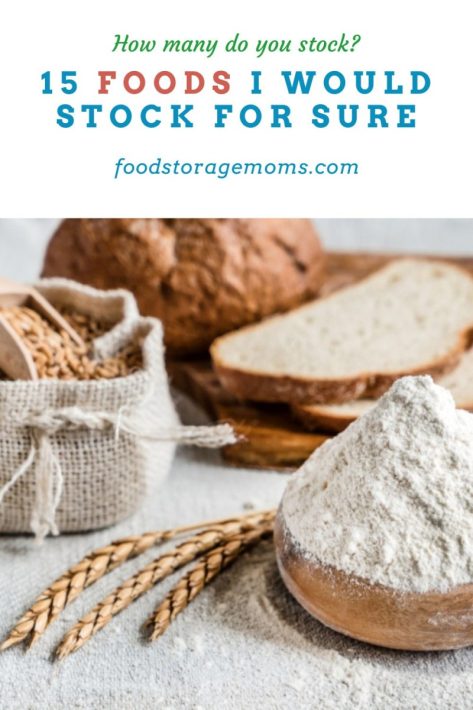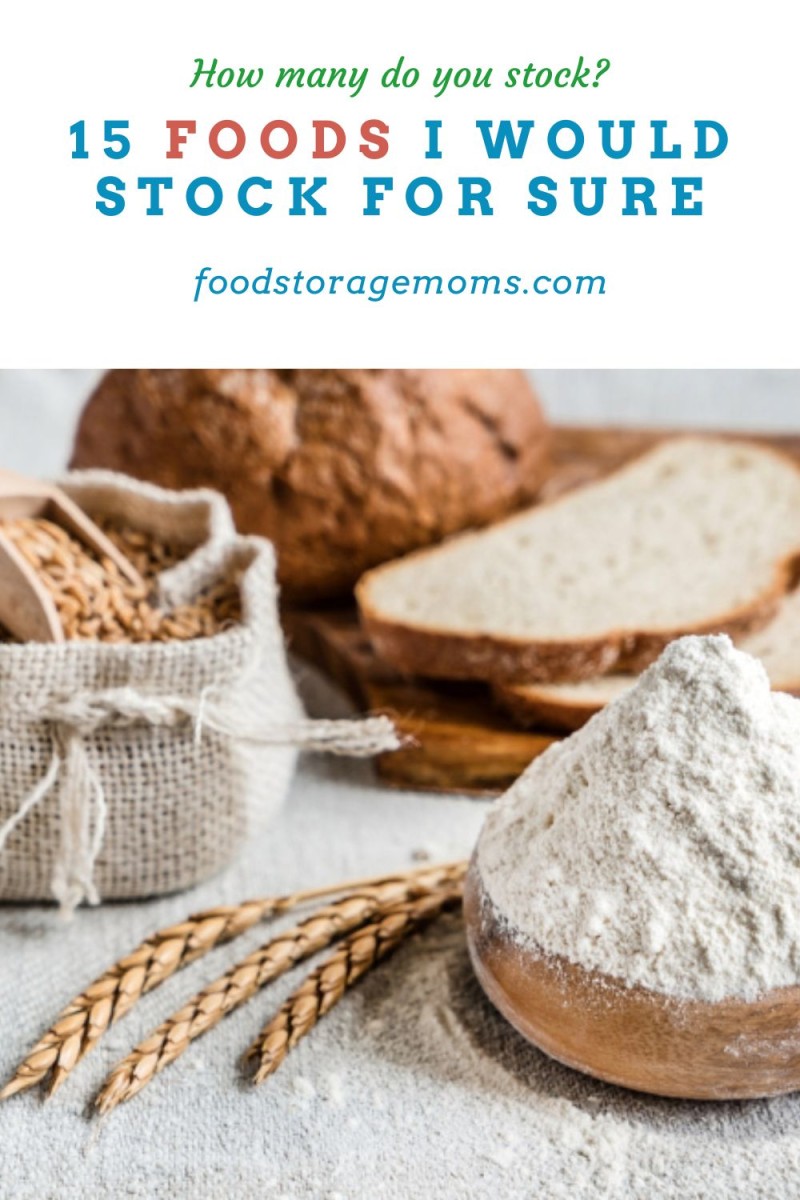 15 Foods I Would Stock For Sure
When it comes to a situation where you have to "bug in" or are told to quarantine to protect your family, you never know what to expect. Over the past couple of years, our communities have seen higher rates of sickness, many wildfires, and severe storms where we've learned what we did right and what we did wrong in response. Here are 15 foods I would stock for sure as we prepare for any of them to hit our locations again.
You'll notice that the bulk of these foods would be classified as non-perishable shelf-stable foods since we'll be storing them for an extended period. We love to have fresh perishable food for most of our daily meal preparations, but this list includes items we'll want when trips to the store probably aren't possible, at least in the short term.
1. Eggs
When it comes to protein, it doesn't get any better than eggs. You especially get more bang for your buck because you can create several meals for around $2 a dozen, depending on the store. You'll also want them for baking too since they are listed as an ingredient in so many recipes.
Eggs that are purchased fresh don't need to be refrigerated like the ones you pick up at the grocery store and they last for much longer too. In case you missed my post on eggs: How Fresh Eggs are Different From Store Bought Ones or this one: What You Need to Know About Farm Fresh Eggs
Some people raise chickens to ensure that they are provided with this delicious and nutritious food if an emergency were to ever happen. If you have a farmer's market close by you may want to check there for the availability of fresh eggs.
2. Canned or Dried Beans
Canned or dried beans are an excellent source of protein and fiber. They are a great filler item to help stretch your meals, and also have a pretty long shelf life on top of that.
The nice thing about buying bags of beans is that you can make fresh beans anytime. But, it's nice having cans of beans in case of an emergency since we won't use up your time to prepare them or your fuel to cook them.
Beans can be used in chili, salads, burritos, or simply enjoyed just the way they are. Be sure to store your dried beans in an airtight container to help them keep longer. Beans make a great addition to your food stocks if you and your family enjoy eating them. In case you missed this post: How To Cook Beans
3. White Rice
Rice is one of those staple foods that should be a part of every prepper's diet. Not only is it super cheap, but there are a number of different varieties that your family can enjoy.
There are white, brown, wild, basmati, jasmine, Asian, and countless others you could store. Instant rice may contain the least amount of nutrients, but it's far easier to store and also to prepare as part of your meal plans. In case you missed my post on rice: Fried Rice Recipes and How To Cook Rice
Rice is such a flexible food. I use it in my Mexican, Asian, and other cultural-oriented meals. They can "stretch" your efforts for a filling meal without much extra time or money on your part.
Please remember that brown rice has a much shorter shelf life (6 months or so).
4. Boxed Pasta
Boxed or bagged pasta contains no moisture and hardly any fat, making it less likely to spoil. So, not only does it last for an extremely long period of time, but it's also one of those foods that are super cheap.
Just like rice options, pasta has so many different varieties of noodles, making a totally different experience every time you go to use a different pasta variety as part of your food portfolio.
I never store my pasta in the boxes, I remove the pasta from the boxes and place pasta in airtight containers. I do have some #10 cans from Thrive Life for long-term storage. Thrive Life pasta has a shelf life of 8 years if unopened.
5. Oatmeal or Oats
Oats and oatmeal are foods that are rich in fiber and low in saturated fats. This helps provide you with not only healthy breakfast choices but nutrients like vitamins and minerals that are essential during an emergency.
These are foods that you'll need to use with plenty of water, so that's something else to consider.
6. Canned Vegetables
Canned vegetables can last for a really long time and they don't cost a lot of money for you to have a decent supply. They can help round out a meal with a healthy amount of nutrients for your family to consume. Tomatoes should be your number one go-to vegetable since they can be used in pasta sauces, chili, soup, or sauteed alongside other vegetables.
We also enjoy canned carrots, corn, peas, sweet potatoes, onions, and spinach. Although canned foods last on the shelf for a fair amount of time, usually one to two years, make sure you check expiration dates when you purchase them so you can stretch that shelf time as long as possible.
7. Canned Meat and Fish
The nation's meat supply could become pretty sparse if an emergency were to ever happen. Canned meat or canned fish may not be your favorite way to get protein, but it's better than no meat at all (unless you're a vegetarian).
We enjoy canned salmon, tuna, sardines, and chicken.
Hardly a week goes by that we don't prepare a meal using canned chicken breasts we buy at Costco. We make sandwiches, salads, tacos, burritos, and so much more. We really enjoy the flavor and know that the meal will be fairly low in calories and fat.
8. Nuts
You'll need some form of snack to munch on, and it doesn't get much better than stocking up on nuts. No matter which type you prefer, nuts contain plenty of protein and can store for a longer period of time. Nut butters are also another great choice. That would include peanut butter, Nutella, almond butter, and other varieties you may like.
Although not a nut, consider stocking up on popcorn too. It lasts a long time and doesn't take up much space. Most families like it as a treat or after-dinner snack.
Of course, you'll need a power or cooking source of some kind for the popcorn to pop.
I'm a real pistachio fan and Mark loves his cashews. We have a jar of mixed nuts close all the time.
I like to store my excess stash of nuts in the freezer using FoodSaver bags.
9. Protein Bars and Protein Shakes
It's also not a bad idea to have plenty of protein bars and shakes on hand. That way you have something that you can easily stow away in an emergency pack if you had to leave your home. Please keep in mind they have a very short shelf life.
10. Flour and Wheat
Do you enjoy doing a lot of baking or cooking? You'll want to be sure to have a decent supply of all-purpose flour at your disposal. I store bread flour, you probably know that by now. In Utah, it's been a challenge to find any bread flour this past year. The shelves have been empty each time I've tried to find my favorite brand.
I did see 50-pound bags of all-purpose white flour at Costco. It's just not my favorite flour. Besides, I have plenty of bread flour for my needs, right now. You may know I grind my own hard white wheat.
If you can learn to grind wheat, you'll save so much money by making your own flour and bread.
Consider also storing other whole grains. They are healthy for you, can be used in so many recipes, and most family members will enjoy the variety in salads, smoothies, and many breakfast entrees.
11. Kitchen Basics
If you plan on doing any baking, you'll need to consider having yeast, baking soda, sugar, honey, vinegar, and baking powder on hand at the very least.
This is especially true if you want to provide your family with delicious homemade bread that they can enjoy. And don't forget homemade tortillas, biscuits, and crackers.
I've made a bunch of bread this week, including regular loaves, dinner rolls, pumpkin rolls, etc. I love my time in the kitchen.
Don't feel intimidated making bread, we can all do it. Check out my "no-fail bread" recipes in my archives, your family will love you for it!
12. Cooking Oil
Cooking oil is one you certainly can't go without. I guess you could, but you'd be extremely limited on what you could cook or bake without it.
Set your sights on purchasing oil that mentions the word "virgin," which is a type of oil that contains the most nutrients. Cooking oil doesn't last forever, so keep that in mind. Yes, it does go rancid.
Coconut oil lasts a little longer, it all depends on the brand you buy.
13. Condiments
When an emergency happens, your situation will be tough enough as it is. You don't need it to be stressful without any ketchup, mustard, mayo, hot sauce or other condiments to add to your meal.
Try stocking up on little condiment packets that you would find at fast-food restaurants that are much easier to carry. So maybe it wouldn't be a total loss without them, but every meal would certainly be more bland and boring.
We always have a supply of pickles at our house. I like dill, Mark likes sweet pickles, and of course, bread and butter pickles. They go on just about any sandwich we make, other than peanut butter and jam. They add so much flavor.
14. Pepper Salt and other Spices
It's pretty needless to say why you need to have salt, pepper, and other spices as part of your food supplies to stock up on. If you missed my post on Spices: The Best Ones to Stock
We've started using more flavorful spices like garlic salt to add unique flavors to your meals.
15. Distilled or Regular Water
So number 15 on this list isn't necessarily a food item, but it's one you certainly can't go without. In fact, it's actually the most crucial item that you need to survive. If you missed this post: How To Store Water
People are able to live without food for just about 3 weeks, but that isn't the same story when it pertains to water. Without any water to drink, you're looking at only about 3 days to live, particularly if you live where it gets hot.
It's recommended that you store enough water to last you and your family for 3 weeks in case of an emergency. That's a lot of water when you consider that the average man needs 3.7 liters of water and the average woman needs just about 2.7 liters each day.
I highly recommend storing a minimum of 30 days' worth of water for every member of your family. I recommend 4 gallons a day per person. We need water for hydrating, cooking, washing clothes (at least our underwear), and for some limited personal hygiene care.
My favorite ways to store water:
WaterBricks-buy 1 or more: WaterBricks or WaterBricks
BlueCans-the cheapest place to buy them is at Brownells
It's all about the 3's
We can live for 3 minutes without oxygen.
We can live for 3 days without water.
We can live for 3 hours without shelter (extreme heat or cold).
We can live for 3 weeks without food.
Final Word
There are so many other foods that you would want to store in case of an emergency, but these are some of the most important ones that you'll want to stock up on.
What are some other foods that you couldn't live without in an emergency? Which items would you add to the 15 foods I would stock for sure? Please keep prepping, we must. May God bless this world, Linda
Copyright Images: Wheat and Flour Deposit photos_131367110_s-2019