Zucchini Bread Recipe-The Best One In The World
Don't you love baking zucchini bread? In the summer it seems we all have a lot of zucchini plants growing in the garden. I will be honest, the last two years I have had a struggle growing zucchini plants. I really have to laugh because NO one has trouble growing zucchini, right? Right. Well, luckily I had a few plants that produced some this year before the heat got up to 115 degrees. Today, I got my Kitchen Aid mixer out and the metal grater that attaches to it. Now, I could have used my cheese grater but I was afraid I might grate the skin on my fingers. I think I could have done it by hand faster than the Kitchen Aid, but that's okay, the zucchini is grated and life is good.
This recipe is from a neighborhood cookbook printed when I lived in Sandy, Utah. It looks like the date on the cookbook may say 1980. Don't you just love old cookbooks where you recognize names of neighbors that meant a lot to you when you lived near them? I'm thinking several people in this cookbook are probably deceased by now. Wow, this cookbook is 37 years old and it still brings me joy, even if the cover is missing.
Zucchini Bread Recipe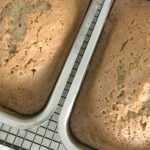 Zucchini Bread Recipe
Ingredients
2

cups

sugar

1

cup

oil

I used vegetable oil

3

eggs

1/4

teaspoon

baking powder

1

teaspoon

salt

1

teaspoon

baking soda

1

tablespoon

cinnamon

1

tablespoon

vanilla

2

cups

grated zucchini with skins and all

Raymond reminded me to wring or drain the excess liquid

3

cups

flour

I used white bread flour
Instructions
Preheat your oven to 350 degrees. Cream the sugar, oil, and eggs. Combine the spices, the zucchini, and the flour with the creamed mixture. This recipe is so old it says to sift the flour, but I didn't. The recipe says to cook in two bread pans for 1 hour. I filled three one-pound loaf pans. I baked my smaller loaves for 50 minutes.
This is the size bread pan I used to make my bread and also to make this zucchini bread. My favorite size bread pan.
Add-ons for zucchini bread:
1 cup chopped walnuts
1/2 cup grated carrots
12-ounces chocolate chips
Extra cinnamon
Extra vanilla
Nutmeg, a little sprinkle
1 cup Raisins
1 cup crushed pineapple, drained (thanks, Mare)
Readers comments:
Raymond: Linda, I use this recipe but add two cups of blueberries to the mix–blueberry zucchini bread. Yummy!! Also, a good tip for your readers is to wring the grated zucchini as dry as they can before mixing it in. If they don't the bread will have too much moisture, take much longer to cook, and just plain won't taste as good.
Please tell me the add-ons you like to add to your zucchini bread, I love to hear from you. Thanks again for being prepared for the unexpected. May God bless you and your family.