Pulled Pork In A Slow Cooker
It's been some time since I used my slow cooker to make some pulled pork. I've been using my pressure cooker for the most part when I want the meat to be really tender. But today I bought a bottle, not a can of Dr Pepper (TM) to make this recipe my family loves to take to family reunions.
It's a great recipe to leave cooking when you go to church or to run errands. When you come home, your house smells fabulous and dinner will be done in no time. It's a no-fuss, easy to make meal.
This is a no-fuss recipe anyone can make in a slow cooker for dinner. If the recipe is hard, I'm not going to make it. Well, this one is so easy, you will love it. The only thing I had to pick up for the recipe was some Dr Pepper. The recipe called for a can, but I bought a 20-ounce bottle because I didn't want a 12-pack of soda.
Pulled Pork Tips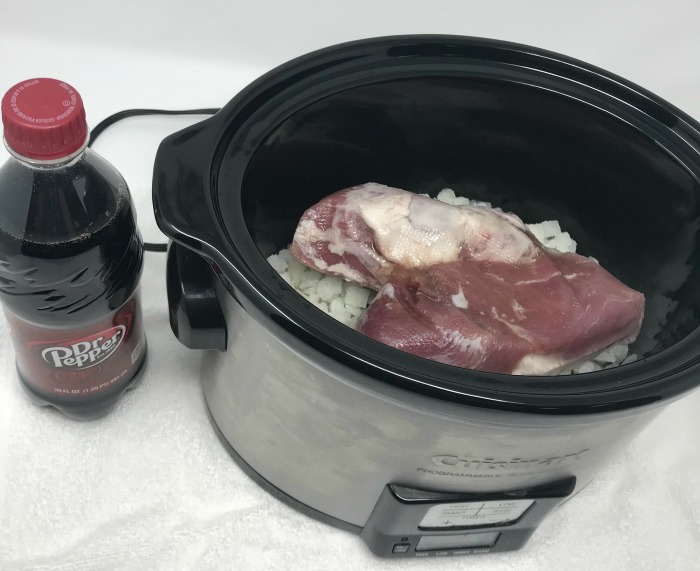 I love using my slow cooker for this pulled pork recipe.
Cooked Pulled Pork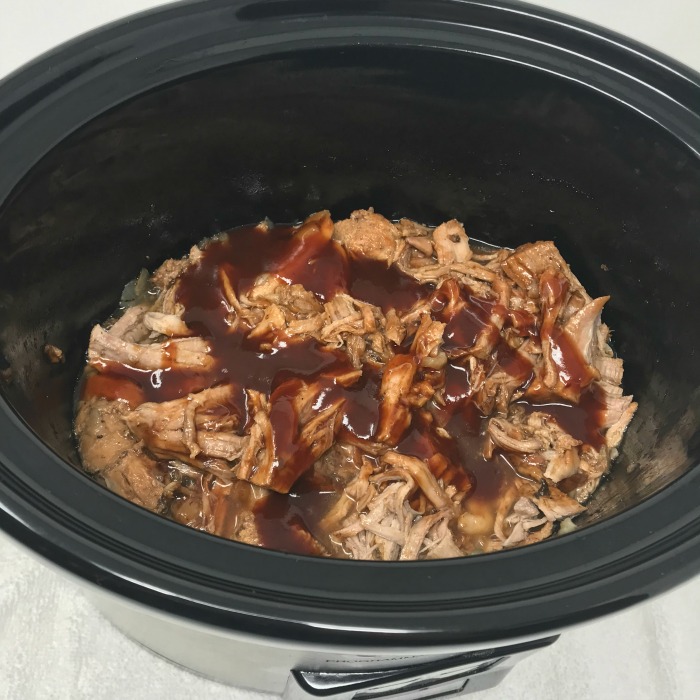 Best Cut Of Pork For This Recipe
You may wonder what's the best cut of pork I can use in the recipe? If you start with 3 pounds of pork you can make about 8 sandwiches. You can use any of the following cuts:
Pork Butt
Pork Shoulder
Pork Chops (easier without bones)
Pork Tenderloin
Pork Roast
If you make the pulled pork the day before you need it, it tastes even better. It may be the yummy barbecue sauce I add, called Kinder's Barbecue Sauce.
Can I freeze this recipe?
I love making a larger batch of food because I can divide the pulled pork into two-serving size portions. This gives me 2 containers for the freezer, dinner tonight, and lunch tomorrow. Cook once, serve four times.
How do you reheat pulled pork?
You can microwave it, but let's be honest here, it's so much better reheated in a cast iron skillet with a little olive oil,or even a little butter for that matter.
My pulled pork is too dry, how come?
If you cook the pulled pork in a slow cooker too long it will become dry. Please keep in mind slow cookers can vary in temperatures. If you have a meat thermometer, please check for 190 degrees, this means it's done. I always cook mine on low because it will be a whole lot more tender if you do. The larger the piece of meat, the longer it will need to cook. If the pork is smaller you will cook it less time.
Pulled Pork Recipe
Pulled Pork Recipe by Food Storage Moms
Ingredients
3

pounds pork tenderloin

1

12-ounce can Dr Pepper or 20-ounce Bottle Dr Pepper

1

onion, chopped or sliced

salt and pepper to taste

Barbecue Sauce of choice
Instructions
Grab a slow cooker and put the onions in the bottom. Next, place the pork in the slow cooker on top of onions and salt and pepper to your taste. Pour the can or bottle of Dr Pepper over the meat. Put the lid on and cook on low for 6-8 hours until meat is fork-tender and easy to shred with two forks. Serve with your favorite barbecue sauce on French Bread Rolls with coleslaw, if desired.
French Bread Rolls
This is a recipe my daughters helped me make when they were younger and they sold it door to door for $.75 a loaf, as I remember. Good times! Yes, you can make 2 loaves with this recipe and bake 25 minutes, or until golden brown.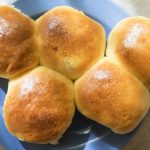 Easy French Bread Rolls In One Hour
Ingredients
2-1/2

cups

hot water

2

tablespoons

SAF instant yeast

2

tablespoons

sugar

2

teaspoons

Real Salt

5-1/2

cups

white flour or freshly ground hard white wheat

egg whites

to slather on rolls to make them crusty

sesame seeds or poppy seeds

optional, sprinkle on egg whites before the 2nd bread rise time
Instructions
Mix everything in the order shown except the egg whites and optional seeds. Knead for about five minutes in a bread mixer. Let rest for 15 minutes covered. Shape the dough into 18 rolls and place on a greased cookie sheet. Lather the tops of the rolls with the egg whites cut a shallow X on top of the rolls. Next, sprinkle seeds if desired. Let rise one more time about 15 minutes. Preheat the oven to 450 degrees and bake for 15 minutes.
Homemade Coleslaw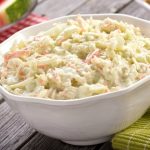 Coleslaw by Food Storage Moms
Ingredients
1

head of cabbage, shredded

1/4

cup

bell pepper, finely chopped

1

carrot, finely grated

1/2

teaspoon

salt (pepper to taste)
Coleslaw Dressing
1

tablespoon

sugar

1

tablespoon

vinegar

1/4

cup

mayo or Miracle Whip Salad Dressing

1/2

teaspoon

celery seed

1/2

teaspoon

dry mustard
Instructions
Combine the salad ingredients in one medium-sized bowl. Mix up the dressing and pour over the salad and serve when chilled.
Final Word
I hope you enjoy my recipes to cook from scratch as much as I love sharing them with you. Let me know if you make some pulled pork for dinner. Thanks for being prepared for the unexpected. May God bless this world. Linda
Air Fryer Pork Chops by Imperfectly Happy