How to Prepare for Isolation
Over the last 10-months, we haven't really been able to go out and be with family, friends, and loved ones nearly as much as we'd like. In fact, many of us have been in almost complete isolation for months. We have no clue how long this will last, but I think knowing how to prepare for isolation is something we need to talk about. 
Related: Top Things Pre-Corona That Everyone Misses
How to Prepare for Isolation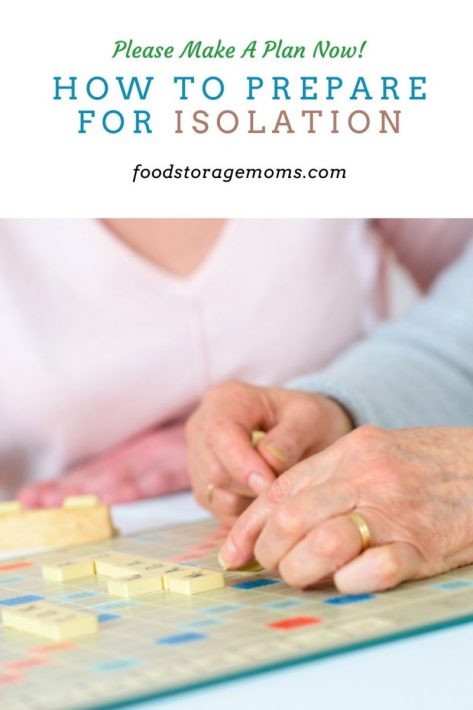 As humans, we are social creatures. We aren't really meant to be alone all the time. But, desperate times call for desperate measures. COVID is not the only reason we could ever be isolated. We could be isolated for a number of different SHTF scenarios. COVID made all of us think about it more, and how we can better prepare ourselves for being alone.
So, here are some ways you can prepare for isolation, or an extended isolation if you've already been isolated:
#1 Food and Water
Obviously, if you are isolating yourself, it isn't safe to be out and about where you can have contact with other people. So, the first thing you want to make sure you have is enough food and water stored away since you can't visit your local store as often.
There have been talks in various areas about a possible 6-week lockdown, or even longer. This lockdown would mean that you can only go to the grocery store, gas station, or medical facility. With everything shut down, our food supply in our local stores may not last the whole 6 weeks. I would suggest having enough food and water for at least 6 weeks! Here are some things to keep in mind:
Aim to get food in your cupboard and freezer.
Get your favorite meals, basic staples, and treats.
Do not forget to stock up on coffee or tea or other drinks that can help keep you hydrated.
Make sure to have essentials such as toothpaste, toilet paper, soap, shampoo, menstrual pads, etc.
Depending on who you believe, you need 1- 4 gallons of water per person per day stored for your household. So, for example for 6 weeks with only two gallons per day, one person would need 84 gallons of water. Are you ready for that?
#2 Make a Plan to Stay in Touch
You may not be able to stay in touch in person with friends and family, but you can still find ways to stay in touch. Make a plan for who you will be in touch with, what days, and what times. Write down phone numbers, set up Facetime, Zoom, or other chat opportunities.
#3 Stock up on Entertainment
Being in isolation can get pretty boring when you run out of things to do! How are you going to keep yourself entertained? Be sure to have books, board games, coloring books, streaming movies, or crafting supplies on hand. Here are 13 games I recommend.
#4 Don't Forget Your Pets
If you have pets, don't forget to stock up on items for them as well. Be sure to have enough food and water for your pets for at least a 6 week period.
#5 Have an Extensive First Aid Kit
When in isolation for a certain reason, it may be difficult to even get in to see a doctor. My friend has been waiting 6-months to see her neurologist. Not to mention, over the counter meds may be flying off the shelves. So, you need to prepare to take care of minor things on your own. If you aren't sure what to put in your first aid kits, check out my posts:
Many of these items can be found at your local dollar store, so don't spend a fortune getting first aid supplies.
How to Fight Loneliness and Depression
Another factor that you have to think about when dealing with isolation is loneliness and depression. As stated above, we are social creatures and don't tend to do well alone. Loneliness and depression not only affect your mental health, but they affect your physical health as well. In fact, many studies have shown that feeling lonely in isolation is just as harmful to your body as smoking 15 cigarettes a day.
So, not only do you need to be prepared with essentials, you need to be prepared to take care of your mental health, too. Here are some tips to combat loneliness and depression:
#1 Video Chat with Friends and Family to Fight Loneliness
We are social creatures and sometimes we just need to feel a little closer to what has been normal for us. A great way to do this is to do a video chat! You can:
Have weekly lunch dates online with co-workers.
Play games with friends like trivia and charades.
Do creative art sessions.
#2 Fight Depression and Go Outside
Fresh air and nature have a way of taking you out of your depression state. In fact, studies have shown that walks in the forest are associated with decreased levels of anxiety and bad moods. Outdoor walks have been used as supplemental treatments for major depressive disorder. So, if you are feeling depressed, get yourself up and head outside for a little fresh air. Seek areas that aren't often frequented by crowds, if possible. Take some time to observe your surroundings, nature itself can have a calming effect.
#3 Have a Routine
Routines can help keep you out of a funk. Try to have a plan for each day. Exercise in the morning, plan to work, craft, or do something that gives you purpose throughout the day. Schedule out what you will do and stick to it.
#4 Exercise for Anxiety and Depression
Exercising is so beneficial to your health. Regular exercise helps ease depression and anxiety by releasing endorphins and feel good chemicals that enhance your sense of well-being. Start with something like this 10-Minutes Beginner Full Body Workout on Youtube!
#5 Exercise Your Brain
Not only does your body need exercise, but your brain needs mental stimulation as well. To exercise your brain, do crosswords, Sudoku, or play a trivia game. You can even download and play these games with others on your phone. Here's a list of Online Games to Play With Friends by Thrillist!
#6 Stay Busy
Being bored gives you more time to think about how bored, lonely, and depressed you are. Try to keep yourself busy! If you have run out of ideas, here are some things to consider:
Learn a Pioneer skill you don't know! Here are 30 Pioneer Skills We Cannot Lose!
Organize your preps
Start a garden
Learn to bake from scratch
Make blankets for the homeless
Make homemade masks to sell online
How to Prepare for Isolation
Final Word
Knowing how to prepare for isolation is key to keeping your sanity and good physical health. Isolation is definitely not what we were meant for, but remember, you are not alone in this unique situation. Stay connected online, keep yourself busy, and stay active. You are prepared for this! May God Bless this world, Linda
Copyright Images: Old People Playing A Game Deposit photos_77930830_s-2019