What to Do During the Coronavirus Quarantine
Bars and restaurants are shut-down, many people are off work, kids are doing school from home, and life just seems to be a lot of crazy. We are literally under a Coronavirus Quarantine for 15 days or longer. So, what can we do? Please refer to the CDC for accurate information on COVID-19.
Coronavirus Quarantine
In the last few days, Americans have been sent emails to begin working remotely, schools have been closed for weeks to combat the virus, and virtually everything has been put on hold or standby.
Basically, the closures known as the Coronavirus quarantine is a way to enforce social distancing.
What is Social Distancing?
Social distancing is a critically important health intervention that can help stop the spread of the Coronavirus. It is, in essence, keeping large crowds of people away from each other.
This means gatherings such as weddings, concerts, conferences, sporting events, and mass transit have to be stopped or drastically adjusted.
Additionally, the best practice is to be at least 6-feet away from others no matter where we are.
Why are We Taking Extreme Measures?
Some think these measures of social distancing are way too extreme. We see the numbers and think this isn't that bad.
But, what we have to realize is we are comparing numbers of the flu for an entire 12-month period to the number of coronavirus deaths in just 2-months.
Social distancing really isn't just about YOU not getting it. It is about the fact that our hospitals and other medical facilities are not equipped to handle so many people sick at one time.
The CDC and government are trying to slow the curve, so we have time to get more ventilators, tests, medical equipment, and set up quarantine facilities.
One of the things we have to think about is that the hospitals and medical facilities may become overwhelmed like they are in Italy. If something were to happen, such as you were to fall and break a bone, your child busted their head open, or you needed surgery, those things may not be treated as quickly as desired.
If the medical facilities are overwhelmed, you won't be able to see a doctor for other things that come up. This means people could die or suffer unduly from other things besides the Coronavirus.
The extreme measures will help slow the spread so hospitals and medical facilities can prepare.
Things to Do During the Coronavirus Quarantine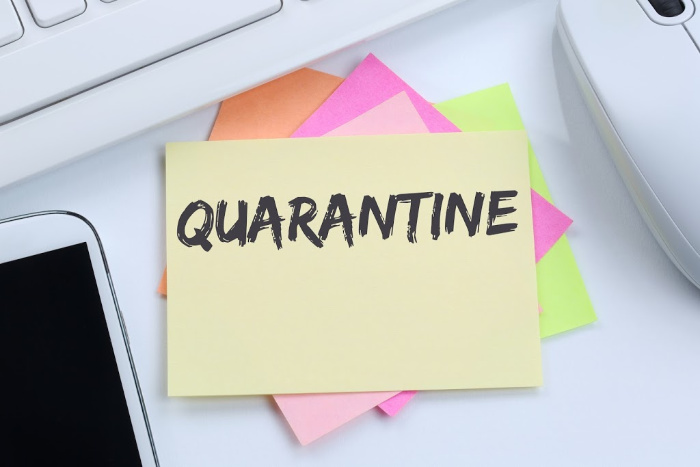 With that being said, it doesn't mean we aren't bored, overwhelmed, stressed, and upset about this. You may even feel like your rights have been taken away and like you are a prisoner to your own home.
This can be difficult for a lot of people, and especially kids. So, I have put together some activities you can do to keep your mind busy while under this quarantine.
Activities for Everyone
There are lots of things we can still do without gathering in large groups. Here are a few things you can do during this time.
Go for a Walk
Social distancing does not mean you have to hide in your house. It just means to stay away from other people, especially strangers. You can go for a walk around the neighborhood, to the cemetery, or to the park. Just remember to stay 6-feet away from anyone else that is out and about.
Start Spring Cleaning
If you need a dumpster, you can still order one online (I just did). Get your house in order. Do all the things you have been meaning to do and just haven't had time. Get rid of old junk, organize your closets, and catch up on that laundry pile.
Teach Kids to Cook from Scratch
With shelves empty, this skill is one we will always need to have passed down to new generations. Teach your kids, yourself, or someone you know how to cook from scratch. Here are some things you can start with:
Related: 50 Things Everyone Should Know How to Do
Visit State Parks
Yes, some of the National parks have shut down because people are flooding in. Some visitor centers may be shut down at State Parks, but many are still available to go into and walk the center and/or the trails nearby. Hiking, biking, or walking is a great way to get out of the house.
Take time to Write
When is the last time you actually wrote a letter to a friend or family member? Take time to write a letter, poetry, or start a blog. Writing is a great pastime and a great way to vent all your frustrations with what is going on.
Organize your Preps
During these 2-weeks, this is the perfect time to go through all your preps, make lists of what you have, make lists of what you don't have, and plan to acquire more or what's needed. Make your rotations and organize as much as you can.
Get Your Workout on
It isn't recommended to go to the gym, but many places are putting workout programs online for you to do in your house. In fact, Planet Fitness is offering FREE at-home workout classes.
Make Stuff You Can't Buy
Just because you may not be able to find it in the store doesn't mean you can't make it at home. Here are some things that are both educational for kids and something you may need:
Activities for Kids
Obviously, you can put our kids to work with many the above activities based on their age, but there are other things you can do to keep kids happy.
Have a Routine
If you have school-aged children home from school, they are used to a structured routine every day. If you aren't doing eLearning provided by your school, have a routine for learning something new each day. Check out scholastic for day to day projects for learning at home.
Put Together a Puzzle
Puzzles require critical thinking skills and brainpower. Buying a puzzle for the whole family to work on is a great way to bond, keep your mind positive, and keep your brain healthy.
Do Crafts
Kids of all ages love crafts and science projects. There are many resources available for crafts and projects. A simple Google search will bring you tons of things you can do. One idea is to make Elephant Toothpaste.
Take Some Virtual Field Trips
Lots of places are offering free virtual trips, like museums, parks, and more. Here is a great list to get you started:
Play
Playtime is crucial and honestly, kids aren't getting enough of it. Get them off those screens and get them outside to play. They can do the following things:
Do an outside scavenger hunt.
Run through an obstacle course.
Play lifesize board games like checkers, scrabble, and chess.
Final Word on Coronavirus Quarantine
Although this situation is not ideal, there are plenty of things we can do at home. And, sometimes a break is just what we need. Catch up on things at home, teach your kids skills they will need if this happens when they are adults, and take some time for a little R&R during this Coronavirus quarantine.
What other activities are you doing while under the quarantine? Share some activities in the comments below! Please stay well. May God bless this world, Linda
Copyright Images: Quarantine AdobeStock_330211267 by Markus Mainka, Quarantine AdobeStock_330356287 by Vatalii Vodolazskyi