Easy To Make Cheesy Potatoes
I would be surprised if we all didn't have a family recipe for cheesy potatoes, or where I live (Utah), most of us call them funeral potatoes. This is because families usually serve these cheesy potatoes at funeral lunches, church activities, and neighborhood parties. They really are yummy and so easy to make, so I decided to show you how to make them today using some dehydrated potatoes.
I must say my mouth is watering just thinking about these!
Use Dehydrated Potatoes For Cheesy Potatoes:
All you do is open a container or package of dehydrated potatoes, no slicing or peeling and let them sit in water covered for about 45 minutes. Drain and they are ready for frying, mashing or salads. I no longer waste potatoes my husband and I can't use. You can also use frozen or dehydrated hash browns (just reconstitute the dehydrated ones as directed on the container).
I promise your cheesy potato casserole will be totally consumed at your next get together! Sprinkle a little green onion on top and you are good to go with this fabulous casserole! With the potatoes, soup, Frosted Flakes and other ingredients in this tasty recipe, you'll be tempted to serve it on its own, particularly if you lean towards vegetarian meals.
Potatoes tend to make you feel full, and with the cheese and other items included you have a meal most all family members will be asking to be repeated pretty often. We've also made these in a series of pans and frozen some for future meals.
You can take them out of the freezer the night before you plan to serve them. Let the ingredients defrost, then place the covered pan in the oven. Be ready to pass out the recipe.
Easy Cheesy Potatoes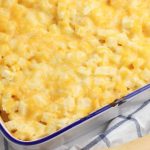 Cheesy Potatoes
Ingredients
12

Potatoes (or 32-ounces sliced reconstituted potatoes or 32-ounces frozen hash browns)

1

Pint

Sour Cream

2

Cans Cream of Chicken Soup

1/4

Cup

Butter

2-3

Cups

Cheese-grated

1

Cup

Frosted Flakes type cereal (I-pound the flakes in a bag until crumbly-I sprinkle these over the casserole after placing the ingredients in the 9 by 13-inch pan, before baking)
Instructions
Combine all of the ingredients in a large bowl, sprinkle with salt and pepper. Grease a 9 by 13-inch pan and scoop the mixture into the pan. I crush the frosted flakes and sprinkle over the casserole. Bake at 350 degrees covered with foil for 1 hour or until bubbly.
I love baking these in my SunOven.