10 Survival Items to Hunt For at Flea Markets
Looking for survival items to hunt for at flea markets? Flea markets, garage sales, and estate sales can be a treasure trove for survivalists and preppers looking for affordable gear to add to their emergency kits. While new survival items can be expensive, flea markets and other neighborhood sales offer the opportunity to find unique and useful items at a fraction of the cost. Whether you're shopping at indoor flea markets, yard sales, thrift stores, or a local thrift shop, there are plenty of opportunities to shop for survival items at places other than retail stores. Here are some survival items to hunt for at flea markets. Make sure you check out the history of flea markets, it's pretty cool!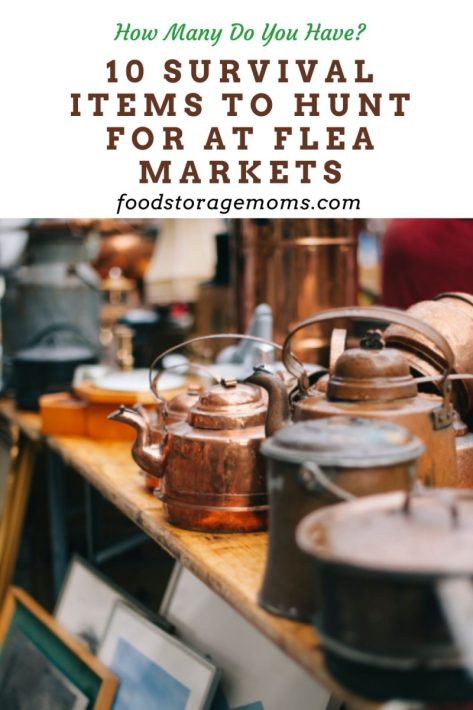 10 Survival Items
1. Knives
A good knife is an essential tool for any survival kit, and flea markets are a great place to find high-quality knives at a lower price than buying them new. Look for knives made from high-quality materials such as carbon steel or stainless steel, with a strong handle and blade. A good hunting knife, fixed-blade knife, or multi-tool can be indispensable in a survival situation! Plus, the best deals for knives can be found at flea markets. Survival Tips that Could Save Your Life
Remember, just because it's priced low it may not be the quality you really want. Even though it's used, buy it right the first time, particularly since you can't return it.
2. Camping Gear
Camping gear is another valuable item to look for at flea markets. Tents, sleeping bags, cots, and camp stoves can all be purchased for a fraction of the price of new gear. Make sure to inspect the gear carefully to ensure that there are no tears or defects that could make it unsuitable for camping or survival situations. Shopping for the worst-case emergency scenario? Make sure you check out outdoor markets for camping gear. Camping Tips for Survival
Even if the tents don't have all the stakes needed, or they're of a material you don't like, replacement stakes are pretty easy to find and aren't expensive. The most important thing is that the tent is structurally sound, the size you need, and is designed to be set up fairly easily. The tent poles are a critical part of the gear, so make sure they're all there and don't have any bent pieces.
3. Backpacks
A sturdy backpack is essential for carrying all your survival gear, and flea markets offer a wide range of options. Look for backpacks made from durable materials like canvas or nylon, with plenty of pockets and compartments for organization. Make sure the zippers are sturdy, and the straps are adjustable and comfortable.
The clips to close the backpack can get damaged or broken if not taken care of. Check those out closely so that they operate as designed.
4. Tools
Tools such as hatchets, axes, rakes, and shovels can be extremely useful in a survival situation. Saws, including a chainsaw, are always worth looking for. Flea markets often have tools that are no longer manufactured, making them unique finds. Look for tools with sturdy handles and blades, and make sure they're in good working condition before purchasing. You can find some high-quality items at a flea market, there are tons of tool options! Invaluable Tools Necessary for Transporting Emergency Supplies
Hand tools like wrenches, screwdrivers, hammers, and other things you often put to use should be checked out. They seldom get broken and last a long time. If they happen to have a rust spot, that is easily corrected and it shouldn't affect its functionality. Wrenches often come in sets, so look for socket sets, different-sized crescent wrenches, and open-ended wrenches in regular and metric varieties.
You may run into a sale with some things that will surprise you like nails and screws, cleaning rages, small towels, and other useful items. If someone is cleaning out their tool shed or garage supplies you could be pleased with what you find that will come in very handy.
5. Water Bottles and Containers
Having access to clean drinking water is essential for survival, and having a durable water bottle or storage container is crucial. Flea markets offer a wide range of options, from stainless steel water bottles to military-grade canteens. Make sure the containers are leak-proof and that some can hold enough water to last for a few days. Water Storage: How Much Do You Really Need?
If the sellers have upgraded their water storage container inventory they may have barrels for sale. The most common barrel size seems to be 55-gallon units. Few of those have a spigot to drain the water, so be aware you'll need a special pump to get the water out that you need. Staying hydrated is very important during a disaster situation, so don't get left behind when it comes to having sufficient water for you and your family.
I should add, buying used water containers scare me, we do not know what was in them before we purchased them. If you know the people you are buying them from and you trust them in how they were used, buy them. For instance, I gave my 55-gallon barrels away when I moved up north because there were too many to transport. My sister and her neighbor in Las Vegas, Nevada were happy to take them knowing I had only stored water in them.
6. First Aid Supplies
Having first aid supplies in your emergency kit can be lifesaving in a survival situation. Flea markets often have a variety of medical supplies, including band-aids, gauze, antiseptic wipes, and more. Make sure to inspect the supplies carefully to ensure that they are still sterile and in good condition. Putting together a first aid kit is more affordable when you buy the items at a flea market. First Aid Kits-What You Need To Survive
I would caution you to be very careful buying any special medical equipment that may require a prescription like a CPAP. If it's being sold it may not work properly or meet current FDA guidelines and any need for repair may prove costly.
7. Clothing
Having appropriate clothing for survival situations is crucial, and flea markets offer a great opportunity to find rugged and durable clothes at a lower price than buying them new. Look for clothing made from materials such as wool or cotton, which offer warmth and durability. Boots and shoes are also important items to look for, especially those with sturdy soles and ankle support. Best Time to Buy Children's Clothing
If you're a hunter, you may want to look for camouflage clothing too. Winter gear, including cold weather coats, jackets, hats, gloves, rain gear, and ponchos are worth keeping your eyes open for.
8. Fire Starters
Being able to start a fire is essential for warmth, cooking, and signaling for help. Flea markets often have a variety of fire starters available, including waterproof matches, magnesium fire starters, and even vintage cigarette lighters. Make sure to test the fire starter before purchasing to ensure that it's functional. 15 Different Ways to Make Fire Starters
9. Maps and Navigation Tools
Navigating in a survival situation can be challenging, so having maps and navigation tools is essential. Flea markets often have vintage maps and compasses available, which can be unique and useful finds. Make sure to check the accuracy of the maps and the functionality of the compass before purchasing. If you're looking for survival items to hunt for at flea markets then pay attention to maps and navigation tools for sale! 35 Items Every Prepper Should Have When Traveling
We hear about golfers using a GPS rangefinder. If you're out in the mountains or wilderness areas you're not familiar with, there are GPS units that can work wonders. If it's something you'd like, do some research so you know what you're looking for.
10. Solar Chargers
Having a solar charger can be a game-changer in a survival situation where you need to keep your phone or other electronics charged. Flea markets often have a variety of solar chargers available, including small portable ones that can fit in your pocket. Make sure to test the charger before purchasing to ensure that it's functional. How To Recharge Batteries With Solar For Survival
What else should I buy at flea markets?
Tape measure
Video games
Heavy metal pots and eating utensils like knives, forks, and spoons
Metal spatulas
Kitchen tool(s)
Food processors could also include pressure canners or cookers, and supplies like canning jars and lids
Pellet guns and ammo for your hunting firearms
Wagon – Radio Flyer
Mosquito nets
Fishing gear like rods, reels, creels, and unused line
Sewing supplies that may include thread, needles, sewing baskets or buckets,
FAQs for Shopping at Flea Markets
Are flea market items reliable?
Most items at flea markets are used or vintage, so it's important to inspect them carefully before purchasing. While some items may show signs of wear and tear, many are still functional and can provide value for years to come. Finding survival items to hunt for at flea markets is pretty common, just don't tell everyone what you're doing.
Can I haggle at flea markets?
Yes, haggling is a common practice at flea markets and can be fun. Many vendors expect customers to negotiate on price, so don't be afraid to ask if a lower price is possible particularly if you have cash for larger items.
How do I know if I'm getting a good deal?
Researching the cost of similar items online or at other stores can give you an idea of what a fair price is. Additionally, inspecting the quality of the item and asking about its history can help you determine if it's worth the price.
What should I bring to a flea market?
Make sure to bring cash, as many vendors may not accept credit cards or checks. It's also a good idea to bring a reusable bag or backpack to carry your purchases. Lastly, wear comfortable shoes and clothes, as you may be walking around the market for several hours.
Final Word
Flea markets can be a great place to find affordable survival gear. From knives and camping gear to first aid supplies and solar chargers, there are many valuable items to hunt for. By keeping an eye out for these items, you can build a comprehensive emergency kit without breaking the bank. Head out to your local flea market and start hunting for these essential items today, just don't forget to wear comfortable shoes and bring enough cash! May God Bless this world, Linda
Copyright Images: Flea Market Vintage Style AdobeStock_259420966 By Полина Власова, Flea Market Vintage Pot and Pans AdobeStock_135434380 By anastasianess