10 Clever Uses for Candle Wax
Candles can add just the right pleasant fragrance to your home, especially around the holidays when you have people visiting. Although not as popular today, they also brought light to the darkness for centuries, and more recently, every time the power goes out. And for the romantic at heart, they provide just the right magical touch to help set the mood.
But once the wax burns down too low, what option do you have besides throwing the old candles out? As it turns out, there are hundreds of uses for candle wax. These are 10 clever uses for candle wax that you need to try!
10 Clever Uses for Candle Wax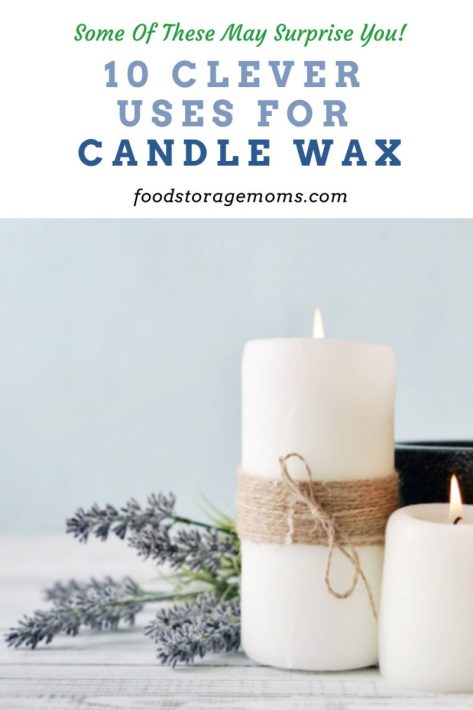 1. Removes Deep Scuffs and Scratches
If you're ever struggling to remove a deep scuff mark off your leather furniture or a pair of your favorite leather shoes, a mixture of candle wax and canola oil may be your answer. Melt a quarter of a cup of wax over low heat and then add a teaspoon of canola oil and then mix well. Use a soft rag to apply the mixture and buff the area until the scuff is gone.
But if your mixture starts to solidify before you've finished the process, all you need to do is return it to low heat and the wax melts into a liquid once again! It's amazing that you can use your favorite scent to remove deep scuffs and scratches.
I haven't tried it myself, but DIY gurus will take some melted wax and mix it with stain to match their scratched wood furniture to make it look like new again.
2. Fixes Squeaky Doors and Drawers
The next time that you have a noisy bedroom door or dresser drawer that is very difficult to open, remember to use an old candle to solve your problem. By applying just a bit of melted leftover candle wax to the hinges of your doors and the runners of your dresser drawers, you'll no longer hear any squeaks or have to wrestle ever again to get them open. The best way to fix squeaky doors is to use candle wax! 12 Ways to Reuse Broken Household Items
3. Seal Your Windows for Winter
If you happen to live in an area that experiences harsh winters and has older windows that allow air leaks, try using leftover wax as a seal when you don't have any caulk. Not only does candle wax work extremely well, but it will also save you energy and a bunch of money in the long run. How to Survive in a Stranded Car During Winter
4. Prevents Mold and Mildew Buildup in Your Grout
Candle wax makes for an excellent grout sealer and protector, especially in your bathroom where there tends to be a lot of moisture. Be sure to clean your grout before you apply the wax coating to it. This will keep mold and mildew from leaving your shower and bathroom area looking disgusting. How to Prep Your Home for Allergy Season
This next idea on my list will be one that your students or children will certainly enjoy doing. You can write down a hidden message or have the kids come draw something unique while using wax from a white candle. The image or message will only become visible when they take watercolors and paint over it. How cool!
6. Create a New Cork for Your Wine Bottle
Have you ever accidentally destroyed a cork while trying to open a wine bottle? And to make matters worse, you had no intentions whatsoever of drinking the entire bottle in one sitting? Well, you could always use melted candlewax to create a substitute until you're ready to drink the rest.
Take about 3 inches from a candlestick and microwave it for about 3 to 5 seconds, just long enough to soften it. You'll be able to fit the wax in the neck of the bottle and it will be hardened to create a proper seal. How To Dehydrate Grapes You can cut the softened candle so it doesn't stick out too far, but leave enough for you to grab when you want to open the bottle again.
7. A Great Fire Starter
Whether you're someone who enjoys campfires from time to time, or you're stocking up on fire starters for your prepping purposes, using candle wax and dryer lint together is a great combination. They're both extremely flammable and they will help you when trying to start a fire in damp or windy conditions. How To Start A Fire In A FirePit
If you take an egg carton and pour a mixture of melted wax and sawdust in the recesses, you can snap them out when dry and use these as fire starters too.
8. Fancy Letter Sealer
If you're looking for a creative way to impress your friends and relatives with a custom letter seal for the envelope, try melting some candle wax into any shape or style that you'd like. You can even use molds and embossers to add an extra touch of class to that wax seal stamp. This is a great way to use up your old stock of favorite candles.
9. Mosquito Repellant
For those of you who enjoy spending time out on your back patio during the evenings but can't stand all the mosquitos that also like to show up, this next one is for you. You can make your own mosquito repellant with candle wax pieces, a candle wick, a few drops of citronella essential oil, and an empty jar.
All you'll need to do is melt the wax and add it to the bottom of the jar. For every half cup of wax that you used, you'll need to add about 5 drops of citronella essential oil to it. Lastly, carefully place the candle wick in the wax and allow it to harden overnight. If you're tired of mosquitos, then this is one of those DIY projects worth checking out! Bugs You Can Eat for Survival
10. Uses for Candle Wax: Make New Ones
Perhaps you've wondered if you could just make new candles from your old candle wax. That's certainly a possibility! It's entirely up to you what vessel you use to do so, whether it's an old mason jar, baby food jar, or even an empty Pringles can. Just melt the wax and pour it into your new vessel, add the wick, and then trim it. You'll need to allow the wax to harden overnight before you use the new candle.
You can add your favorite pure essential oil, different wax blends, and various pieces of wax to make new candles that can serve many new purposes. Add your own personal touch to this process, just don't forget to add a new wick.
You can use beeswax to make candles too. You'll find that beeswax candles tend to burn brighter, remove some toxins found in the air, and give off a sweet smell. Whoever thought you could get into candle-making?
Other Uses for Candle Wax and Jars
Refill your empty tea lights with leftover wax, old birthday candles work great for this!
Use your old candle jars for storing items.
The glass containers can be used for storing nuts, bolts, bobby pins, or even safety pins.
You can use leftover wax in a wax warmer, just add fragrance oils! Be careful with hot wax.
It is not a great idea to mix soy wax with regular old wax. Keep wax varieties together. The type of wax does matter.
You can make your own crayons using old melted candles. Melt the wax in a saucepan, add some color pigment like liquid food dye, pour or spoon the melted mixture into silicone molds or plastic candy molds, and let it dry. What a fun DIY craft project the family can enjoy.
If you have a stuck zipper that just won't cooperate while zipping it up or down, rub a candle along the zipper a few times and then give it a try. It may take a couple of applications, but usually, this helps to provide a lubricant to smooth out the zipping process.
Some people like the look and feel of waxed shoelaces. It is felt that the shoelaces are easier to grip, they don't fray or stretch as much, and they become more waterproof. Although beeswax or paraffin wax may apply and work better, give a melted candle a try and see what you think.
Coating your eggs with wax has been shown as a means to help preserve the eggs. I use mine so fast I haven't found this to be necessary. With the high cost of eggs right now it may be wise to try this so they don't spoil and go to waste.
Final Word
As you can see, there are tons of creative ways that you can use candle wax around your home. From removing deep scuffs from leather furniture, fixing squeaky doors and drawers, preventing mold buildup in your grout, making hidden message art projects, creating new corks for wine bottles, and even starting fires, the possibilities are truly endless! So the next time you find yourself with some extra wax on hand, be sure to put it to good use! What are some of the easiest ways you've used up remaining wax? What uses for candle wax can you share with my readers? May God Bless this world, Linda
Copyright Images: Candle Wax AdobeStock_73998678 By tashka2000