Best Time to Buy Children's Clothing
Have you ever stood in the children's department of a clothing retail store, scratching your head, wondering why that tiny and adorable pair of blue jeans cost the same amount as the pair you've just picked out for yourself? After all, they only use up a fraction of the fabric and half the labor to make. When is the best time to buy children's clothing?
Best Time to Buy Children's Clothing
It also doesn't provide you with any comfort to realize that your children are growing faster than bamboo, (which is incredibly fast, I might add) where your daughter's favorite Minnie Mouse t-shirt fits one day, but not the next. To make matters worse, you may have a boy and a girl as siblings, where hand-me-downs simply aren't an option to help you save money.      
Now that you've taken the time to consider all of this, it certainly doesn't make a whole lot of sense for you to continue wasting money paying full retail prices for kid's clothing. So the question is, when's the best time to buy children's clothing in order to take advantage of the best prices, rather than be taken advantage of? I'd be more than happy to help all you mammas out there save a bunch of money.
Shop Between Seasons
If you're only going to take one thing away from everything that I say, let it be this. One of the best ways to help save your family a bunch of money on kid's clothing is to do your shopping between seasons. That's when you will find clothing at its cheapest because that clothing retail store will be trying to rotate their product in order to make room for the next season. Everything will be on clearance and at its cheapest mark-down if you consider the seasons and jump on those sales as they take place.  
Even though it may be the month of May, along with a consistent 60 degrees outside each day, consider going out and buying all your children's wintertime clothing for next year. This will, in fact, take more thought and planning on your part because you're having to think about how much your child will grow in the next 6-9 months, but you'll save hundreds this way.  
Shop Great Deals During Annual Holidays
After reading the caption, you may think that Black Friday is going to be at the top of my list, but it's not. While you can certainly pounce on great deals and savings the day after Thanksgiving and before Christmas, the periods after other holidays also offer store-wide discounts to save you even more. Here's a look at a few of the most notable ones.
Cyber Monday
Cyber Monday, usually the Monday following Thanksgiving, has only been around since 2005, but shoppers are quickly finding out the huge amount of savings that can be had on this day. Just like its name suggests, Cyber Monday is a great time to go online and add to your cart that way. Don't forget to put in that promo code to make the price drop even more. But you don't only have the option of shopping online on this day. Most, if not all, clothing stores will have incredible deals within their stores as well, where some of them will even have a certain percent off everything in their store. 
Back to School
Back to school may not be considered a holiday, but more like a season that comes at you quickly. Make sure that you head into your favorite clothing retail store around Labor Day weekend, not necessarily to pick out your kid's new school wardrobe that you'll be paying a high dollar for, but to find last minute deals on summer clothing that your kids can wear next year.
Martin Luther King Jr. Day
Looking for another clearance clothing holiday? Mark your calendar for Martin Luther King Day. You'll find that several clothing retail stores participate on this day and the savings can be huge! Some of the popular stores to check out include Gap, Forever 21, Express, and Asos.
After Holiday Shopping
After holiday shopping, like Christmas and New Year, is another fantastic time to buy your children's clothing. That's because shoppers are no longer as interested in the clothing market as much, which means you'll have some amazing luck when you head into their stores. There's even a chance that you'll be able to swipe some snazzy kid's clothing for only pennies at popular retail stores too.
Don't Shy Away From Garage Sales or Thrift Stores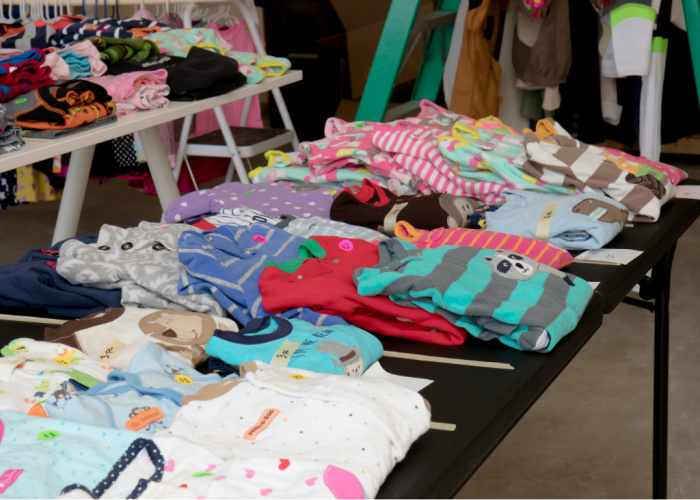 As soon as we realize that spring is just around the corner, it's not too long after that when we see garage sales start to pop up like dandelions. If you think that you can't find nice kid's clothing at garage sales or thrift stores, think again. You'll find tons of gently worn clothing at several homes in your area and pay a ridiculously low fraction of the original price. Your children and spouse certainly won't notice the difference.  
You'll be able to snag kid's winter clothing to tuck away until it gets colder outside once again, along with plenty of summertime clothing that they can wear now.  You'll have the convenience of all summer long to find great steals…I mean, deals.  
Final Word
Just to double-check to make sure that you were paying attention, the best time to shop for children's clothing is between seasons. There are also a handful of holidays that might surprise you, where you can find some super hot deals! For all you seasoned and veteran moms out there, what are other times of the year or particular clothing stores where you've been able to save your family a bunch of money? May God Bless this world, Linda.
Copyright Images: Children's Clothing AdobeStock_210427248 by New Africa, Children's Clothing Garage Sale AdobeStock_189426048 by Chrystine