Best Zucchini Carrot Pumpkin Cookies Ever
Today I am making zucchini carrot pumpkin cookies. Sometimes you just need a cookie. I have been eating so many yummy salads with all the veggies from the garden. So why not make some cookies with some of the veggies from it too. So here I am throwing some cookies together. I have some family and friends coming over for dinner tonight so I thought I would make this soft moist cookie recipe and serve them to my guests. This recipe makes so many I will send them home with a bag full of cookies.
This is a perfect recipe for a large neighborhood party or family reunion. If you are like me I always go for the homemade goodies. This year I had a few zucchinis, but then it got so hot here they stopped producing. So I cut the plants back to the quick, I guess you could say, and they are flowering again! Yay! Normally I have so many we are passing them out to everyone we know. This year I only have tomatoes, cucumbers and basil to share with the neighbors. Here is my regular pumpkin chocolate chip cookie recipe. I really want to share my friend Mary Ellen's recipe Molasses Pumpkin Cookies. If you have a pumpkin recipe to share please email the recipe to me and I will share the ones I have time to bake. Do you love trying new recipes as much as I do?  I usually make my pumpkin cookies with chocolate chips since my husband and I love chocolate.  We are trying to be more careful with the calories these days.  Boy, do I miss those chips!
The thing I like about this zucchini carrot pumpkin cookie recipe is I have all of the ingredients in the pantry, refrigerator, freezer or garden. I have been thinking about one thing lately….do any of you stir your cookies in a bowl with a wooden spoon? I grew up watching my mom and grandmother stirring and stirring those yummy cookies they would be making. My husband's mother would make sometimes 12 dozen cookies at a time. She had this HUGE Tupperware round 15-inch circle container. She would layer the different cookies with wax paper between the different types. Oh, the memories of those yummy cookies.
Zucchini Carrot Pumpkin Cookies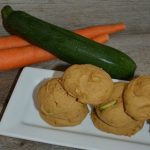 Zucchini Carrot Pumpkin Cookies
Ingredients
3

cups

sugar

3

eggs

1-1/4

Cups

butter-softened

29-

ounce

can of 100% pure pumpkin*not pumpkin pie mix

1

cup

raw grated carrots

1

cup

raw grated zucchini

6

cups

white flour or freshly ground hard white wheat

3

teaspoons

baking soda

1/4

teaspoon

cream of tartar

3

teaspoons

cinnamon

1

teaspoon

nutmeg
Instructions
Cream the sugar, eggs, and butter and then add the canned pumpkin, carrots and zucchini until blended. Start adding the remaining ingredients and thoroughly mix. Then drop by teaspoonful size scoops onto a greased cookie sheet. Bake @ 400 degrees for 10-12 minutes.