How And Why To Store Different Beans
I feel an urgency to show people how and why to store different beans. The price of meat is going up like crazy. If you are vegetarian this will not matter to you. If you raise your own animals you will be okay as long as you can feed and care for the animals. If you are a hunter and know how to preserve your choice of animal you will be good to go as well. As for the rest of us, a good alternative is to store and eat beans.
I have always stored beans. Just think of all the beans you can store. Beans are such a great source of protein. I have an anti-gas tip below.
Store Different Beans
1. Pinto beans-great for refried beans
2. Kidney beans-great with veggies in the garden or to make chili
3. Red chili beans-love these to make chili
4. White Northern beans-great with a little chicken broth, celery, and onions to make a pot of soup. Add ham if desired.
5. Blackeye peas-great for a side dish or to make hummus
6. Anasazi beans-great for southwestern dishes or soups
7. Black beans-yummy in tacos or as a side dish
8. Chickpeas (Garbanzo)-awesome to make hummus or add to a salad
9. Cannellini beans-great for soup
10. Lima beans-great for soup or a side dish
I always figure if I start with one cup dry beans I will have three cups cooked beans.
Sprout-grind-mix different beans
You can sprout beans, grind beans, and of course, mix different beans to make different meals. Who doesn't love a yummy homemade tortilla with any kind of bean? Add some salsa and I am good to go! Do you love a really good chili? Here is a yummy white chili recipe. This is why I would store different beans of every kind. You can make so many meals with beans. There is such a variety of different beans to store and provide meals in so many ways.
Buy in bulk
You can buy beans in bulk and store in 5-gallon buckets with airtight lids like Gamma Lids. I prefer to buy smaller #10 cans for my family. I love buying cases of beans with low sodium when they go on sale as well. One thing you can do is cook up a large batch of regular beans and freeze them in bags that will be ready to use.  You just thaw them in the refrigerator the night before you need them. I do not like to use my freezer for a lot of things in case we lose power. But a few bags are fine. I love the instant beans because they take up so little room. I have plenty of water stored to cook them. If you have a few spices you can make so many meals with different beans. Just think of all the different beans you can store in bulk!
Anti-gas ingredient
I found this great product while teaching classes in a store in Salt Lake City, Utah. It is Organic Ajwain Seeds.  After you soak your beans drain off the water and cover with fresh water and add the required amount of Ajwain seeds. You just add a 1/4 teaspoon of Ajwain Seeds to 2 cups of beans while cooking.  The spice smells so good. It's like a Mexican seasoning. It's organic and adds flavor to the beans, as well as the anti-gas factor! I still add my favorite spices like cumin, chili powder, cinnamon, cocoa, etc.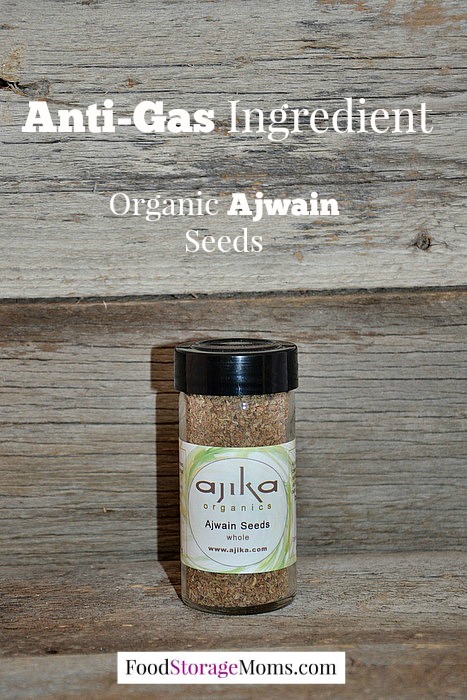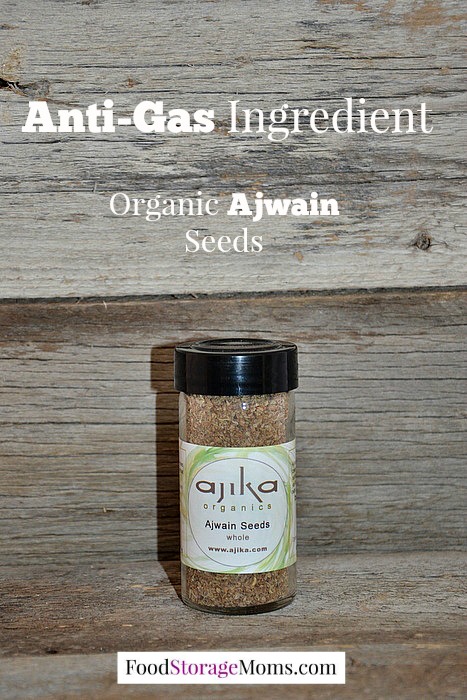 Here is a link to a post I wrote last year about storing beans
Thanks to Carolyn for this tip: I have used fresh ginger slices in the soaking water for beans. It prevents the gas forming from the beans. I also like to add a few slices to the beans as I cook them for added flavor.
Let me know the different beans you store and I will add them to the list above! Please start stocking up on beans. I believe people will have to move to beans because of the rising meat prices. Beans are fairly inexpensive right now, so I would stock up on them when your budget has room to buy some. Let's be prepared for the unexpected.