How To Make Crackers In One Hour Or Less
I realize not everyone likes to make bread, and maybe even have no desire to make bread. I get it. I grew up watching my mother make bread and I taught my daughters to make bread too. Well, if we have an emergency I thought to myself I need to show people how to make crackers. They will fill the belly after any disaster or emergency. They are very easy to make, even an eight year could make these.
The ingredients are typically what we have in our pantry. You can choose just about any spice in your cupboard to flavor these crackers. Today I used garlic powder, dill weed, and sesame seeds.
How To Make Crackers:
Tools needed:
Large bowl
Danish whisk or wooden spoon
Rolling pin
Measuring cups and spoons
Pizza cutter or this rotary cutter I used: Wilton Pastry Wheel
Spray bottle or pastry brush
Cookie sheet
Fork, to prick the crackers before baking
Crackers In One Hour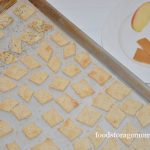 Crackers In One Hour
Ingredients
3

cups

white flour

1

tablespoon

sugar

2

teaspoons

salt

1/4

cup

olive oil

1

cup

water

Choice of seasonings: sesame seeds

garlic, poppy seeds, garlic powder, dill weed, etc.

You can also add 1-1/4 cup grated cheese in a blender on "pulse" to crumble it and add to the dough while mixing the dough. This would give you cheesy crackers. Yummy!
Instructions
Preheat the oven to 450 degrees. Grease a cookie sheet and set aside. I dump all the ingredients except for the seasonings in a large bowl. Mix until it's ready to knead on the counter. It takes very little kneading. You mix, knead and roll out the dough. Easy peasy. Next, you roll out the dough as close to the shape of a square or rectangle 1/8 inch thick or less on a floured counter top. Now its time to cut the shapes in the desired shapes like diamonds, rectangles or squares. You will need to prick each cracker with a fork to stop the crackers from rising in the oven. Bake the crackers for 14-16 minutes or until the edges are golden brown. The crackers become crispier as they cool.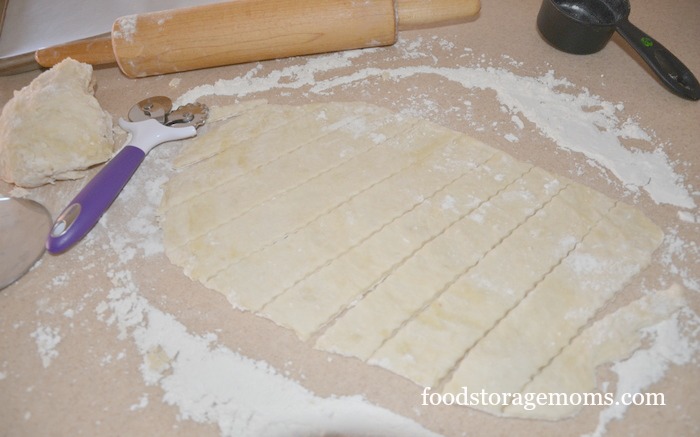 Carefully pick up the crackers and spray with water or use a pastry brush to wet the pieces after placing all of them on the cookies sheet. Sprinkle with your choice of spices.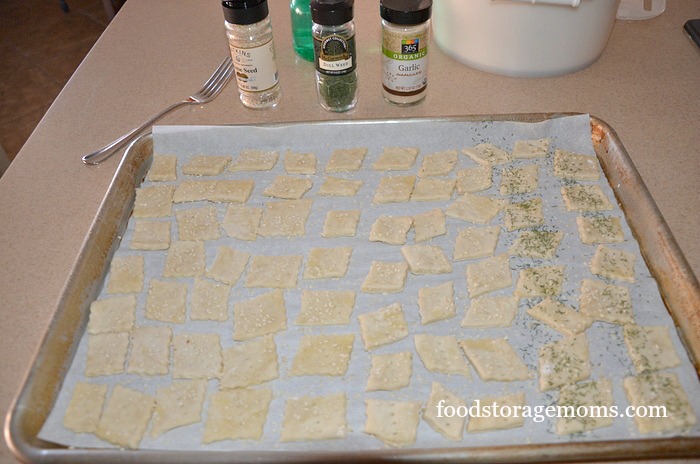 I hope you try this recipe because making crackers is really easy. These would be great in tomato soup or chili. Add some peanut butter and jelly or tuna fish salad on these for a lunch. This would be a great recipe to use after a disaster and you are out of bread, You can make crackers and feed your family. Thanks for being prepared for the unexpected.
I finally found these round biscuit cutters I could use for my crackers: RSVP Stainless Steel Round Biscuit Cutters with Fluted Edge, Set of 4
Comments from readers:
Marian: I love this recipe. And I've made it using butter as well. I grate cold butter into the flour mixture, stirring as I grate so that it's well mixed in. I roll the dough out, then put in on my stainless steel cookie sheets, and then use the pastry wheel to cut it. That makes it a lot easier than moving each cut cracker to the baking sheet.