Easy To Make Healthy Granola Bars You Don't Have To Bake
Have you ever wanted to make your own healthy granola bars? Maybe you already do. Well, I decided I wanted to make a healthier granola bar than what I can buy at the grocery store. Yes, I have a sweet tooth, but at least I know these don't have all the chemicals to "preserve" them like the ones I can purchase. I started out with a medium bowl…I was just going to make some bars with the ingredients I have on hand at the moment.
I started with oatmeal, puffed wheat, pumpkin seeds, the container with the leftover peanuts and raisins (you know where you just eat the M & M's and leave the rest of the trail mix), etc. Before I realized what is happening, I have to grab the big, eighteen-inch stainless steel bowl…so here is the recipe I came up.
No Bake Healthy Granola Bars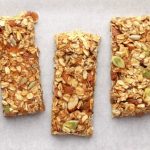 No Bake Healthy Granola Bars
Ingredients
1/2

cup

butter

2

cups

brown sugar

1

cup

honey

1-1/2

cups

almond butter

1

cup

coconut shredded

1

cup

raisins

1

cup

peanuts

2

cups

raw pumpkin seeds

1

cup

coconut oil

melted

2

teaspoons

cinnamon

3

cups

regular oats

3

cups

puffed brown rice
Instructions
Place all the ingredients in a large bowl including the melted coconut oil (except the butter, brown sugar, and honey).

Blend the mixture. Place the butter, brown sugar and honey in a medium pan and bring to a boil. Stir constantly. Boil for about 3-5 minutes over medium heat. Next, immediately pour the mixture over the ingredients and stir until completely moistened. Place the mixture onto a greased cookie sheet and cool in the refrigerator for about 30-40 minutes. Cut and wrap in desired bar sizes. These can be frozen as well.
These healthy granola bars you can grab from the freezer and take with you to snack on at work or eat them at home for a quick snack.