Why Senior Citizens Need a Dog
As you get older, life tends to get a little lonelier. The kids have moved out of the house and started their own families. The grandkids may have even started their families. Friends you once had may not be around anymore, and life just keeps moving.
Loneliness is one reason why Senior Citizens need a dog, but research has found that having a dog has a lot of health benefits for them as well.
Related: How to Make Dog Food
Why Senior Citizens Need a Dog for Health Reasons
Are you older than 50 and not sure if you should get a dog? Well, I am here to tell you that getting a puppy has definitely put a lot of life and energy back into my home.
But, there are many health benefits of having a dog as a senior citizen as well. Here are some of the reasons I chose to adopt a puppy!
My New Puppy Izzy
I'm sharing a picture of my new puppy today. She is from the same parents my Bailey (Shih Tzu) is from. There is something about dogs that bring me so much joy. The teething and the potty training is not fun, but I know in a few months the teething will end.
I live a pretty simple life, I love cooking at home, writing, and having friends like you to interact with. It means the world to me. And now I have two Shih Tzu's to love and cuddle with. Do you have pets? I love to hear from you.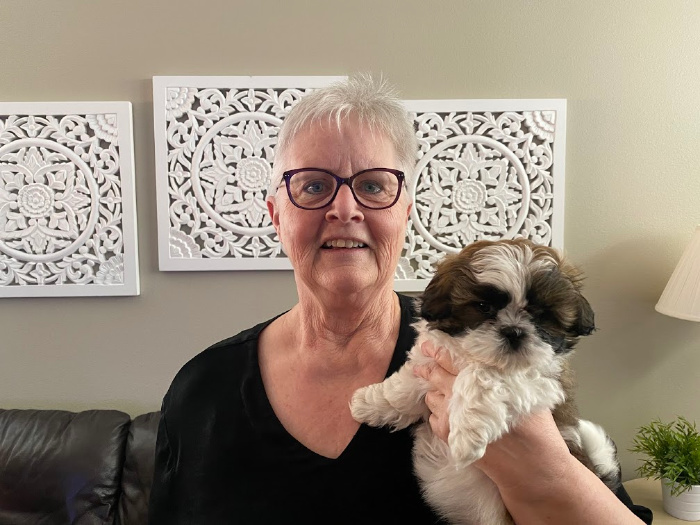 Dogs/Puppies Keep You Fit
Did you know a person with a dog walks an average of 1-hour longer each time than those walking without a dog? With a puppy, I am in and out all day long, but even walking a full-grown dog gives you exercise.
As you age, it's easier to not worry about staying fit, but having a dog kind of forces you to try and stay more fit. 
According to a study done by the University of Missouri, those who were over 50 and walked their dog reaped in the health benefits.
They had lower body mass index, were less likely to have mobility issues, and had few doctor visits, as well as fewer serious health issues. 
Basically, having a dog keeps you fit, active, and makes sure you get the exercise you need!
Senior Citizens Need a Dog Because They Help with Stress
Let's face it, when you're stressed, there is nothing like a big ball of fur ready to cuddle up next to you. Exercise in itself helps reduce stress, but owning a dog offers a number of other stress-reducing perks.
In fact, studies have shown that just petting a dog can lower stress-induced blood pressure and heart rate. This is because spending time with your dog is believed to help release calming, stress-relieving hormones into your body.
Dogs Make Your Heart Healthier
Along with physical activity, dogs make your heart healthier. Because owners move around more, your blood pressure is lower as well as your cholesterol.
Lower blood pressure and lower cholesterol mean you have less of a risk of heart attacks or heart failure.
Other Reasons Why Senior Citizens Need a Dog
Among all the health benefits, there are other reasons why senior citizens need a dog. Not only does Fido help you stay healthy, but he offers you a lot of emotional support as well. Here are some other reasons you may want to consider getting a dog.
Senior Citizens Need a Dog Because They Keep You Safe
As you get older, you can't just run away from a dangerous situation. But, owning a dog can deter bad people from harming you. In fact, studies have shown that a barking dog deters burglaries and other violent attacks.
Additionally, dogs have a heightened sense of hearing and smell which means they can detect and alert you of danger much quicker than you could.
Not only do dogs help keep you safe from burglaries, intruders, and dangerous situations, but they can be trained to get you to help if you fall, have a heart attack, or are in need of medical assistance. 
Dogs are There When You Need Them
They fight loneliness. When nobody else can be there, your dog is there for you. According to a report, 28% of people over the age of 65 live completely alone.
With kids starting their own life, the loss of a partner, and limited mobility, many senior citizens need a dog to combat loneliness and isolation. 
Loneliness and isolation can lead to depression. But studies have shown that owning a dog can lessen the feelings of loneliness and depression.
Even residents in nursing homes have benefitted from weekly visits with a pup.
They Make You More Social
Another way to combat loneliness is to interact with people. However, in this fast-paced world, it can be hard to do that. Going on walks with your dog doesn't just force you to get active, but they help you socialize with others.
Dogs make friends easily. Just take the movie 101 Dalmatians for instance. Pongo made sure to get his human interacting with someone.
As your dog makes friends with other humans and dogs at the dog park, you will, in turn, have a conversation starter with other dog owners.
Dogs are Amazing Companions
Dogs know just how to be a best friend. They not only are there when you need them, but they help to give you a sense of purpose in your life.
As you take care of your dog, you remember to take care of yourself. You can begin to have a routine as well as feel needed. The more you love your dog, the more they will love you.
Assistance Dogs
Of course, getting a dog of any breed is going to offer many health benefits to senior citizens. However, there are also many types of assistance dogs that are trained to be just what you need.
If you are thinking about getting a dog, look into these different types of assistance dogs:
Related: 11 Human Foods Dogs Should Never Eat
Emotional Support Dogs
These dogs are specifically trained to make sure you don't feel lonely. An emotional support assistance dog is not trained as a service dog. They actually receive minimal training.
However, they are fully housebroken, not aggressive, well-behaved, and don't excessively bark.
Service Dogs
A service dog is a very highly trained dog. These dogs are trained in various areas. Most people may be familiar with a service dog that helps those who are blind, but dogs can be trained to offer services to specific needs. Here are just a few of the types of service dogs you can get:
Guide Dogs
A guide dog is a service dog that assists people with vision loss. They lead individuals around obstacles and to destinations.
Mobility Assistance Dogs
Mobility assistance dogs increase the independence of those who are wheelchair-bound, have trouble standing, or walking. These dogs can perform the following tasks:
Steadying their handler
Helping to brace a person if they fall
Retrieving dropped items
Turning lights off and on
Carrying items in a backpack
Getting help if someone falls
Helping their owner get up from seated positions 
Opening and shutting doors 
Pulling a wheelchair up inclines and ramps, as well as for short distances
Service Dogs for hearing Alert
These dogs are trained to alert people with hearing loss. Some sounds may be lost as you get older, but a hearing alert service dog is able to alert you of doorbells, telephones, crying babies, sirens, another person, timers, sensors, smoke, fire, and alarm clocks.
Medical Alert Service Dogs
Medical alert service dogs are trained to know if their owner needs medical help. They can alert you when something is wrong and are able to get help if you are not conscious.
Diabetic Alert Service Dogs
These are highly trained dogs that have noses that are a thousand times more sensitive than a human nose. They can detect a change in blood sugar levels by the metabolites given off by the skin and breath 30-minutes sooner than a glucose meter.
With a high level of training and a nose out of this world, these dogs alert their handler of an increase in glucose levels. They can also go and get help if the handler is impaired, including retrieving insulin from the fridge. 
Seizure Alert Service Dogs
A seizure alert dog is specifically trained to help someone who has epilepsy or a seizure disorder. These dogs can actually smell a seizure coming before it happens. Here are some of the tasks a seizure alert dog may do:
Getting help, either by finding another person or activating a medical alert or pre-programmed phone.
Removing dangerous objects away from a seizing person's body.
Blocking a person with their own body from walking into obstacles, streets, or other dangerous areas.
Attempting to wake an unconscious person during or after a seizure.
Offering physical support of the back or head.
Carrying important information about the owner's medical condition including instructions for first responders, emergency medication, and oxygen.
Final Word
Are you thinking about getting a dog? If you are a senior citizen living alone, I would highly recommend it. Dogs make great companions, help to protect you and keep you safe, and offer many medical benefits. Stay well, my friends. May God bless this world, Linda
Copyright Images: Puppy Depositphotos_5224484_s-2019