How To Make A Flan Cake From Scratch
This is the perfect time to learn how to make a flan cake from scratch. You can use this recipe for so many fruits, and we have all the ingredients in our pantry or refrigerator, woohoo! When I was first married, my mother gave me a fluted flan cake pan. My husband was going to school full time and working two jobs.
Money was tight and whenever I was asked to bring something to a neighborhood party I always volunteered to bring a Cherry Flan Cake, with Dream Whip. I don't think they even make or sell Dream Whip anymore. Years ago everyone used fake whipped cream. When you are going to school and on a tight budget you don't buy real whipped cream! LOL! Zenker Non-Stick Carbon Steel Flan/Tart Pan, 11-Inch
 or you can make it in a springform pan: Nordic Ware Leakproof Springform Pan, 10 Cup, 9 Inch
I love this recipe because you can make this dessert with everything you have at home from your pantry! Yes, even shelf stable Whipping Cream is available! Trader Joe's has a great one! Trader Joe's Shelf Stable Tetra Grade A Whipping Cream 8 FL Oz (236 mL) Cream at the Ready When You Need It (UHT) Room Temperature, 3 Pack
. Of course, the fresh whipped cream is always the best!
The Flan Cake is similar to a nutty shortbread. It's great for layering just about any fresh fruit or canned fruit pie filling. I try to keep a few cans of blueberry, peach, cherry and apple pie filling on hand at all times. Puddings and cream custards work great as a topping too!
Easy To Make Flan Cake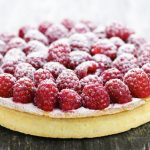 Easy To Make Flan Cake
This Flan cake is not a pie. It is similar to a shortbread cake texture. It is great for layering with puddings and pie fillings. Fresh fruit works really well too!
Ingredients
1/2

cup

butter or one cube

1/2

cup

sugar

3/4

cups

flour

1

teaspoon

baking powder

2

eggs

21-

ounces

of pie filling

I use two cans

Whipping Cream
Instructions
Preheat oven to 375 degrees. Place all of the ingredients into a medium-size mixing bowl. Use an electric hand mixer or Danish whisk: Danish Dough Hand Whisk / Mixer 11" or 14" to blend the ingredients. Grease a flan cake pan and spread the mixture as evenly as possible. The dough/mixture is quite sticky. Bake at 375 for 15 minutes. Wait ten minutes and turn the cake onto a large plate or cake platter. Fill the flan cake with two cans of fruit pie filling or fresh fruit. Garnish with whipped cream.
Danish Dough Hand Whisk / Mixer 11″ or 14″