The Top 12 Items I Recommend For Any Disaster
Today I am showing you the top 12 items I recommend for any disaster. These items are the most important to me. I didn't buy these all at once. I'm not rich. I'm very frugal and watch for bargains. I have always had a budget. It doesn't matter how much money you make, in my opinion, you need a budget. I have always had my monthly bills on automatic payment. They are set up through my bank, and on the 25th of each month I know exactly how much money I have to work with for the following month.
Please remember that we must all bring something to what I call the "party" after a disaster. We need water, food, fuel, skills and so much more. We can't depend on the government to take care of us. It's not going to happen. Please start with one can this week, two extra cans next week. Start storing water, etc. Let's get started. We can do this, I promise. I have had several people tell me I'm going to Linda's house after a disaster. No, no, no. Let's talk, we must be prepared for our own family's protection. That's it, my friends. I do not have a warehouse stored with water, food, fuel etc. for my neighborhood.
My house is tiny. I have enough for Mark and I. Yep, that's it, baby! I picture myself making pancakes, bread or biscuits for the neighborhood, but I will need everyone to bring something to the table. Oh man, does that sound mean or selfish? It's real, it really is. We must all be prepared.
12 Items for any disaster:
My first four:
1. Water is my number one item I would start with for emergency preparedness. If you have 55-gallon barrels or larger water containers, that is great. Remember, if you have a regular water heater you have that water as well if you keep the bacteria out of the water lines. Be sure and have some containers you can grab and go with like these: WaterBrick 1833-0001 Stackable Water and Food Storage Container, 3.5 gal of Liquid, 27 lb of Dry Food Products, Blue
2. Food Storage is critical to survive after a disaster, so start with one #10 can at a time. Or add one bag of rice or beans to your grocery store cart each week. One extra can of soup might be the only meal you have after an ice storm, earthquake, hurricane or tornado.
3. Lump charcoal stored in 6-gallon red buckets with Gamma Lids. Royal Oak 195228021 Lump Charcoal, 15.4 lb
4. Volcano Stove II, you can use wood (if I had to I could burn my furniture to cook), charcoal or propane.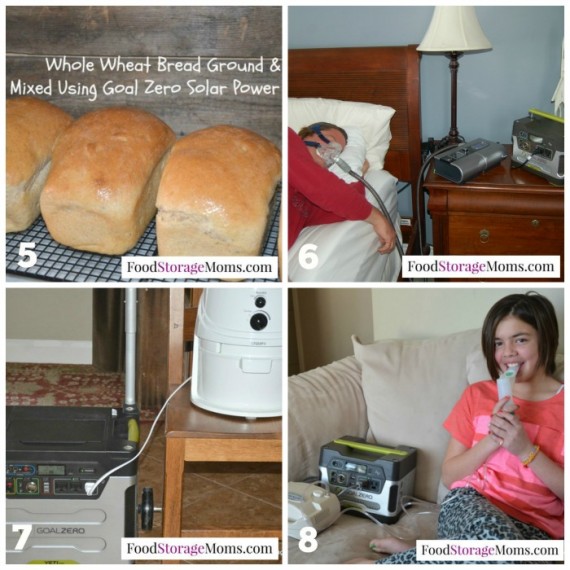 I use solar power:
5. Have a few alternative power sources-I prefer Goal Zero Solar Power-Goal Zero.
6. You can power a CPAP with a Goal Zero YETI 350 or YETI 400 (check your wattage). Food Storage Moms CPAP Post
7. I can grind my hard white whole wheat, this is critical to me-I make bread-please learn to make bread. Grind my wheat by Food Storage Moms
8. You can power a Nebulizer with the same Goal Zero Units above depending on your wattage (please be prepared before you need it).
My last four items:
9. Goal Zero Yeti 1250 can power my Bosch Bread Mixer-this is critical for me. I can make bread by hand, but if I need make large batches for a group this will be a blessing.
10. Portable Washing Machine which is two 6-gallon buckets, one with holes drilled in the bottom placed inside another 6-gallon bucket. The holes will drain the small loads of laundry. Then I can rinse them in the same buckets. The excess water can be used for Portable toilets.
11. First Aid Kit: make a list of all your prescriptions and add them to your emergency grab and go first aid kit. Slowly gather those first aid items you might need on a daily, weekly or monthly scheduled usage.
12. A Sun Oven is a second way to cook my meals. This can be main dishes, bread, brownies, beans. and macaroni, etc. Sun Oven post by Food Storage Moms
I am telling you this so you can see that I live on a very tight budget……most people could or would not live on the amount of income I use each month in my budget. I hope this helps you find a small way to be prepared for the unexpected. Just start with a few items…you do not need to buy a pallet of food to be prepared, in my opinion. One extra can a week to add to your pantry will make all the difference if someone in your family becomes unemployed or if your neighborhood has a natural disaster or unforeseen emergency.
These are the top 12 items I would suggest to have ready to use after any disaster to help you get started. I would save a few dollars a week to save up for the larger items you will need. This is one of the reasons why I say you need to get to know your neighbors. Maybe you can grind your neighbor's wheat and someone else can share their SunOven to bake your bread. We must be able to take care of ourselves. Please do not think that the government will be able to jump in and help everyone. That will not happen, at least not right away. Even the American Red Cross may not show up for days or weeks after an unforeseen emergency or disaster.
Readers comments:
Janet:
Honeyville has a great cookbook that helps you make up meals from your food storage. I bought the cookbook, and my girlfriend and I made several recipes, put them in 5-gallon buckets, (each in its individual mylar pouch. If an emergency strikes, I probably won't be thinking clearly at first, and wanted food all ready to go for several days as I adjust. Thanks for the list. It is good. The name of the cookbook is "The Meals in a Jar Handbook" by Stephanie Petersen I could no longer find it on Honeyville. The Meals in a Jar Handbook: Gourmet Food Storage Made Easy
Lynn:
Sanitation supplies such as dish soap, hand soap, clothes soap, housecleaning supplies are VERY important to store.
My favorite things:
Goal Zero Torch 250 Flashlight with Integrated Solar Panel
Goal Zero 32001 Lighthouse 250 Portable Battery Charger USB Power Hub and Lantern
All American Sun Oven- The Ultimate Solar Appliance
Goal Zero Camping Base Camp Solar Essentials Kit