Gun Sales Surge to a Record High in 2020
There have been over 17 million gun sales in 2020 alone as gun sales surge. In fact, the National Shooting Sports Foundation has said that they have found 17.2 million background checks completed this year. This is up from 15.7 million in 2016. Firearm purchases have climbed each month since March. So, what is happening? 
Why is there a Gun Sales Surge?
There are several factors that have contributed to citizens using their rights and buying firearms and ammunition. But, why is there such a surge this year? Here are just a few of the reasons people have decided they need to buy a gun or two: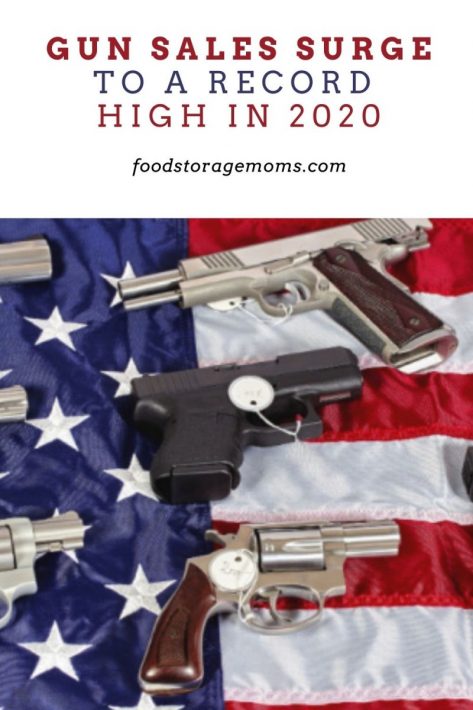 Civil Unrest
The truth is that you just never know what is going to happen when large groups of people are unhappy with what is going on in their communities. In 2020 we have had civil unrest like we haven't seen in years. With looting and rioting in the streets, people are afraid they may need to have something to protect themselves against looters and rioters.
Related: How to Prepare Your House Against Looters
In addition to looting and rioting, we have seen peaceful protests with government interference where rubber bullets and pepper spray have been used. Some people are fearful of the local government control of what we do, which is one of the reasons we citizens have our 2nd amendment rights in the first place.
Related: Riots Vs Protests What You Need to Know
The bottom line is that with civil unrest, we just aren't sure if we will end up with martial law or have to defend our homes from looters. So, instead of leaving it in someone else's hands, many people are taking it into their own hands to protect themselves if need be.
Talks about Defunding the Police
There is a growing number of people who believe we can survive without police. In fact, they believe that we may be better off without them. So, their solution to end the police brutality and racial inequalities they see by defunding the police. Because we are hearing a lot about this, more guns are being bought. The truth is that if we don't have the police to protect us then we will have to protect ourselves.
However, it is important to note that efforts to defund the police do not mean getting rid of law enforcement or police entirely. Instead, it would be reducing the police department budget and reallocating those funds to other areas such as education, public health, housing, mental health, etc. With this, police would not be expected to spend time responding and transporting people with mental illnesses, dealing with homelessness, or other areas that aren't necessarily something criminal.
Whether we get rid of police completely or just reallocate funds, many still wonder what that will look like and have questions such as:
Will there be less law enforcement?
Will crime rates go up?
Am I able to protect myself without calling the police?
Can I still call 911 for an emergency and get someone quickly?
This can be scary and many want to be prepared for the times when law enforcement may not be there to help during a dangerous situation!
COVID-19 Pandemic
Others are concerned about personal protection and home defense as we continue dealing with a pandemic. With people out of work and no help in sight, what is going to happen when they have no money to buy food or other things they need? Stealing, looting, and break ins are just a few of the things that we worry about. Many are hoping for the best, but are buying guns and ammo to prepare for the worst.
Gun Restrictions
Different leaders feel differently about guns. They may loosen or tighten restrictions depending on how they feel about them. Joe Biden has plans to tighten up those restrictions. With tighter restrictions, gun owners feel it could lead him to take away our 2nd amendment rights. To find out more about Joe Biden's gun plan, visit his website, here. I am sharing this for you to read and learn a new perspective, not because I agree with this article. Let me make that clear. I NEVER talk politics, but I do believe in supporting the 2nd Amendment. Here are just a few of the ways Biden plans to end gun violence:
Hold gun manufacturers accountable
Get war style weapons off the streets
Ban the manufacturing and sale of assault weapons
Regulate possession of existing assault weapons
Buy back assault weapons
Reduce stockpiling weapons
Keep guns out of dangerous peoples hands by requiring background checks for everyone
Keep guns out of the hands of people who are mentally unstable
Reverse the loophole that allows fugitives to have guns
End online sales of firearms
And more…
With these restrictions, many are buying firearms before the situation changes and they may not be able to. Some are buying firearms for the first time.
Gun Sales Surge: Should I Buy a Gun?
That choice is completely up to you. As a prepper, I would advise you to buy whatever you feel would be necessary to protect you and your family. In addition, a gun could be a good resource for hunting. Some people are against guns, and that is ok. However, I would advise learning self-defense or having another means of protection. If you don't want to own or have a gun, there are other things you can get to protect yourself, which include:
Swords
Pepper spray
Pocket knives
Tactical knives
Knives, including hunting knives
Gun Sales Surge to a Record High in 2020
Final
If you are having a hard time finding guns and ammo, that's because there has been a huge surge this year. With that being said, if you plan to stock up on ammo, be sure to grab it when you see it available. Be sure to read up on what new gun laws may look like, and do what you need to do to keep yourself prepared.
If you do have firearms in your home, remember to keep them in safe locked places away from children. They should also be stored empty of ammo so you have to take the physical step to load them before use. Talk to your family about firearm safety. Always go to a range or out to the country to practice shooting if you have never fired a weapon before or need a tuneup.
A gun is great for protection, but if you don't know how to safely use it, shoot it, or aim it, it won't be much good to you in an emergency! Be safe my friends. May God Bless this world, Linda
Copyright Images: Gun Pistol Firearms AdobeStock_105379854 by 1jaimages