Common Misconceptions About Preppers
I want to share a few common misconceptions about preppers. Let's be honest, our society doesn't have a great view of preppers because of the wrong stereotypes that have been created for them over the years.
We've been brainwashed with books, magazines, the Internet, and movies to believe that preppers are only interested in doom's day scenarios, even insisting that they've lost all sense of reality. Please stock, Flashlights with Batteries or Solar Flashlights
As it turns out, most preppers are people that are the furthest from "crazy." They're usually calm and collected people who simply prefer to be prepared before a disaster strikes.  In case you missed this post, 30 Pioneer Skills We Cannot Lose
Common Misconceptions About Preppers
Some of the myths floating around about prepping are actually quite comical and make me laugh to myself. If you happen to be someone who has no interest in prepping, it could be due to one or two of these incorrect beliefs. I'd love to "un"-misinform you. These are the most common misconceptions about preppers that you should know about and what it really means to be one.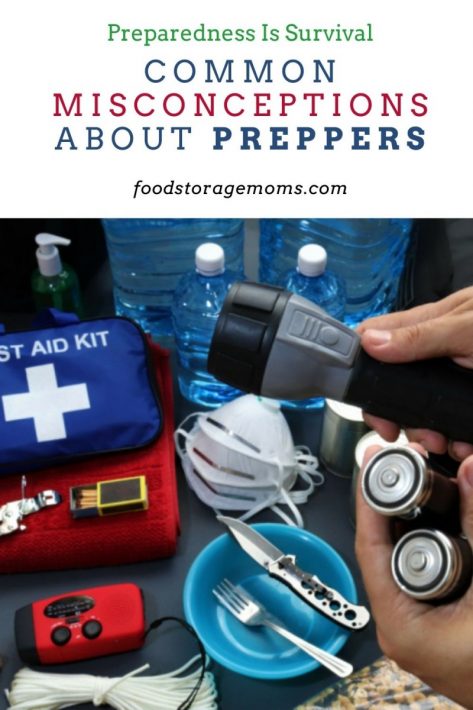 They are Preparing for the Apocalypse
For all you people who have watched one too many zombie or apocalyptic movies and think that's the reason that most preppers prep, you're sadly mistaken. While being prepared for the apocalypse certainly wouldn't hurt, prepping has more to do with having enough food, water, and supplies following a natural disaster or other types of emergency that have struck.   
They are Paranoid Conspiracy Theorists
This is the number one reason why most of the skeptics out there have a hard time with people who prep. They believe that preppers are paranoid individuals who live their lives constantly in fear. Television shows, movies, and even our own government have done a good job creating this false belief about prepping.  
This reminds me of the movie "Conspiracy Theory" with Mel Gibson. (It's an excellent movie if you haven't seen it.) Anyway, when the movie is first starting out, we're led to believe that Mel Gibson's character is crazy, believing that the government is out to get him. 
In his home he has what most would think of as overkill for an alarm system, and even has a gas mask lying around, indicating that he's prepped and ready for anything.
But as the story plays out, we discover that his character wasn't so paranoid and loony after all. If he hadn't prepped for those situations, he wouldn't have made it to the end of the movie.
They are Strange Lonely People
This again is simply not true. While there are a few preppers who prefer to live in isolation and away from other people, this isn't how it is for most prepping households. They don't have to live in the desert or deep in the wilderness where the government won't reach them. So don't have the impression that you have to sell your home in the city where you've lived for years to be a prepper at heart.
Prepping has more to do with being self-sufficient and not having to depend on our government when things have taken a turn for the worse.
They Live Below Ground in Bunkers
Another misconception out there about preppers is that many of them live like garden gnomes beneath the ground in their tiny little bunkers. While there are plenty of stories and interesting tv shows about preppers who have gone to these extremes, this is not the norm.
In fact, most preppers like myself, live in an average home in a pleasant neighborhood. Prepping doesn't necessarily mean it consumes your entire way of life, but to be someone who plans ahead so they're prepared when a disaster ever occurs.  
You Have to Be Rich to Prep
Chances are very likely that most of you reading this are not millionaires, join the club. Prepping certainly can cost you a fair amount of money, but the truth is, you don't have to be rich in order to be a prepper. Many preppers out there today didn't make it a one time deal and head to the store to buy every single prepping supply all at once. 
Prepping should be done gradually over a longer period of time. Think of it as a long-term goal, and hopefully one day you never have to use what you have stored away. It requires planning and patience to find the best deals. Sometimes it even requires heading to thrift shops to find supplies that don't necessarily have to be brand new.    
They are Heavily Armed
Have you ever watched "Doomsday Preppers?" Many of the episodes showed men and women and their underground arsenals that appeared all decked out with guns, along with thousands of rounds of ammunition. 
This isn't real life folks. Most of us preppers know the importance of owning a defensive weapon for protection, but our basements are not lined from the floor to the ceiling with AR-15's and grenade launchers. Again, you don't have to be rich to be a prepper.
So, what is prepping then?
Hopefully, at this point, you have a better understanding of what preppers are not, but now you're probably left scratching your head wondering what prepping is really all about? I'll keep it simple. Prepping is about… being prepared.
That's it. You don't necessarily have to be prepping for Armageddon, but rather for natural disasters and emergency situations that certainly could happen.
Just like with any other thing in life, there are different levels of prepping. Whether you plan on being a prepper who has a week to a few months' worth of stockpiled food and supplies, or one that has enough equipment and supplies to live for on your own for a few years, you choose what you're comfortable with. 
Common Misconceptions about Preppers
Final Word
Oftentimes, I've discovered that the people who are the most skeptical or bring the backlash about how others live are usually the ones who don't really have a clue about what they are fighting for. We're all guilty at times of having misconceptions about something that we don't fully understand, but prepping shouldn't be one of them.
Being prepared for a natural disaster, such as a tornado, hurricane, flood, or earthquake, doesn't sound like something crazy to me. In fact, it sounds very smart, especially when you live in high-risk areas and know how common they have become recently.
Hopefully, this has helped some of you out there who may have been on the fence about prepping. I'd love to hear your thoughts.  May God Bless this world, Linda.
Copyright Images: Disaster Management AdobeStock_338910990 by Roger