50 Signs That You Might Be a Prepper
Today, it's all about the 50 signs that you might be a prepper. If you survived the 1990s, then you remember the stand-up comedian Jeff Foxworthy and the most popular portion of his act, "You might be a redneck if…". 
Unless of course, you were living underneath a rock during that time. He would go on to give dozens of humorous examples of what a redneck looked like, and he was always spot-on, followed up with snorting laughter from the crowd.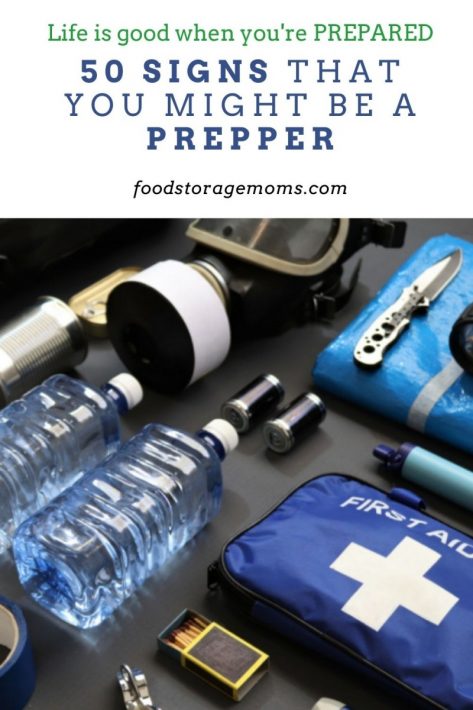 Signs That You Might Be a Prepper 
I've decided to take a similar approach when it comes to prepping and mention a few of the absurd and unusual habits that some of us may have. While I may not be known for my jokes, some of these "things" that preppers do, are in fact funny, while some are just a bit odd.
Many of you preppers out there may be as guilty of a few of them as I am. These are 50 of the telltale signs that you may be a prepper. Or maybe you'd rather prefer if I titled this, "You might be a prepper if…" 
When bad weather arrives, for some odd reason you're super-excited about it. 
You may be strangely curious about what an EMP attack would actually look like. 
You start to panic when you're down to your last family pack of toilet paper. 
When you hear something on the news, your first instinct is to not believe it. 
You believe that a long-term power outage is a great practice for the real thing. 
911 is not a part of your home's security plan. 
When it comes to being prepared for emergencies, your dog is better prepared than your next-door neighbor. 
You've had a 10 pound can of food fall on your toe…more than once. 
All of your friends know better than to get rid of their empty gallons of milk and pop containers in front of you…I mean, who does this? 
You take paintballing to a whole different level, where it's no longer about having fun, but about being the last one standing. 
You stock up on diva cups to replace tampons that take up too much space.  
Buying expired food is of no concern to you. 
You move to a part of the country, as far away from the New Madrid fault line as you can. 
…..or for that matter, actually have an idea what the New Madrid fault line is. 
You understand the meanings of SHTF and TEOTWAWKI. 
You keep duct tape with you wherever you go (it can fix literally anything). 
You've done your online research to determine if your belly button lint can be used for something. 
Most of your food supply is stored in buckets down in your basement.  
One of your family members asks you why you have more than two or three manual can openers. 
Your supply of grains is getting up there with what the country Norway has hidden and stashed away.
When it comes to your method of exercising, you enjoy running up a mountain, grappling, and stomach crawls. 
Your stockpile of over the counter drugs and medicines dwarfs your local pharmacy. 30 OTC Medications You Should Stock
Your twisted idea of romance is conversing with your spouse on your 2-way radios from the other room.  
You watch apocalyptic movies so that you can critique their mistakes, or gather a few useful new ideas.  
When all your local big box retail stores award you "Customer of the Year."  
You enjoy the smell of WD-40, gasoline, and velcro.  
You've tasted dandelions to determine whether you could stomach them or not if that's all that's available to eat. 
Besides dandelions, you could easily tell me which wild berries are edible and which are poisonous. 
You look around to see if anyone is watching and then proceed to put an insect in your mouth for a quick bite to eat. 
Your children are able to properly handle a gun without being afraid. 
You visit the county dump to throw away garbage only to leave with more than you brought. 
You have a generous supply of hard liquor and cigarettes, even though you don't drink or smoke. 
More and more of your clothing is looking a lot more camouflaged these days. 
You enjoy archery as a "sport," but it's really so that you can provide a meal for your family.
On more than one occasion you've asked your friends and family for their expired cooking oil.
There's a top-notch fire extinguisher in every room of your house. 
Every time you enter a building you immediately start looking for the exits. 
Instead of resorting to buying new shoelaces, you use your supply of paracord to tie your shoes instead. 
You've "experimented" with dog food to see if it was in fact, edible. 
You find yourself extremely jealous of someone's underground bunker that you've seen on a tv show. 
You spend more time "tinkering" with things that you probably will never use.
You have more than one "bug-out" location prepared with supplies and food rations.   
You're only willing to vacation to a state where you're allowed to carry concealed weapons legally. 
In fact, you never really like leaving too far from home, especially your bug-out location. 
When you do stay in a hotel room, all the "samples" find their way home with you. 
You know and can recite by heart the 7 p's of survival.
You've decided to forfeit one of your children's bedrooms in order to make another pantry area. 
You stumble upon a 72-hour kit and think it's a joke. 
Sleeping bags and blankets are a lot like money…you can never have too much. 
You've come to the realization that there are only two types of people, those that prep and those that don't!
Signs That You Might be a Prepper
Final Word
These are just a few of the many examples and signs of those who have taken prepping to a whole other level. While many of them are in fact funny, and a tad overboard, there's nothing wrong or silly about being prepared. Have you ever heard the old saying, "hope for the best, but prepare for the worst?"
That's what a prepper does, and I'd encourage you to do the same. What are some of your favorite signs that you're a prepper? May God Bless this world, Linda
Copyright Images: Preppers AdobeStock_287185419 by Roger