Cooking Utensils You Need In The Kitchen
In case you are teaching others to cook from scratch, I highly recommend these cooking utensils. If you have others you want to be added to my list, let me know. We all learn from one another.
Some of these may be new to you and some may be your old standby as well. I remember teaching a food storage class and I mentioned one item every family needs in the kitchen is a can opener. One lady, asked why? She mentioned she only buys fresh fruit and vegetables. Okay, I get it. I would love to do that as well.
She said she's never owned a can opener. You can picture my jaw-dropping, right? To be fair, I know so many canned goods have those flip tops with tabs that are supposed to be easier to open now.
I have cans of olives and green chilies that need a can opener. I asked her, "How will you open your #10 cans?" By the way, in case you need a good can opener for those large cans, this is the one. Commercial Can Opener or a Regular Can Opener or if you have arthritic hands like me Hamiton Beach Electric Can Opener.
Yes, I have 8-10 hand crank ones I will use when I have to. That's how I roll. But for now, electric can openers are my best friend. So, this is why I show my number one item is a can opener on the list today.
In case you missed this post, Canned Foods I Highly Recommend You Store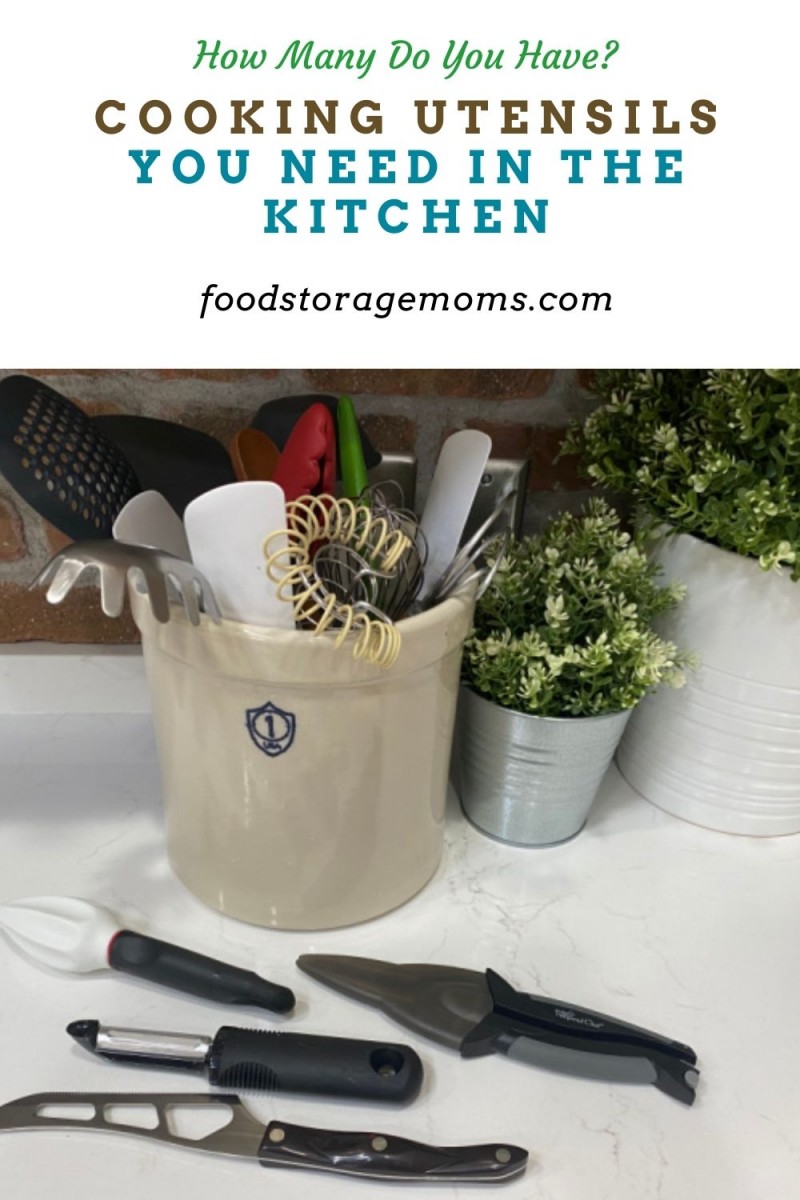 Cooking Utensils You Need In The Kitchen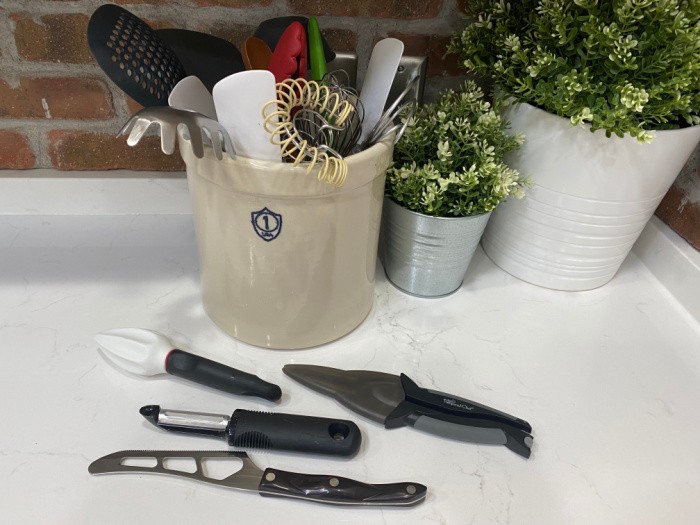 1. Can Openers
Every kitchen needs a few can openers. When I say a few, what I mean is if one breaks, you have a backup. You can never have too many can openers. I realize we are seeing more and more canned items with the pull tab, but there are still a lot that need a can opener.
2. Tongs
Having a few tongs in the kitchen is awesome. I have several different sizes. I prefer the ones with Silicone Handles. It's nice to have different sizes because you need larger ones for barbecuing and smaller ones to use when serving "build your own sandwiches," or for salads. They work perfectly for serving salads from a bowl. Smaller Tongs and 3 Sizes of Silicone Tongs
3. Skimmer
You can use a Skimmer Strainer for so many things. I use it when making doughnuts or blanching food to dehydrate. It's larger than a slotted spoon and drains a whole lot better. Oh, and if you have lumps in gravy, use this, it works!
4. Pancake Turner
Pancake turners are for pancakes to flip them over. But Pancake Turners can be used for grilled cheese sandwiches, crepes, burgers, and more.
5. Spoon
Here's the deal, I realize everyone has a spoon or several spoons in their kitchen. But this is where we will get a little more specific. You need a spoon that feels good in your hands to stir, you don't want it too short and not too long either.
If you have a tall pot you need a longer spoon, if you are using a 4-quart pot, you can use a smaller one. Here is an 8-inch Stainless Steel Silicone Spoon, it's perfect for smaller pans or bowls for mixing. These 10-inch Silicone Spoons are great for mixing up or stirring in medium-size bowls and pans.
6. Ladle
It's nice to have a gravy ladle and a soup ladle. They are two different sizes. In the olden days, if you bought a set of stainless steel silverware you automatically received a matching gravy ladle. Not anymore, or at least the set I purchased at Costco didn't. I'm still using my wedding gift gravy ladle, it's 52 years old and still going strong. It doesn't match my other stainless steel items, but hey, I have a gravy ladle. 12-inch Stainless Steel Ladle and here's a smaller Gravy Ladle.
7. Gravy Bowl
Do you love gravy? I sure do. If you need help making it, this is how I make it. I love having a gravy boat or bowl. Gravy Boat/Bowl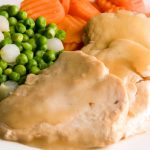 Linda's Homemade Gravy
Ingredients
1

cup

Turkey, Chicken, or Beef Drippings

1-2

cups

of Flour

1

quart

Water or Milk (I use water more than milk)

Salt & pepper

Sugar
Instructions
1. I use the pan that the turkey, chicken, or beef was baked in with the "drippings" and bring the liquid to a boil. If you have very little juice or drippings, add some water. Now, I can't give you exact measurements because this depends on the size of a turkey, chicken, or roast you purchased and how many drippings are available. Over time, with experience, you'll learn.

2. I take about 1-2 cups of flour and put it in a quart jar with cold water and shake it like crazy.

3. I slowly add this mixture to the hot boiling turkey, chicken, or beef drippings. Use a whisk and stir constantly.

4. I have a quart pitcher with cold water to add to this pan as the gravy thickens. I add water until it's the consistency I prefer. Not too runny, but not too thick.

5. I add salt, pepper, and sugar to taste. Yep, it's the sugar that brings out the best flavor. Of course, it's optional.

6. If you have some lumps, no worries, bring out the hand mixer. The flavor is fabulous and so easy to make.
8. Whisk
You can never have too many whisks, I use them for so many things. Scrambled eggs, gravy, making Jello, etc. It's nice to have different sizes, right? Stainless Steel Whisks
9. Danish Whisk
By now you know, I love Danish Whisks, I use them all the time. You can buy a stainless steel one or one with a wood handle. If you are looking for a dishwasher-safe one, I recommend a Stainless Steel Danish Whisk. What I like about the Danish whisk is the fact that if we lose power, it works great for pancakes, eggs, cupcakes, muffins, cookies, and even cakes. Yes, I have a sweet tooth.
10. Hand-Crank Egg Beater
Here again, we must always be prepared for power outages, I grew up using one of these and you probably did as well. It can whip eggs fast, for instance. But, it's good for just about mixing up anything, if it's whippable. Hand-Crank Egg Beater
11. Lemon/Lime Reamer
I use those awesome True Lemon and Lime Packets when I don't have fresh fruit. But, I love to squeeze some fresh lime over my Mexican dishes. So I use one of these Lemon/Lime Reamer.
12. Pasta Server
Who loves pasta as much as I do? I know, it has a lot of carbs, but even so, I like to have spaghetti at least once a month. It helps to have a pasta server after you cook the spaghetti, right? Tongs are okay, but a true Spaghetti Server is best!
13. Rolling Pin
It's funny, as I write about a rolling pin, I'm wondering if any of my daughters even have one! I actually started to laugh. I'm not sure they would have one. Oh, they must, right? I use mine when I make bread, some dinner rolls, pizza dough, and if I attempt to make a pie crust. So there you have it, everyone needs one. Rolling Pin
14. Slotted Spoon
Sometimes, a slotted spoon comes in handy to serve some foods where you want to drain the broth or serve something without scooping up all the gravy or sauce. It's perfect for straining vegetables as you serve them. Slotted Spoon
15. Bread Board
Over the years I have given my daughters a good breadboard, my motto is to buy right the first time. If you keep it oiled it should last a lifetime. I have a few different sizes, but my favorite one is the larger one. Large Cutting Board In order to keep it nice, oil it often, this is what I use. Cutting Board Oil
16. Good Knives
Over the years I have tried many different knives. You may remember me telling you, I had the privilege of teaching classes at fancy kitchen stores. Therefore, I learned about the best knives. I quickly learned ceramic one are not for me. They can't be sharpened and they can snap or break whatever you want to call it. They are expensive, but I prefer metal ones, a lot more.
One day I was at Costco, and they had a "Roadshow" where this guy was selling "Cutco" knives. I love the fact they sharpen them for free. You may have to pay to ship the knives to them for sharpening, I can't remember.
I highly recommend you watch for one of their "Roadshows" and purchase one or two knives at a time. You will be thrilled how well they cut, and stay sharp. Plus, you can get them cheaper by buying a package deal.
They tend to be pretty expensive, but they are truly the best knives I have ever used. I gifted a few to my son-in-law and he loves them. He protects them like they are gold. He keeps them in sleeves and loves to cook with my daughter in the kitchen. These are my two favorite ones, the CUTCO Model 1766 Santoku and this one, the Model 1764 CUTCO Traditional Cheese Knives (perfect for so many things like tomatoes! This is the bread knife I use, Cutco 1724 10 Inch Bread Knife
17. Vegetable Shears
It's nice to have a pair of kitchen shears that are dishwasher safe so they are not cross-contaminated with other foods. I use mine for cutting bacon, snipping herbs, cutting up pizza slices, cutting up lettuce, and so many other items. Vegetable Shears The advantage of kitchen shears is that they are sharper compared to craft scissors.
18. Lettuce Cutter
One thing I learned many years ago if you use a plastic lettuce knife it will keep the lettuce from getting rust-colored edges. ZYLISS Lettuce Knife
19. Cheese Slicer
Mark loves thinly sliced cheese so he always uses a cheese slicer. I use my Cutco cheese slicer. It's all about how you prefer your cheese sliced. OXO Good Grips Non-Stick Cheese Slicer
20. Spatulas
My favorite spatulas are silicone because I can use them with a hot cast iron pan or scraping the frosting from a bowl. Spatulas
21. Measuring Cups
When I'm in the kitchen, I love seeing the distinct numbers on the handles of my measuring cups. These are the ones I give as wedding gifts. Measuring Cups. These nestle inside each other so that's a bonus for me since it saves so much room in my kitchen drawers.
22. Measuring Spoons
Of course, having one or two sets of measuring spoons is critical for any cook or baker. Measuring Spoons
23. Dough Scraper
Whenever you need something to scrape stuff off your countertop, (carefully so as not to cut the counter) this is my go-to tool. I use it to cut my bread dough because I learned years ago never to stretch bread dough. I cut my bread dough into sections, and do the same with my dinner rolls as I cut the dough into portions. Dough Scraper
24. Pastry Cutter
My kitchen has one of these, but it is used rarely because I find I need to take most of the weekend to make the best pie crusts and really have trouble finding the time! But even so, every kitchen needs one of these to cut the butter into the flour for pie crusts. My dream would be to make a coconut cream pie, I'm good at making a crust for chicken pot pies, but I want the challenge for fruit pies. Pastry Cutter
25. Hand Blender
Oh my gosh, I remember getting one of these about 30 years ago, maybe. If I had lumps in gravy, I would use this, and bim-bam they were gone. Braun Hand Blender
26. Sifter
Now, I have the giggles, I never sift anything, even if the recipe calls for sifting. Don't get me wrong, my mom sifted flour all the time. She used the sifter to sprinkle powdered sugar on cakes or fancy desserts. I have used mine to sift a little powdered sugar on fresh strawberries. My mom would be so proud I have one in the cupboard. Bellemain Stainless Steel Sifter
27. Vegetable Peeler
Do any of you have a few of these? I do because it's how I roll. I used to peel so many things, then I learned how good the peelings are on certain vegetables, especially if they are Organic! So, sometimes I peel the cucumbers, and sometimes I don't. But I still want a peeler, just in case the zucchini's get overgrown, for one thing. Vegetable Peeler
28. Cheese Grater/Shredder
Were you aware that cheese that is purchased "grated or shredded" may have additives like potato starch and natamycin to keep it from clumping? Yes, I still buy it, but it tastes so much better freshly grated. Cheese Grater and this cheese grater for fresh Parmesan, Zyliss Classic Rotary Cheese Grater
29. Funnels
I use a funnel almost every day. If I purchase large bags of food, I break them down into quart or pint mason jars. This is the funnel I use for canning, Canning Funnel. This one is for any food that you don't want spilling over the jars. Plain Funnel
30. Cookie Scoop
As you know I love to bake, and cookies are one of my favorite treats, besides ice cream. Yes, I have a sweet tooth! In case you missed this post, Soft Sugar Cookies. This is my favorite Cookie Scoop
31. Garlic Press
I'm so glad readers are reminding me of the ones I forgot to add! I love press garlic and a garlic press or squeezer is awesome! Garlic Press
32. Alaskan Ulu Knife
Angie reminded me of a knife she uses from Alaska. It's an Ulu knife. My husband picked this up when on a trip to fish for halibut with family members in Alaska. I put the date of August 1- 4, 1995 on it when he returned so we could remember when he took the trip. Boy how the time flies.
It's very sharp and is often used to cut the skin from game animals. My friend uses hers to cut up herbs on her wood cutting board in her kitchen. I'm sure it could come in handy cutting most anything as part of meal prep. Ulu Factory Alaskan Knife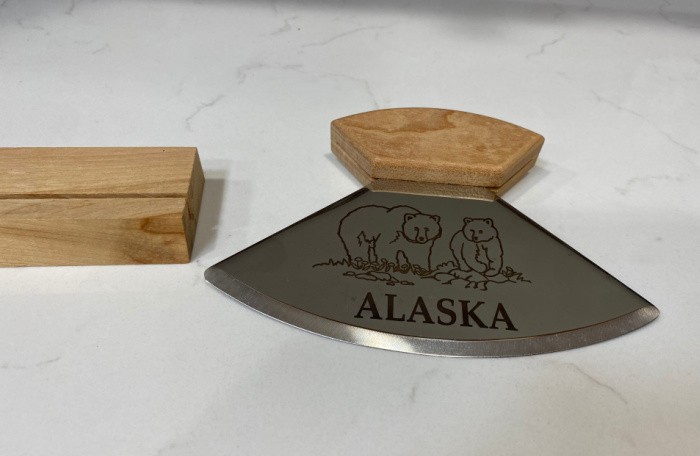 33. Zester
I love adding a little "zest" to meals, salads, scrambled eggs, etc. It adds a little flavor and makes the dish pop with a zing. This is the zester I have, Microplane Zester and Angie mentioned this one, Foldable Zester/Grater
34. ServeSpoon
Thanks to Rhonda for telling me about this serving/cooking utensil. She said, "It's not listed as a ServeSpoon, but I found it there under "ALL-IN-ONE KITCHEN TOOL SPATULA SKU: 1819" ( Lehman's). Or Amazon, Spatula Server Made in The USA, 8-7/8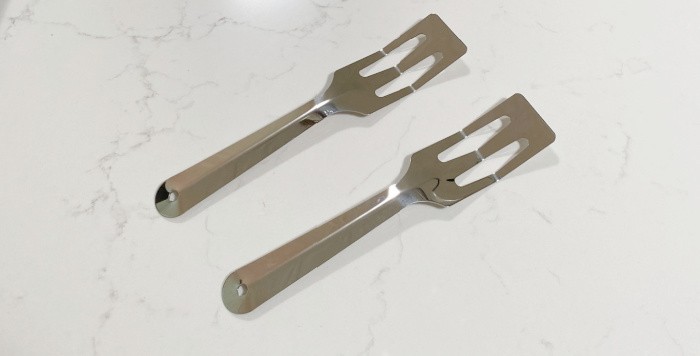 Cooking Utensils You Need In The Kitchen
Final Word
There is something about cooking with family in the kitchen. Please let me know what cooking utensils are your favorites and which ones I need to add. It's all about making memories together cooking from scratch in the kitchen. We can do this and have fun at the same time. May God Bless this world, Linda