Tips On Storing Food Storage Safely
Today I want to share my tips on storing food storage safely. I'm very concerned with what I'm seeing on Facebook and many blogs concerning food safety. Here's the deal, we can't afford to waste our precious dollars on the goods we buy to feed our family if we can't store it properly.
I have a Facebook group and I worry that some are trying to do things with their stored food in hopes they can make it last longer. I hope to set the record straight today.
You may have a different opinion, and I respect that. I have been canning food for over 50 years, and even so, Mark and I went a few years ago to get our Master Canning Preserver Certificates.
Things change, and canning has had to change because food grown now is less acidic and therefore we have to adjust our canning habits. In case you missed this post, please read it: Four Things That Are Not Safe To Can At Home.
My tips are easy to follow and will save you a lot of money in the long run. You have probably heard me say, "buy right the first time." To help you understand and deal with the necessary changes, I will walk you through my journey of storing food, and I've been doing it for 50 years.
I have been married 51 years and I have always had food storage. Some years were leaner than others, but I have always had food.
My mother taught me to make bread and to cook from scratch, those are two valuable skills, and I appreciate the skill of sewing that she taught me. If you have taught your family these skills, and more, I applaud you. I really do because you have taught them to be self-reliant.
Today I'm only talking about food, not water. You know my thoughts on storing water, please store at least 4-gallons per person per day. You may think that is way too much. It's not, trust me on that one.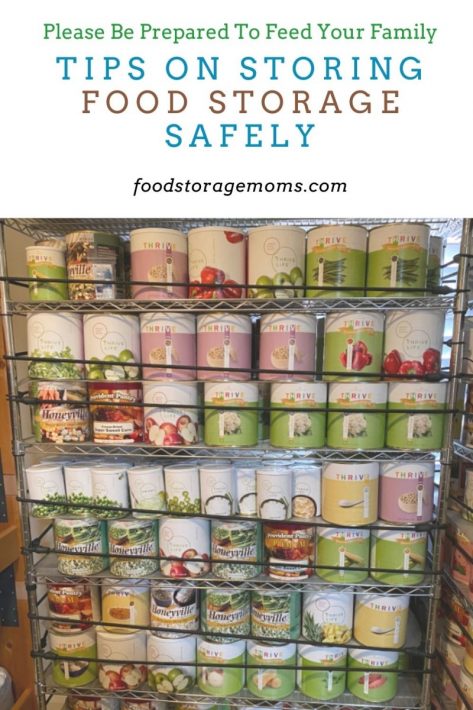 Tips On Storing Food Storage Safely
Shelving
When Mark and I were first married, we built some shelves ourselves. We were newbies, but we knew we needed to store food. We bought brackets, metal strips and shelving.
Then our next home we built shelves attached to the 2 by 4 studs in the basement. Those were perfect because I could see all the jars lined up that we had bottled. They were super strong and held up very well.
Fast forward to now, we downsized to a much smaller home. This house is perfect for the two of us and our two puppies. We even have room for guests. Thankfully, our family doesn't t mind sleeping with buckets of wheat in the guest bedroom.
In order to stock our #10 cans, we purchased shelving from Costco online. The shelves in the store are not as sturdy. These are the ones I purchased (then I added plastic sheets on the shelves) at Costco: Trinity 6-Tier Wire Shelving with Wheels.
The reason we have wheels is so we can move them easily if we have to. Those are 4-foot Bungie Cords from Home Depot holding my cans in place in case we have an earthquake.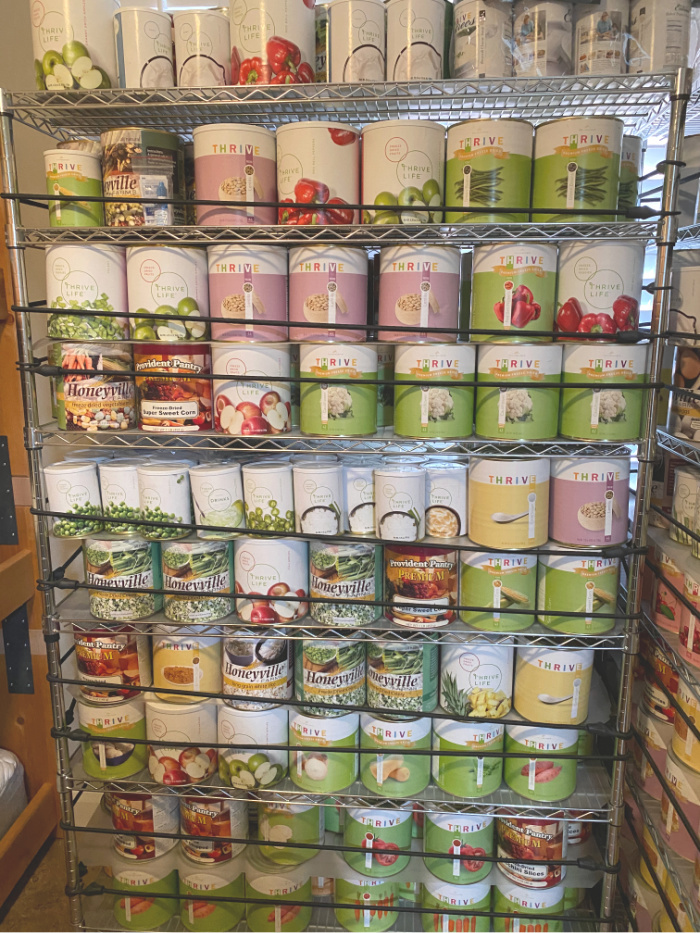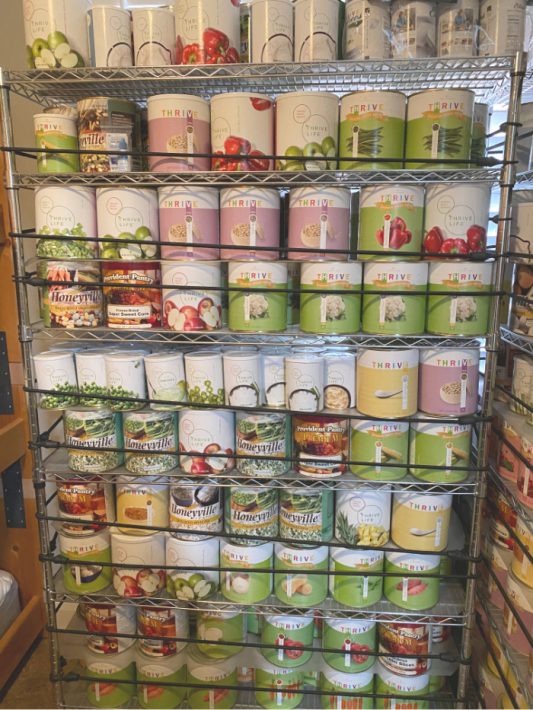 Buckets/Gamma Lids
This is how I store my Lehi Mills hard white wheat. I only buy wheat from then because they clean it at least six times. Most companies only clean their wheat two times.
My wheat grinders are pricey so I can't risk running cheap wheat through them. These Lehi Mills buckets are 6-gallon in size.
I store all my white bread flour and wheat with Red Gamma Lids. Everything in my house is colored coded.
I admit I may be OCD, yep, I own it. I don't put any Oxygen absorbers in my wheat. I do not use Mylar bags, ever.
The wheat comes in these buckets and I just replace some of the lids with Red Gamma Lids. I pour the newer wheat into the buckets with the Red Lids. This is how I keep track of the freshest wheat.
Wheat-Hard White Wheat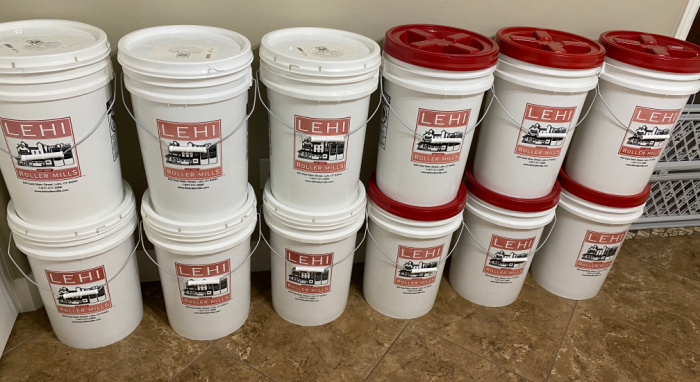 Containers
I love to buy Rubbermaid 8-quart and 12-quart commercial containers like you see below. They are airtight and the lids are easy to remove and put back on. I use them because I live in the desert and we have critters.
Yes, I have bug spray monthly, I have to. But I only have the perimeter of my house sprayed. Mark and I can sleep at night knowing our food is protected from the pests from outside.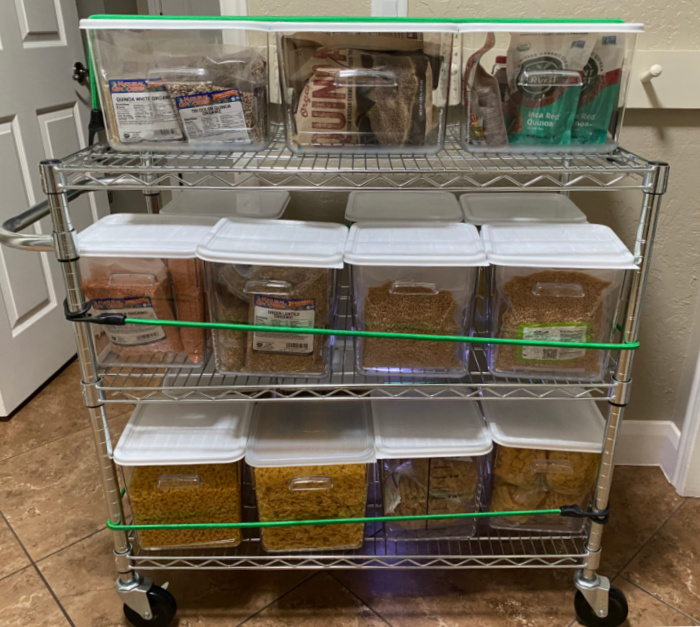 Canning Jars
These are mason jars made by Ball and Kerr. It's been a tough year to get canning supplies, including canning lids, water bath canners, and even pressure canners. Please note, be careful what you read on the internet.
It is not SAFE to Oven Can any food. The jars are not designed to have DRY HEAT, they may EXPLODE. In case you missed this post, Four Things That Are Not Safe To Can At Home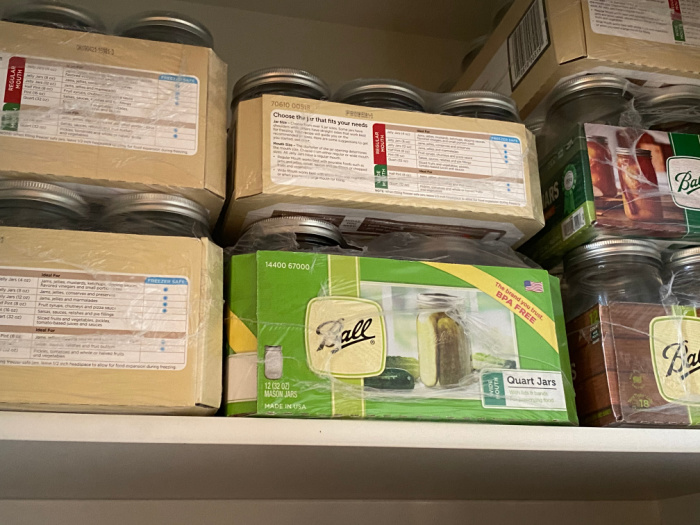 FoodSaver
FoodSavers are awesome to use with our food storage. I don't use oxygen absorbers when I place food in my mason jars when using the FoodSaver Jar Sealer. I did call FoodSaver and they said the old-style accessory hose is going away. They only work with the V2000 or V3000 series. The new accessory hose is now green and black. This is why people were having trouble getting the old style hose. This picture below is what the OLD-STYLE looks like.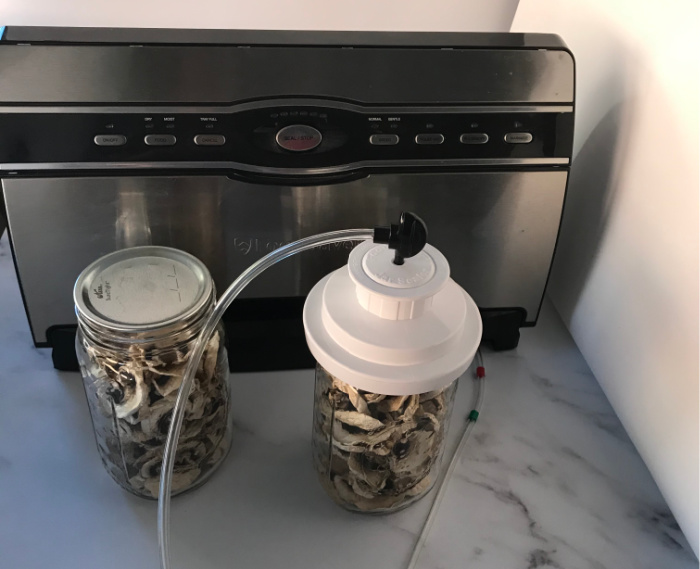 Long-Term Food Storage
My suggestion to all is to start with small cans of food, and when you have extra money buy some commercially processed Freeze-Dried food in #10 cans that have a shelf-life of at least 25 years stored inside of your home.
Please buy one #10 can a month. My advice right now since this year the prices have skyrocketed, is to wait until the prices are not so high to continue your long-term food storage efforts. Here is a post you should read: Canned Foods I Highly Recommend You Store (these are short-term).
Dehydrating Food
Having a dehydrator is awesome to dehydrate your own food. Now, keep in mind, Mark and I took classes to get our USDA Master Canning and Preserving Certificate. We have both canned together for 50 years, or so.
But I wanted to know if there were changes in the canning world. Yes, indeed there are changes. Our food has changed. It's less acidic, so we have to make a few changes to our old canning ways.
We learned at our classes that the food we water bath can, pressure can, or dehydrate ourselves has a shelf-life of one year. Yes, I have eaten some home-canned peaches that were 2-3 years old.
I get it. But it's best if used within one year. So there you have it.
I have an Excalibur Dehydrator but I have friends that have a Nesco and love theirs. Please get one that fits your budget, you will never waste food again. You can dehydrate leftover fruits and vegetables for snacks or soups.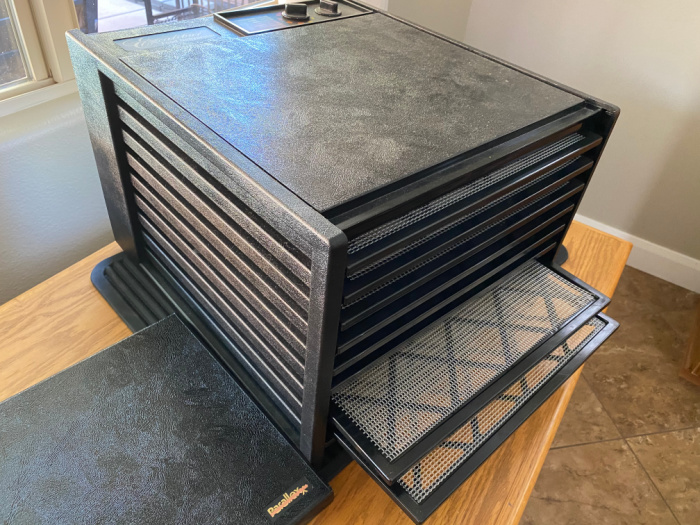 Food Storage Types
Freeze-Dried Food:
Let me explain what freeze-dried food is in a nutshell. The first step to freeze-dried food begins with freezing. The second step is the frozen food is placed in a vacuum chamber under low heat.
Then the third step starts when the frozen water crystals evaporate directly from ice to vapor which is a process called sublimation.
What's really nice about freeze-dried food is the fact that it generally lasts longer in your storage stash, depending on the manufacturer. Please always look at the cans and see the shelf-life that is listed.
You can eat the food directly out of the can, and therefore, it uses a whole lot less fuel, if any, when it comes to meal preparation. Freeze-dried foods usually have an open shelf-life of 1-2 years.
Here again, please look at the #10 can or on the website of the manufacturing company for details.
Pros: You can eat it right out of the can. It uses less fuel because most foods we can get by without cooking them. The bonus, it has a longer shelf-life compared to dehydrated food.
Cons: It's more expensive.
Dehydrated Food:
Okay, most of us purchase dehydrated food every day. We purchase cereal, spices, pasta, beans, baking mixes, etc. Dehydrated is the way the water has been removed from the products.
The water is slowly cooked out of the food without actually cooking it. It's one of the most affordable, light-weight, and compact ways to purchase food for our storage or everyday cooking.
We need to be aware of the dehydrated term, it generally takes longer to cook. Most of the items can't just be "snacked" on right out of the can. It's too hard. This is fine for soups, stews, etc.
We need to remember that typically dehydrated food does not last as long as freeze-dried. It usually has a shelf life of 5-8 years. They usually have an OPEN shelf life of 6 months to 1 year. Please read the information provided by the companies you purchase from or who produced the food.
Pros: It costs a lot less money.
Cons: It uses fuel to cook it and has a much shorter shelf-life.
Mylar Bags/Oxygen Absorbers
I must set the record straight why I will not use Mylar bags and oxygen absorbers. About 8 years ago now, I dry canned some food from a local church cannery up in Salt Lake City, Utah in #10 cans. Mark and I purchased the food there and were handed Oxygen absorbers. It was the first and last time I ever did this.
My daughter came and we were all working together. The mistake we made was that the volunteers at the cannery were volunteers with zero experience in using oxygen absorbers.
We dry canned beans (full of large rocks-very inferior quality), dehydrated onions, dehydrated carrots, and dehydrated celery. At the time we were so excited to be getting the food cheaper than say a commercial company.
The problem we had was that the oxygen absorbers were open, warm, and used. Therefore they would not work.
We were newbies and had no idea what we were doing. One year later my daughter called and said, "Mom I think these carrots are rancid." So I opened my cans, one after another.
Yes, indeed we wasted $1,200.00 on food we had planned to use for our entire family to have some food storage. All of the food had to be trashed.
At the time I was teaching classes at Honeyville Grain in Salt Lake City, Utah. The company offered free classes to show people how to cook with food storage and they had many wonderful teachers come and share their expertise.
One of the days I was teaching, an expert on oxygen absorbers was teaching as well. What I learned that day changed my view forever on oxygen absorbers and Mylar bags.
There is a margin of error that can't be missed when combining ounces of food with the different sizes of oxygen absorber cc's. You don't just throw an oxygen absorber into a Mylar bag or #10 can without first calculating the exact number (or more-to be safe) of cc's per ounce for the TYPE of food you are putting into #10 cans or Mylar bags.
MISTAKES can and will be made. This means different foods use different cc's. Please be careful or you may become sick with the food you have processed yourself.
Final Word
I hope you enjoyed today's post on how to store food storage safely. We must stock food in order to keep our family safe. My gut is telling me that there are still families out there that, for one reason or another, are not doing what they should be doing.
Do they love standing in line at the city and county buildings to get food after a disaster? Maybe they think the government will deliver food to their homes after a major disaster, I don't know.
I have heard from local church leaders in my Southern Utah area that less than 10% are prepared to take care of their family after a disaster. Some leaders have asked me to come and teach some of the mothers in their congregation how to cook.
It was hard for me to say no because I love helping others. But I was surprised that in a congregation of 350-500 that they did not have anyone close by to teach others to cook from scratch.
One leader sent me an email and asked, "How do I light the fire under these families in her church so they'll be better prepared?" Wow, all I can say is, wow.
I feel like shouting from my rooftop, "People get your act together!" Of course, I know there are several families in each area who will be able to take care of themselves. At least I hope so. May God Bless this world, Linda
Copyright Images: Various Fruits and Vegetables that have been Canned at Home AdobeStock_211841782 By Pamela_D_Mcadams