How To Have Clean Laundry When The Power Is Off
Are you ready to see how to have clean laundry when the power is off? We will all lose power at one time or another, so we may as well be ready with the tools to at least have some clean underwear. I told Mark I won't be hand-washing his jeans, just giving you the head-ups here.
If and when we lose power I'm prepared to wash our clothes, lots of clothes. Oh, did I mention we need to be able to dry our clothes as well? Yep, I have a clothesline, clothespins and a heavy duty Amish made wooden clothes drying rack.
I bought it from a store in Ohio, called Lehman's Hardware Store. It's my dream to go visit that store one day. Wooden Clothes Dryer
Here's the deal, everytime we walk into our laundry room and throw a batch of clothes in the electric washing machine, and then throw them in the dryer, life is good. We have fresh clean clothes within a few hours.
I remember as a young girl hanging up our bed sheets on a clothesline outside and watching them blow in the wind. We had a bag that held the clothespins and a rather large laundry basket to carry the wet clothes outside.
We never used fabric softener, although the towels could have used it because they felt so rough and stiff. I want to put all of my emergency laundry ideas into one post for my readers to see some options they may be able to use.
Clean Laundry Ideas
Laundry Wash Buckets
These are fairly cheap and you can find them at most hardware stores. The washboard I found at a thrift / antique store. I bought the brand Behrens Wash Tubs and they sell a Washboard as well.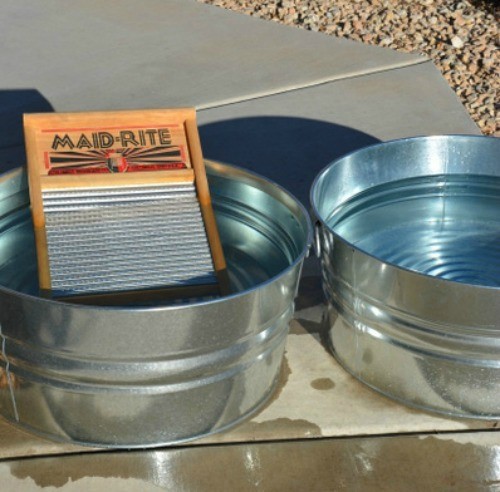 Laundry Buckets
I made a portable washing machine with two-5-gallon buckets and drilled holes in the inside bucket. I purchased a Mobile Washer and made two complete sets. One for washing and one for rinsing.
You use very little detergent and you can wash a few items fairly well. I gave a neighbor down the street a set and she uses her laundry buckets for underwear between laundry days. I love it!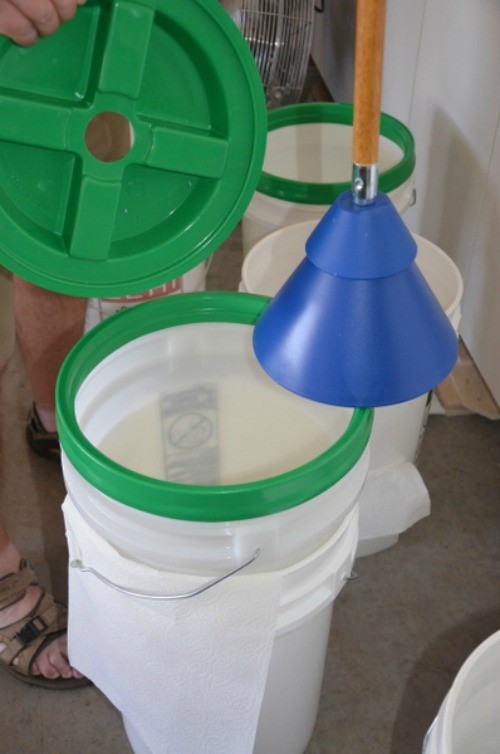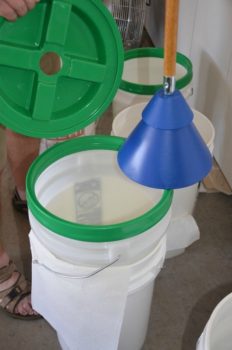 The picture above shows how Mark drilled two-inch holes in the green Gamma lids.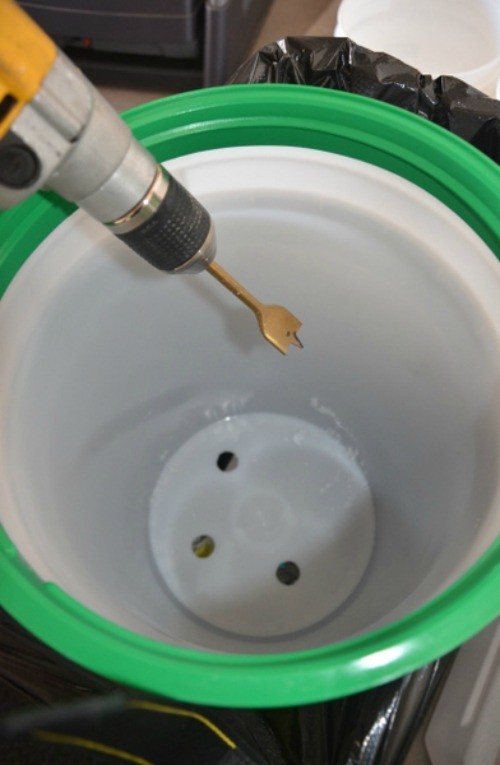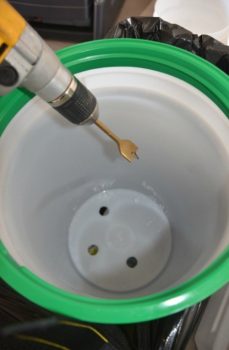 We drilled one-inch holes inside the inner bucket to give a little friction when washing. Easy peasy.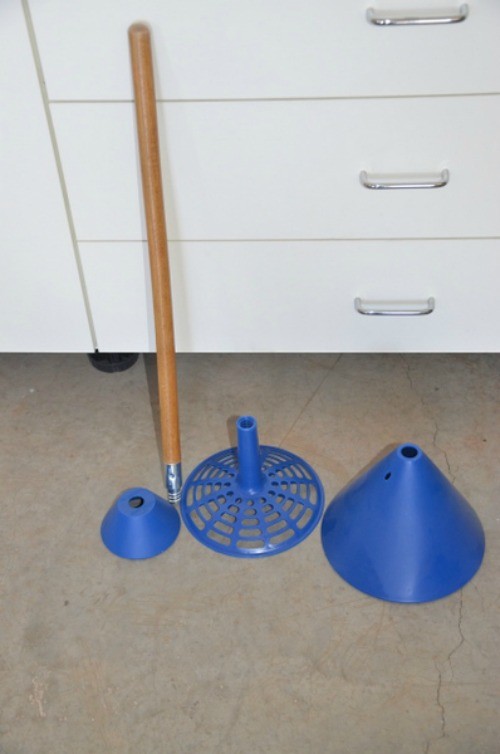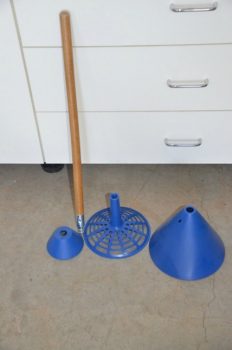 This is the Mobile Washer, the new ones have a nicer handle, but this one still works great.
Amish Wooden Clothes Dryers Rack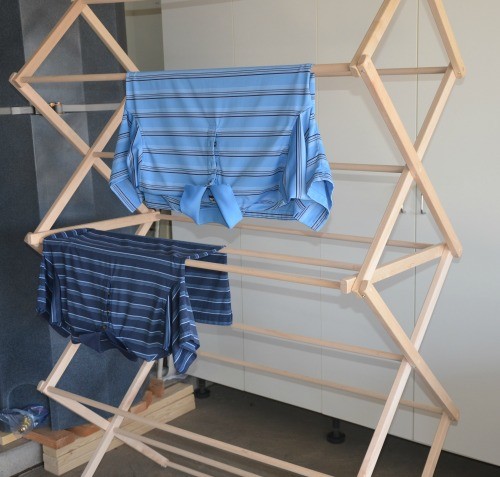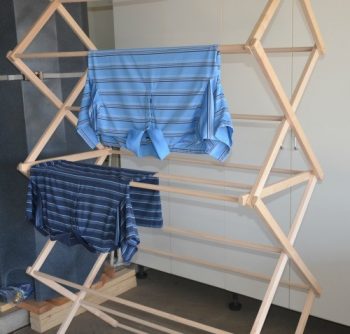 This is the Amish wooden clothes rack from Lehman's, the store I want to visit someday. It's on my bucket list.
The Best Clothespins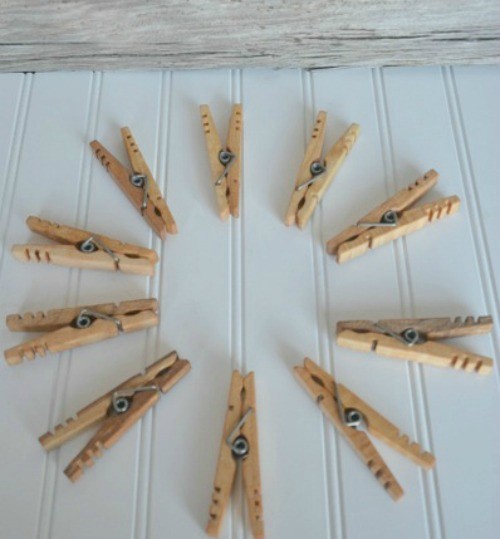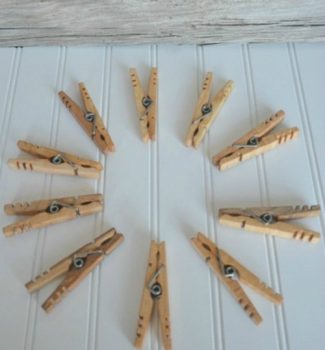 These are my favorite clothespins. I thought clothespins were clothespins, they're not. I bought several different brands and they fell apart. If you have some from the "olden days" hold on to them.
These are called Kevin's Clothespins, they are awesome. I always say, "buy right the first time."
This is my favorite clothesline, I must mention, EarthEasy.com sent this to me to do a review on it a few years ago. I made a YouTube for them that is still on their website.
I had searched high and low to find one that would work in my neighborhood, I live in an HOA. It's called a Homeowners Association. My Favorite Clothesline It's called an Earth Easy Breeze Catcher Rotary Clothesline
Homemade Laundry Detergent/Soap
This will save you money, I promise.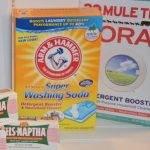 Laundry Detergent/Soap by Food Storage Moms
Ingredients
1

Fels-Naptha Bar-grated either by hand, food processor, or salad shooter

1

cup

Borax Detergent Booster

1

cup

Arm and Hammer Super Washing Soda (not regular baking soda)
Instructions
Instructions:

Put these 3 ingredients in a blender to blend and grate the Fels-Naptha even more. After doing this, it will look just like the store-purchased detergent, but will not include all the "fillers." You will use less product per load and will have fewer "bubbles." Remember, just having bubbles doesn't mean clean. I use 1/2 to 1 teaspoon per load. I have a HE-High Efficiency washer, and it works great in regular washing machines as well. ***Please note: I now use only 1/2- 1 teaspoon per load in my large capacity HE washer.
Final Word
Let me know what you are going to use to have clean laundry after a disaster or an unforeseen emergency. I love having clean sheets as well. I could easily do my sheets separately one piece at a time in either one of these wash tubs or buckets. I want to save my money and buy a wringer, or maybe I will be lucky and find one at a thrift store or antique shop.
Thanks again for being prepared for the unexpected. Please store water, food and keep your gas tank full to at least 3/4 full. May God bless this world
Mindy recommended this Novaplus 500 Umbrella Clothesline Dryer