How To Have Clean Clothes Anywhere In The World
I'm here to tell you how to have clean clothes anywhere in the world, yes even after a disaster or on a vacation. Oh, you are hiking, then this is a dream come true! Or maybe you are in your RV traveling all over the USA (this is my dream). I will be doing a road trip in a car, but you get the idea. One of my favorite sponsors Earth Easy asked me to do a review on one of their new products. If you missed the one I did on The Scrubba Bag here it is. It's from Earth Easy as well. They sent the Scrubba Stealth Pack to me and these comments are my thoughts about this product. Keep in mind, I will only do reviews on products I would buy and recommend to my readers. So let's get started, this backpack is awesome!
I love the idea of a backpack that I can wear or pack in my suitcase to do laundry in a hotel or use up in the mountains to wash a few clothes. You know when you have little ones we can all use a mini-washing machine. This is a backpack with a scrubbing side that gently scrubs your clothes when you add water and a small amount of laundry detergent. Then you can rinse your clothes in the same bag and hang them up in the hotel bathroom, on some trees to let them dry. How easy is that? I love it!
The Scrubba Stealth Pack has really nice heavy duty straps and a clip to hold the backpack in place. It has gear loops, adjustable sternum straps, grip backing, weatherproof seal, and waterproof fabric. Here's the deal, you can travel with fewer clothes because you can wash your clothes in this nifty bag. Hang them to dry overnight. Hang them on a tree or bedpost or over a chair. Easy peasy.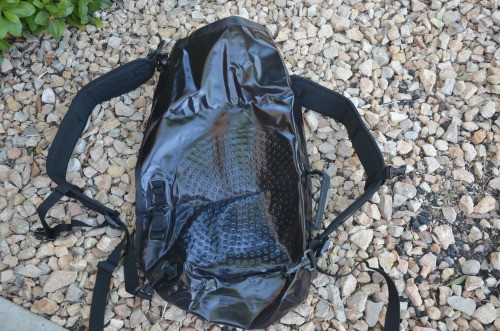 You can see the circle that it is the Scrubba (scrubbing washboard) section. I put 12 hand towels and filled it with water.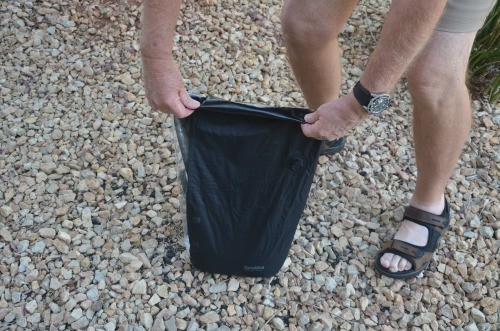 I then had Mark roll the top down 4-5 times to so we could lock it in place.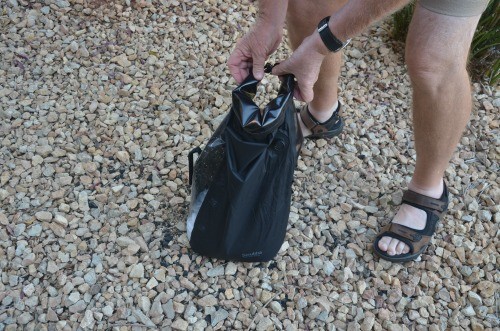 You can see Mark is locking the click together. It has a see-through clear section on one side where you can see the clothes you are going to wash and then rinse. This is a great feature because you can then see if you need to rinse the clean clothes one more time. If you have too many bubbles, rinse them again. You can also view how much water you need to add.
I think of all the times I have been with toddlers and we would run out of underwear or other clean clothes. This is a mother's dream for clean clothes on a road trip. I know my grandkids would love this when they go camping for 7 days. I like the fact that it rolls up pretty small to fit inside my small carry on suitcase.
My grandson, Jake would fill this with his hiking stuff and love the fact that he can travel and have some clean clothes by using this Scrubba Stealth Pack.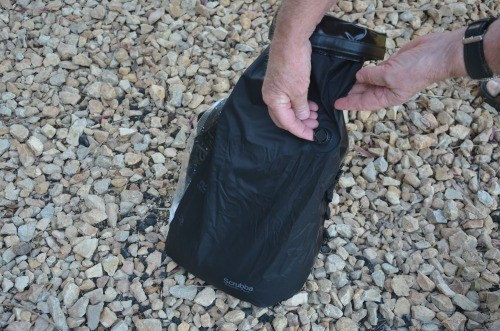 I'm not sure you can see it next to Mark's right-hand index finger, but there is an XL air release valve to let the air out and let you scrub your clothes.
Clean Clothes
Instructions on the bag: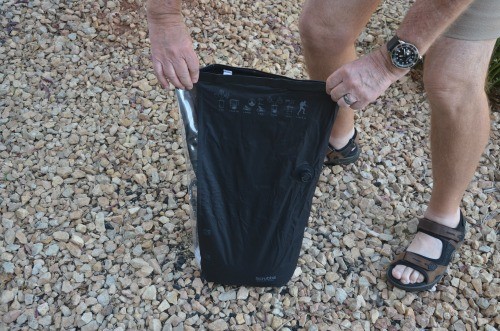 Here are some additional ideas where I'm quoting from their website:
Features & Benefits:
Wash clothes wherever and whenever you want.
Wear this versatile daypack as either a backpack or messenger-style sling bag, with or without a waist strap.
Keep gear dry – it is a weatherproof day pack.
Clean your clothes twice as effective as hand washing*
Pack fewer clothes and travel with a lighter backpack, bag or suitcase.
Grip circles on the outside prevent sliding on surfaces when washing.
Achieve a machine quality wash in 6 easy steps.
Alleviate the need to ineffectively wash clothes in dirty hotel sinks.
Avoid excess airline baggage fees by packing fewer clothes.
Save money and water when doing laundry while traveling.
Great for day trips, sightseeing, carry on, family outings, beach trips, cycling, commuting.
User instructions printed on the outside of the bag.
Transparent window to monitor washing and water levels.
Grip backing on the outside to prevent sliding on surfaces while washing.
Easy release air valve.
Adjustable shoulder and waist straps.
Made from high-quality polyether urethane coated nylon.
I highly recommend them for camping, traveling by air or on a road trip. You can have clean clothes and never use the hotel sink again. If you have access to water, this is a dream come true for all of us. Thanks again for being prepared for the unexpected. May God bless this world.