Best Times to Purchase Produce By Month
I have been trying to write articles this week on the food we all eat or drink on a daily or weekly basis. I really wanted to post about the best times to purchase our produce each month. Are you like me and you see some oranges and you buy them and take them home and start to peel them and they either taste really good or sometimes there is no flavor? This is why today's post may help us all by buying our fruits and vegetables in season. Hence, they may be juicer and more flavorful.
Fruits and vegetables are a staple in any home. Finding out when the best time to buy fruits and veggies is essential. Here is a helpful guide to ensure your fresh produce will be healthy and delicious! Many of the fruits and vegetables on this list freeze well. If you desire to enjoy some of them all year long, stock up so you can enjoy them even if they aren't in season.
The nice thing about buying or growing excess produce, we can freeze it, dehydrate it or bottle extra fruits and vegetables at the peak of their flavor. I can still remember our daughter, Heidi, grabbing a quart jar of peaches we had bottled the summer before and we would toast some homemade bread to go with it. I bet you can almost smell the bread baking, right? Here's my post about making my no-fail bread recipes.
If you have freshly ground wheat flour, bread flour, yeast to name a few items you'll need, you can make bread, I promise. There is nothing more awesome than punching down a bowl of bread dough and forming it into bread or dinner rolls. Oh, and don't forget the cinnamon rolls. Cinnamon Rolls by Linda and Bread Recipes by Linda
I realize if we have a garden we can sometimes plant and produce some vegetables before they hit the store. I'm thinking fresh peas, for one. I can almost grow russet potatoes year round. Not quite but it's close. Once you grow Non-GMO Organic potatoes you can never buy them again at the store. I will tell you this, freshly picked potatoes taste so much better than the ones that are shipped to the grocery stores. I still buy those occasionally, but they are not as moist as my homegrown ones.
I grow them in pots that are about 18-inches tall and 18-inches in diameter with a spigot that waters them. There is nothing I love more than watching my grandkids dig for potatoes. I love it, every time!!!
The great thing about having a garden is you can replant and overlap planting your plants or seeds to keep producing several months.

My dream is to have a lemon tree, I would love to go out my back door and pick some lemons. Do you have fruit trees? Our home/yard here is too small to have fruit trees like we use to have. I look for land all the time. I can dream….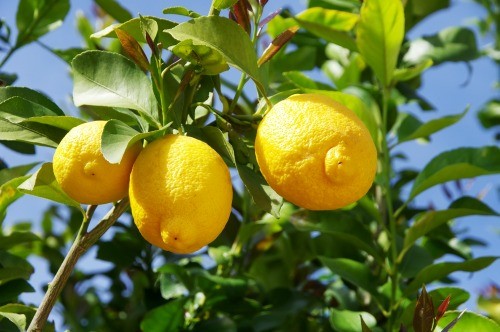 Do you have a fruit you wish you could grow or plant, whether a bush or tree? I would love to pick blackberries and raspberries for sure. I love avocados, and wouldn't it be fun to pick some of them when ripe in your backyard? Maybe you do! If you have them, I'm jealous in a good way.

Produce In Season-Best Time To Buy
January
Fruits:
Lemons, grapefruit, tangelos, oranges, kiwis, pears, avocado.
Vegetables:
Split peas, broccoli, carrots, cauliflower, celery, cabbage, spinach, kale, brussels sprouts, leeks, parsnips.
February
Fruits:
Raspberries, strawberries, kiwis, grapefruit, oranges, lemons, avocado, tangelos.
Vegetables:
Broccoli, brussels sprouts, cabbage, cauliflower, kale, leeks, parsnips, turnips, onions, potatoes, artichokes, asparagus, carrots, celery, chard, spinach, kale.
March
Fruits:
Pineapple, lemons, limes, raspberries, strawberries, oranges, tangerines.
Vegetables:
Artichokes, broccoli, cauliflower, lettuce, mushrooms, radishes, turnips, leeks, brussels sprouts, celery, swiss chard.
April
Fruits:
Pineapple, grapefruit.
Vegetables:
Lettuce, mushrooms, asparagus, peas, broccoli.
May
Fruits:
Apricots, bananas, cherries, mangoes, blackberries, strawberries, raspberries.
Vegetables:
Carrots, onions, peas, okra, swiss chard, zucchini.
June
Fruits:
Blueberries, cantaloupe, cherries, kiwi, peaches, watermelon.
Vegetables:
Corn, lettuce, zucchini.
July
Fruits:
Blackberries, blueberries, kiwi, mangoes, peaches, plums.
Vegetables:
Summer squash, cucumbers, corn, zucchini.
August
Fruits:
Apples, cantaloupe, mangoes, kiwi, peaches, tomatoes.
Vegetables:
Swiss chard, acorn squash, butternut squash, green beans, peppers.
September
Fruits:
Apples, cantaloupe, grapes, mangoes, pomegranates, pumpkins.
Vegetables:
Acorn squash, beets, butternut squash, cauliflower, green beans, lettuce, mushrooms, spinach.
October
Fruits:
Cranberries, apples, grapes, pomegranates, pumpkins.
Vegetables:
Beets, broccoli, Brussels sprouts, butternut squash, cabbage, cauliflower, leeks, lettuce, mushrooms.
November
Fruits:
Oranges, cranberries, tangerines.
Vegetables:
Beets, broccoli, brussels sprouts, cabbage, leeks, spinach, turnips.
December
Fruits:
Pears, grapefruit, oranges, papayas, tangelos, tangerines, pomegranates.
Vegetables:
Broccoli, brussels sprouts, cabbage, cauliflower, kale, leeks, mushrooms, parsnips.
Thanks for stopping by today, it means a lot to me. I hope this post inspires you to grow your own food. Please try and use organic soil, plants, seeds, and trees. We must be self-reliant and grow our own food. I'm extremely worried about our food chain. Please watch some Netflix food documentaries, and decide for yourself what food is right for you. I know what I will eat. Yes, it includes processed chocolate, but besides that, I want to eat only healthy whole foods. Thanks for being prepared for the unexpected. May God bless this world.
My favorite things: