Baked Beans You Will Love To Make For Dinner
Baked beans are sometimes baked, but they are also cooked on top of the stove. I have been known to make baked beans in a slow cooker. They are more like baked beans in a sauce made with different ingredients. I really like bell peppers, onions, and bacon. It's that time of year when you may need a new recipe to take to a neighborhood party, or possibly a family reunion. I want to share this really good baked beans recipe with you today so you can try it ASAP before you go to your next get-together.
I like my beans with a little thicker sauce so I like to cook mine without a lid or cover on the pan in which I bake them. You can use your favorite barbecue sauce, but I tend to like of these in the recipe:"Sweet Baby Ray's Barbecue Sauce" or "Kinder's Barbecue Sauce," it's your personal preference.
Baked Beans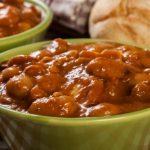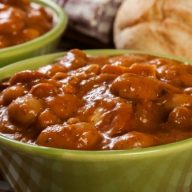 Baked Beans by Food Storage Moms
Ingredients
Ingredients:

1

16-ounce can white beans

1

16-ounce can black beans

7-8

slices

of bacon cooked and crispy broken into bite-size pieces

3/4

cup

cooked pulled pork

Saute the onions and bell pepper:

One small sweet onion chopped into bite-size pieces

One red bell pepper-chopped into bite-size pieces

Sweet Baby Ray's Barbecue Sauce to taste
Instructions
Instructions: Combine ingredients and bake at 350 degrees for about 30-40 minutes or until the edges bubble. I do not cover the beans. You can also cook them in your slow cooker on low for about 4-5 hours.
Ideas To Go With Baked Beans:
Hot dogs with condiments
Hamburgers with condiments
Chips and dips
Vegetable Sticks with various homemade dips
Fruit on a platter
Water with lemon slices, don't forget the ice
Tablecloth, paper plates, cups, and utensils, don't forget the serving spoons
Are any of you going to a family reunion this year? Do you add any items to your baked beans that you love? I hope you are enjoying the weather where you live, life is good! Please be prepared for the unexpected. May God bless you and your family.
My Favorite Things:
Copyright pictures:
Beans: AdobeStock_162297351 by Bartf