Yellow Squash: The Best Way To Cook It
Today it's all about yellow squash and how to cook it. Yes, we can bake it, fry it, and add it to soups, but for some reason, this is my very favorite way to cook it.
Years ago, I just sliced the summer squash in circles and dipped them in milk and flour, and then we would fry them. Then, I realized my family likes to dip them in buttermilk ranch salad dressing.
So I changed my circles to finger-like shapes of 1 inch by 3-inches. These make perfect dippers! In case you missed this post, How To Grow Squash
Yellow Squash: The Best Way To Cook It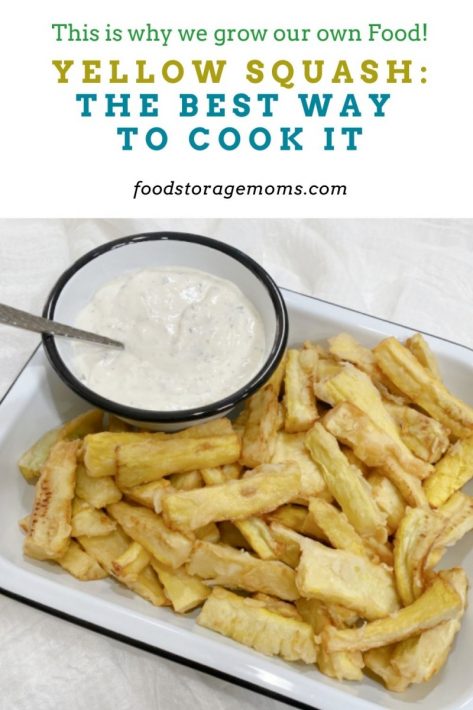 Kitchen Items You May Need:
Step One
The first step is to gather the ingredients, which are yellow squash, milk, flour, and oil. I also like to have my cooling rack ready with some paper towels under it to catch the excess oil in the cookie sheet.
Step Two
Next, you start soaking the squash in the milk for just a few seconds.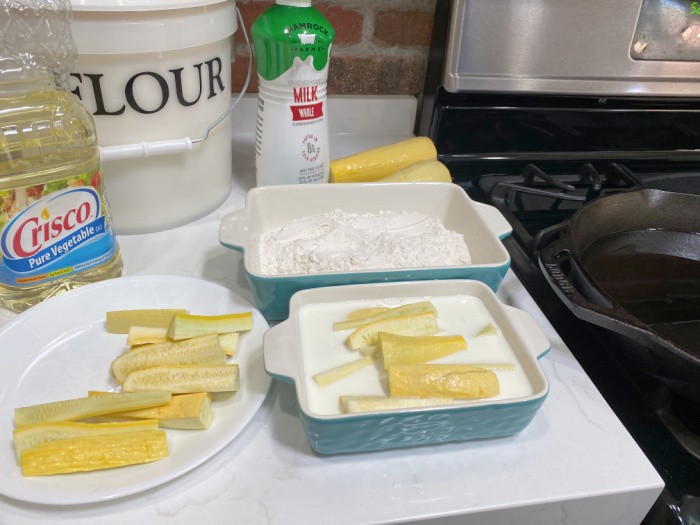 Step Three
Lift the squash out of the milk and dredge in the flour, making sure the squash pieces are totally covered with the flour.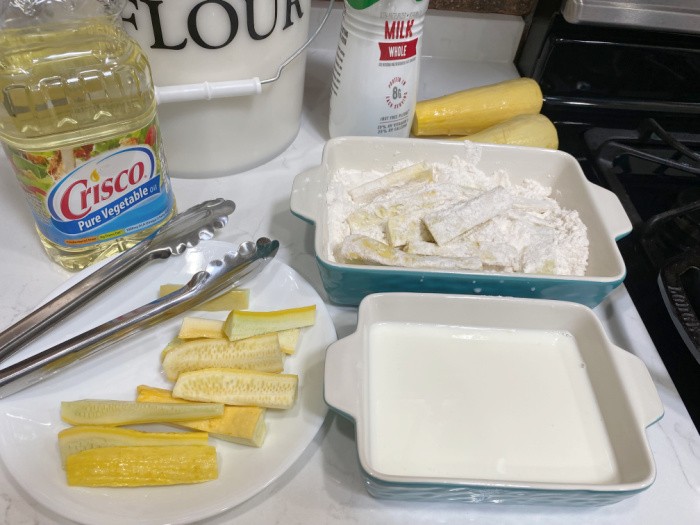 Step Four
This is a 12-inch Lodge Cast Iron Pan, it's by far my favorite frying pan in the kitchen. I leave it on my stove every single day. It's nice to have a pan without handles.
Yes, I have to use hot pads if I need to move it. You don't want to fry too many at once, depending on the size and shape you cut.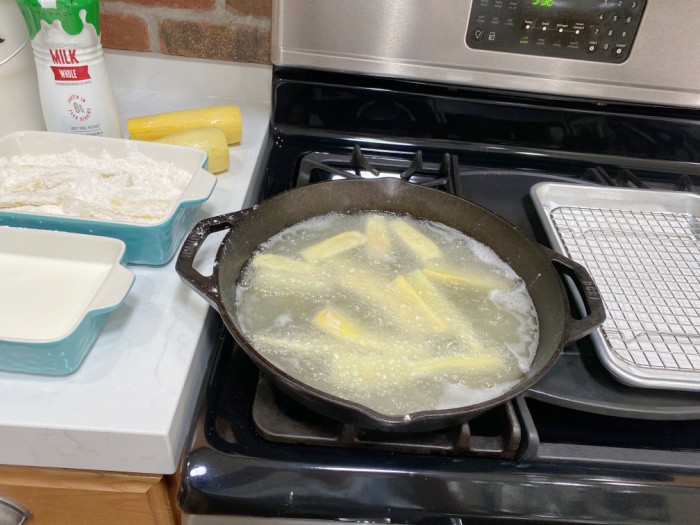 Step Five
I use this Stainless Ladle Strainer to lift the cooked squash out onto the cooling rack to the right as shown below. Is your mouth watering yet? Oh my gosh, there is nothing better than growing your own food.
Step Six
Now, you will continue cooking the batch of squash pieces you have cut and let them drain on a cooling rack. You can sprinkle salt on them if you like. I eat them with and without any seasoning.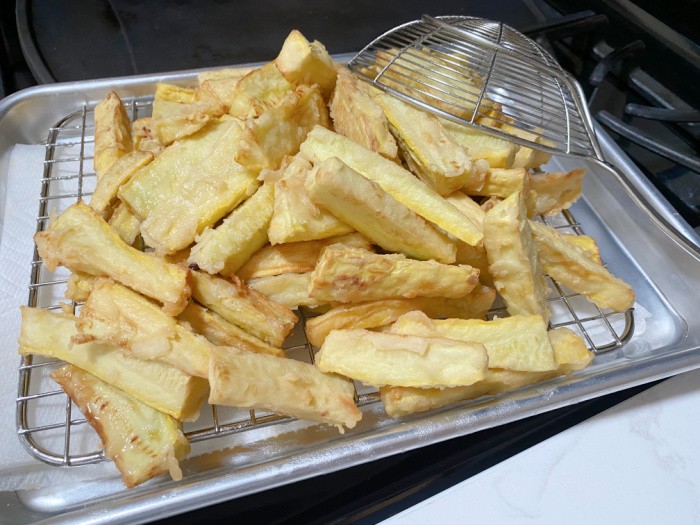 Finished Product
In Utah, we have two sauces that are somewhat famous. One is buttermilk Ranch Salad Dressing, or dip in this case. The other one is called "Fry Sauce" which originated at one of the best hamburger joints in Utah.
It's called Arctic Circle. The fry sauce is a secret recipe that we all try to duplicate with mayo and ketchup.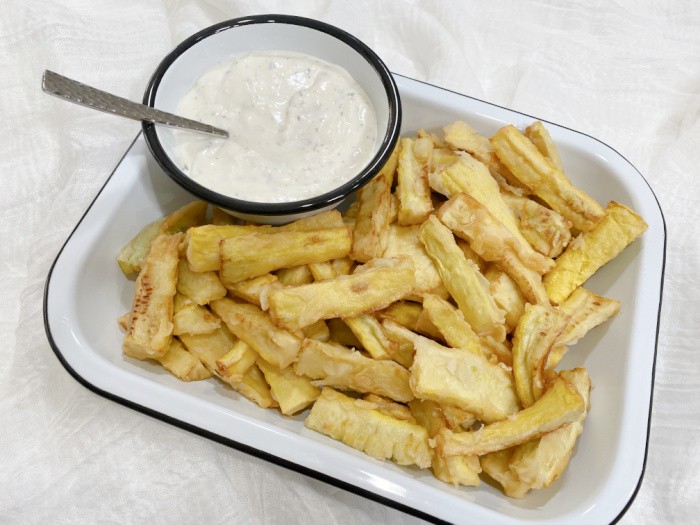 Can I use a different flour to make them Gluten-Free?
If you use the flour made by King Arthur 1:1 it should work great. I have never tried almond or coconut flour. I have used Panko Bread Crumbs as well as plain bread crumbs.
Would another milk work for dipping the summer squash?
Absolutely, I use buttermilk sometimes.
Can I use a different oil to fry the squash?
Today, I used vegetable oil, you can use just abut any oil:
Avocado Oil
Canola Oil
Safflower Oil
Corn Oil
Is this recipe an Appetizer or a Side Dish?
It's great to use as an appetizer or a side dish to many other foods at meal time.
What can I serve with it?
Rotisserie Chicken
Fried Chicken
Pork Chops
Steaks
Roast Beef
Sliced Tomatoes
Sliced Cucumbers
Tossed Salad
Fresh Fruit
Can I fry Zucchini like this?
Yes you can, and it tastes so good!
Is this the same coating for cooking green tomatoes?
I fry green tomatoes in this same recipe of milk and flour. I have used butter milk with eggs, and panko bread crumbs as well.
How do I store these?
I store mine in the refrigerator in an airtight container or baggies.
Do I need to peel the squash before frying?
I never peel the yellow squash or the zucchini before frying.
Yellow Squash Recipe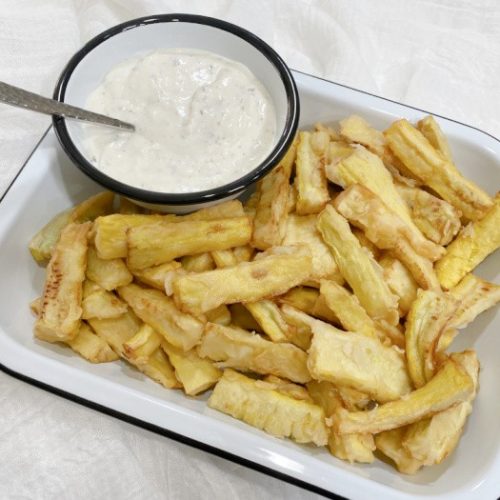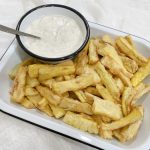 Yellow Squash: How To Cook It
Ingredients
4

yellow summer squash

2

cups

milk

4

cups

Flour

vegetable Oil, 1-1/2 inches deep in a deep frying pan

Salt and Pepper to taste
Instructions
Heat the oil to 350 to 365 degrees. Wash the summer squash, cut the ends off and slice it into pieces about 1-inch by 3-inches in length. This shape cooks more evenly than round circles. Dip the pieces in the milk and then dredge them in the flour. Place the pieces carefully into the hot oil. Cook for about 5-7 minutes depending on how many pieces you are frying. They should be golden brown when cooked thoroughly. Use a slotted spoon to remove the pieces and place them on a cooling rack with a paper towel between the cookie sheet and the cooling rack. Sprinkle with salt and pepper to taste. Serve with your favorite Ranch Dressing as a dip.
Linda's Homemade Ranch Dressing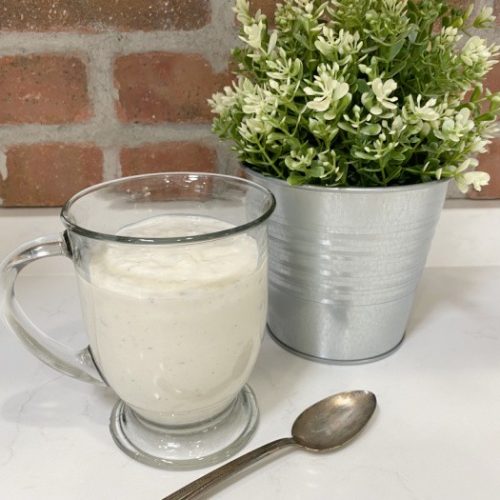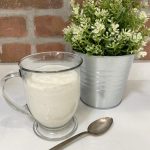 Linda's Homemade Ranch Dressing
Ingredients
1

cup

buttermilk

1

cup

mayonnaise

2-3

tablespoons

garlic powder or salt

2

tablespoons

Italian Seasoning

2

teaspoon

salt

1

teaspoon

pepper
Instructions
Mix together and store in a container. I like to use pint canning jars. This recipe is so easy to make and tastes better than any bottled ranch dressing you can buy. It is so good on a salad, coleslaw and as a dip! Please keep refrigerated.
Final Word
My garden is overflowing with summer squash this year! Did you plant any zucchini or summer squash this year? Please let me know how your garden is doing. It brings me so much joy to hear what you are growing and harvesting right now.
The last few years have taught us we must grow at least some of our food, right? I keep adding sections to my existing garden, I love dehydrating and preserving my harvest. We've had lots of tomatoes again this year. We love our BLT sandwiches for lunch just about every day. May God Bless this world, Linda