Small Pantry-Just Add Shelves
Here is one more idea of how to organize a small pantry, it's really easy. When Fall arrives my inner clock reminds me to stock up on food storage because that is usually when the canned goods go on sale. I am asked quite often "How can I store my food storage when my pantry is so small"?
Well, I showed you a few weeks ago how to add a few shelves to your regular kitchen cupboards.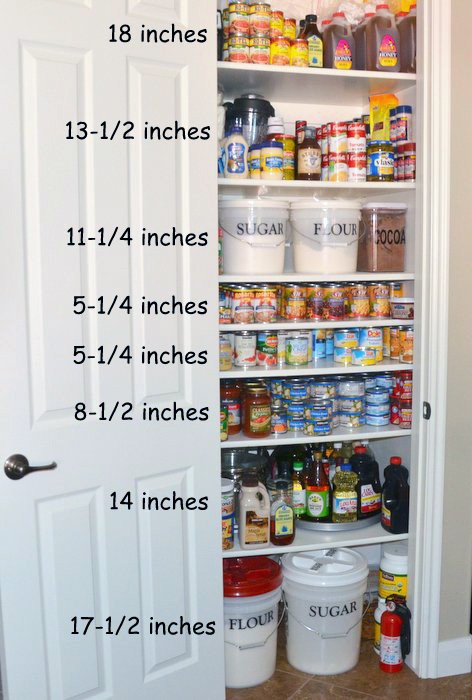 More Shelves For Your Small Pantry
By just adding a few extra shelves to your small pantry, you gain almost 50% more cupboard space depending on how your cabinets are built. I have the pantry shown below that used to have only 5 shelves. I added two more shelves to give me more space that was not as easily usable because of the height. I only have a few tall items to store in the pantry. Plus you can only safely stack cans two cans high. I have ten-foot ceilings so therefore, the pantry is taller than a house with 8-foot walls. The door alone is 8 feet tall. I want you to know those dimensions so you realize how I was able to add more shelving.
Plan Out The Shelves Of Your Small Pantry
Make a list of the various items you eat every day or every week. Then start measuring approximately how many shelves you can add. I measured and measured so many times then I went to a local cabinet place and had them cut the shelves. I picked up the exact size brackets that were already installed on the side walls. The holes were there so all I had to do was consider the depth of the shelves when measuring for the shelving.
There is something about having a pantry full of canned goods, honey, cocoa, and canned soups. I have large and small buckets of flour and sugar for everyday baking and I refill them when needed.
The favorites I have to have in my small pantry:
1. baking stuff-flour, sugar, brown sugar, powdered sugar, cocoa, oils, honey, salt
2. peanut butter, jelly, and jam
3. canned soups
4. canned beans
5. canned enchilada sauce
6, ketchup, mayonnaise, Miracle Whip, mustard
7. canned meat-tuna, chicken, and roast beef
8. canned fruits
9. canned vegetables
Here's the deal, I can't afford to make a move so I need to make the best of my situation for my food storage. I love things organized.
NEW Pantry Sticks