How To Season Cast Iron Pans To Use Every Day
How to season cast iron pans to use every day is easy to do! I love having some cast iron to cook with especially outside because I do not want to drag my other pans outside. So, I was out in Hurricane, Utah the other day at one of my favorite antique stores looking at treasures. I call the store stuff treasures because at one time all those items were a treasure to someone.  I heard one lady came in and bought all the cast iron pots, pans, etc. in the store a few days ago. We are talking filling the back of her car. I asked the owner if they were Lodge or another American made cast iron. He said he had some made in China but this lady only wanted American. Hmmmm…thats all I want as well in my cast iron pans or pots.
I remember when I was a little girl my mom always had a cast iron pan for scrambled eggs and bacon. Oh yes, we saved that bacon grease in the refrigerator, too! I have been on the lookout for used cast iron pans, Dutch ovens, griddles, etc. They are getting harder and harder to find at the thrift stores.
I recently had a group Lodge Giveaway and I chose all the items I wanted to have myself. I was so grateful that someone won the Lodge stuff and was so excited to get it! I have slowly been buying a few pieces of cast iron here and there. My goal is to build a fire pit when it gets cooler right here in Southern Utah. I have a Lodge tripod to hold a cooking pot over the fire. Can you just picture that or is it just me? I can hardly wait to build my fire pit. Oh, I want it for roasted marshmallows but I really want to be able to cook outside over a fire. Yes, my family will smell like we have been camping…I suppose you could call it wishful thinking on my end.
Buy cast iron pans at thrift stores or garage sales
Don't be afraid to buy old rusty cast iron pans or Dutch ovens. Today I am talking about new cast iron.
Wash the cast iron pans in hot soapy water
The first thing you will do with your cast iron is wash it in hot soapy water. You will need to dry it before we do the next step. The towel I used to dry the cast iron pieces had some residue on it after wiping down the cast iron lid. So I re-washed the lid a little more. It had some black residue that wiped off. I washed it until it no longer had that little black stuff on the towel.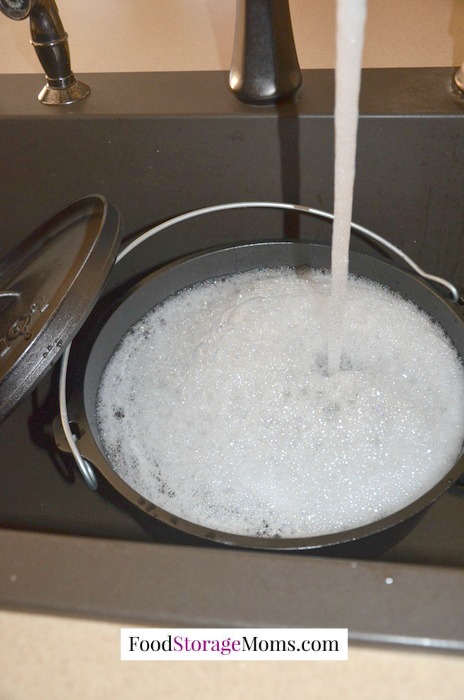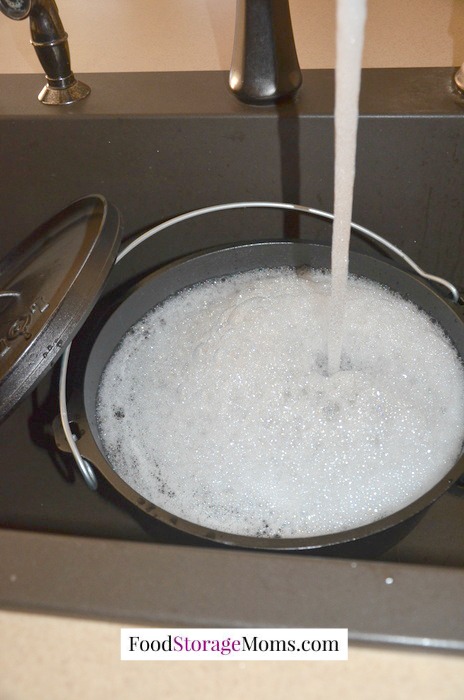 Foil on the bottom oven rack
Next, take all the racks out of your oven but the two bottom ones. Lay a large piece of aluminum foil on the bottom rack. It will catch the drips if any from the vegetable oil if it happens to drip down from the seasoning step. Preheat your oven to 350 degrees.
Spray the cast iron pans with vegetable oil
Now you can wipe with vegetable oil or as in my case I used a vegetable spray. The Lodge book showed using the spray stuff so thats how I seasoned mine. The next step is to place the cast iron items with the vegetable spray side down. This is where the foil is needed in the lower shelf of the oven.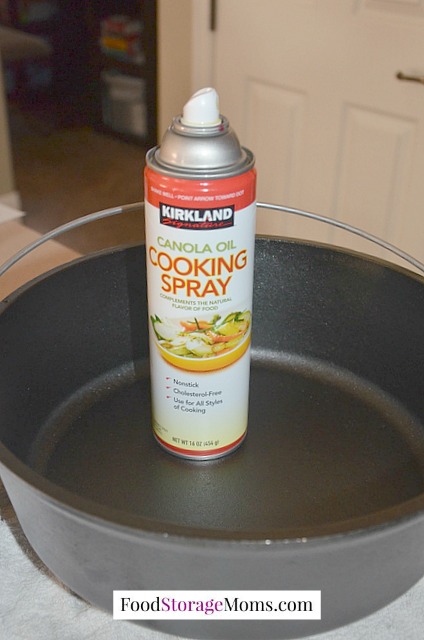 Bake the cast iron pans at 350 degrees
Bake the cast iron for 60 minutes, turn off the oven and let them cool down overnight. After this initial seasoning you should be able to take these camping or use outside and wipe out the residue from your meal while the pan is hot and it is good to go until the next time you use.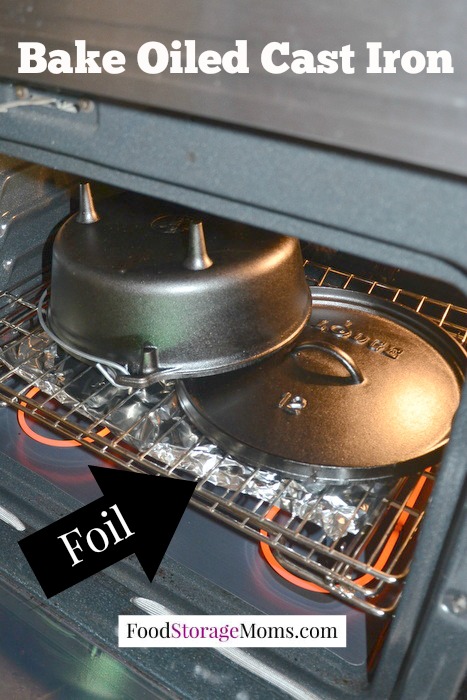 Paper Towels
I did learn a few items we need to do to keep our cast iron looking good and keep from rusting. Place a few sheets of paper towels between the lid and the pan when storing them. Add a few sheets of paper towels in the bottom of the pan as well.