How To Make The Best Homemade Hamburger Buns
When my I was raising my daughters we always made our own hamburger and hot dog buns. I had sort of forgotten about making them since we are empty nesters now. Plus, if the whole family comes we would have over 30 people, so it's easier to just buy the hamburger buns at Costco. Mark and I have friends in the neighborhood we enjoy doing things with and we usually trade off entertaining for dinner every other Sunday. I love it because I only have to cook two Sundays a month instead of four.
Well, I must tell you about my awesome friend, Kathleen. She is a lot like me, if we can make it from scratch we will do that rather than go to the grocery store to purchase whatever we are planning for dinner. Today, she surprised my husband and I by making dinner with the best homemade hamburger buns in the world! She always surprises me with "new to me" stuff. Don't laugh, I had never had a chicken burger. I know my daughters have purchased turkey burger and chicken burger to make certain dishes.
First off, I am not a meat eater. I could totally be a vegetarian, but my husband wants meat with dinner whenever possible. Dang! Anyway, the barbecued chicken burgers Kathleen cooked and served were delicious! While Kathleen was finishing up the grilling I copied down the hamburger bun recipe. The ingredients are all the things we have in our pantry. I love that!
These hamburger buns are thinner than the ones we buy at the store. They are fresh, of course, with zero preservatives. I like them because I can roll them out so my hamburger buns are not all bread. Do you know what I am saying? I like less bread and more condiments. Lots of condiments. Today I bought some homegrown tomatoes to share with Brent and Kathleen. Woohoo!
She used parmesan cheese and you really could skip that ingredient and they would still be awesome! She used a cookie sheet to let the buns rise like this one: Nordic Ware Natural Aluminum Commercial Baker's Half Sheet
Toasting The Hamburger Buns On The Grill:
The parmesan hamburger buns were the best I have ever eaten! Today she is sharing her recipe with us. Here we are toasting the buns on the grill. They are super delicious!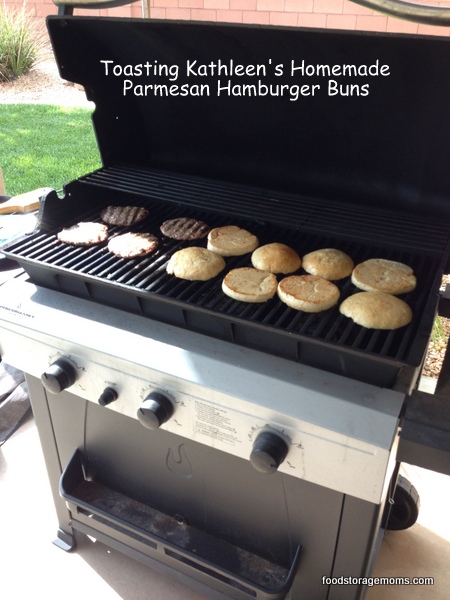 Parmesan Hamburger Buns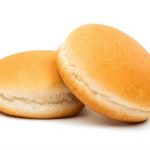 Parmesan Hamburger Buns
Ingredients
Ingredients:

2-3/4

cups

flour

I use bread flour

2/3

cup

grated fresh parmesan cheese

1

teaspoon

sea salt

1

teaspoon

onion powder

2

Tablespoons

sugar

4

Tablespoons

butter-softened

1

egg

2/3

cups

water

2-1/2

Tablespoons

SAF instant yeast
Instructions
Instructions:

Add all of the ingredients in order shown above into your Bosch Mixer or Kitchen Aid Mixer with the dough hook. This is by far the easiest recipe to make hamburger buns or hot dog buns (depending on how you shape them). I add more flour until mixture pulls away from the sides of the bowl. Cover and let rise with greased plastic wrap for about one hour. Remove plastic and evenly divide the dough into 6 balls. Roll each ball and tuck the edges under and place on greased cookie sheet. Flatten each ball to about 3-1/2 to 4 inches wide. Cover the rolls with plastic wrap and let rise until double. Remove plastic wrap and bake @ 350 degrees for about 20-25 minutes until golden brown.