How To Make Cranberry Pie For Christmas or Thanksgiving
If you want to know how to make Cranberry Pie for Christmas or Thanksgiving, this recipe is so yummy and easy! This is a family recipe from my sister, Denise. As always, we all tend to tweak our favorite recipes as each year passes. As I was mixing the ingredients, my husband said: "add a little more sugar to that cranberry mixture"! I did add an additional 1/2 cup of sugar as the recipe stated to do if you would like a sweeter pie. I must make a disclaimer here. I have never made this cranberry pie, but my sister has told me about it for years.
So, I called her to get the recipe and purchased the cranberries and the pie crust. I usually make everything from scratch but pie crust. Here's the deal with me and pie crust, if I make the pastry it is tough and chewy. If Marie makes it, it is light, flaky and delicate. (Marie as in Marie Calendars-the frozen section). Okay, I used a hand chopper to chop the fresh cranberries.
If you have a food processor that would be great. The recipe calls for only four cups of cranberries so I just hand chopped them. Next year I will try my freeze dried cranberries. Yes, companies have just started to sell them!!! I have readers back East that dehydrate the ones from their yards….they are so lucky!!! You can also freeze the cranberries you can purchase from the stores right now. Then you can enjoy them all year.
Here's the deal with the lattice top. This is my first lattice top and probably the last one I will ever make. I usually buy pies at the local bakery here maybe twice a year. I must say this pie is really yummy. It's almost like a cherry pie, but a little more tart. The lattice top is a little harder to make, at least for me. Next time I will glaze the pie crust with the egg whites because the crust is a little more yellow than I would like to see. My sister, Denise lives in Texas and we all know how good the food is in Texas!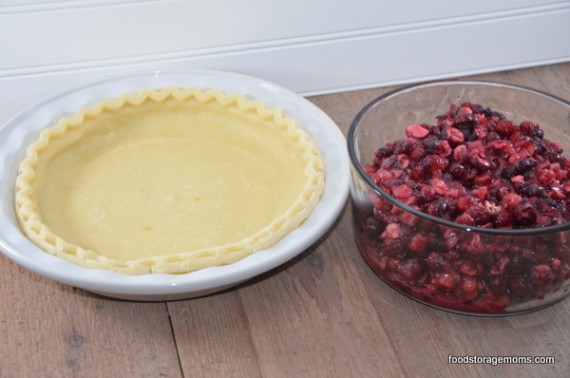 This is how easy it is to make this pie, except for the lattice top. I have wanted to go to Texas for years when my sister would make this…..love it Denise! XOXO
Cranberry Pie by Denise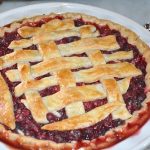 Cranberry Pie by Denise
Ingredients
4

cups

chopped fresh cranberries

¼

teaspoon

sea salt

2

cups

sugar

2

Tablespoons

flour

2

Tablespoons

butter

1

egg

beaten for glaze

pastry for a 2 crust 9-inch pie
Instructions
Combine the cranberries, salt, sugar, flour and refrigerate the mixture one or more hours. Add the butter when you add the cranberry mixture into the pie crust. Make a lattice pie crust for the top of the pie. Brush the pie crust lattice top with an egg for glaze.

Preheat oven to 450 degrees. Bake the pie 10 minutes. Then lower the oven to 350 degrees and bake another 45 minutes. Serve pie in wedges with vanilla ice cream or whipped cream.