Baking Soda: Everything You Need to Know
One of the Best Foods You Need In Your Pantry is baking soda. It is one of the most widely used baking ingredients in bread, cakes, and cookies. But, baking isn't the only reason you should stock it in your pantry!
Baking Soda: Everything You Need To Know
You may stock baking soda for all your baking needs, but did you know that this common household ingredient has many other uses as well as health benefits? Here is everything you need to know about baking soda.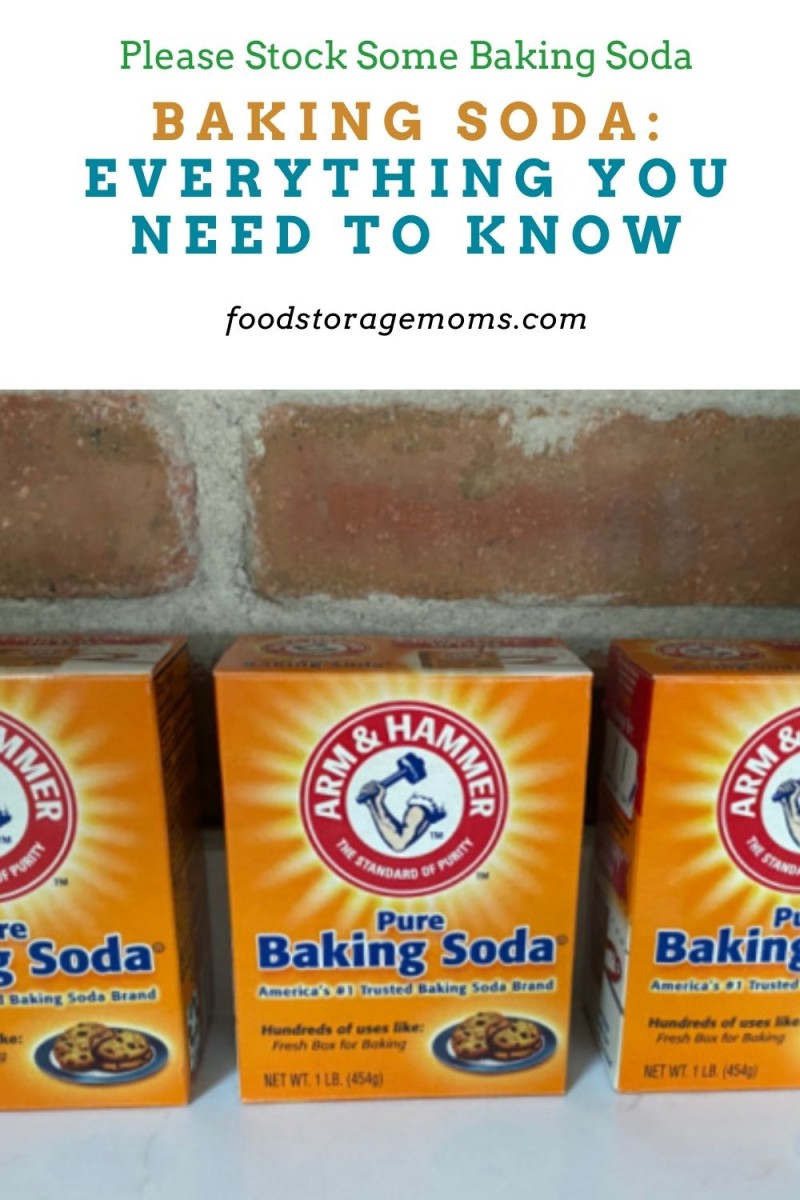 What is Baking Soda?
Baking soda, also known as sodium bicarbonate, is a white powder that is most commonly used as a leavening agent in baking. It is found in a crystalline form in nature, but we grind it into a fine powder to use in baking and cooking. We will use the terms sodium bicarbonate and baking soda interchangeably in this post.
How Does Baking Soda Work?
When mixed with an acidic ingredient, such as yogurt or lemon juice, baking soda releases carbon dioxide gas. This gas forms small bubbles in the dough or batter, and it is these bubbles that cause the bread to rise or the cake to fluff up.
Best Uses for Baking Soda
In addition to being a leavening agent, this baking ingredient has many other uses around the house. Here are some of the most common:
1. Natural Cleaning Agent
Sodium bicarbonate is a great natural cleaning agent. It can be used to clean your kitchen counters, bathroom fixtures, and even your car. To make a natural cleaning solution, you will need to mix baking soda with water in a 1:3 ratio.
2. Deodorize Your Home
Baking soda can also be used to deodorize your home. To do this, simply sprinkle some of it on the carpets and furniture, let it sit for a few hours, and then vacuum it up. You can even place an open container in the refrigerator to absorb odors.
3. Extinguish Oil and Grease Fires
If you have a small grease or oil fire, sodium bicarbonate can be used to extinguish it. This is because it reacts with the heat to produce carbon dioxide, which smothers the fire. However, it can't distinguish larger house fires since there's too much oxygen.
4. Homemade Weed Killer
Weeds have deep roots which make them hard to get rid of without a weed killer. However, this common household ingredient can be used as a cheaper and safer alternative. Simply sprinkle a few handfuls of sodium bicarbonate over the weeds to kill them. Keep in mind that you won't want to use it in your gardens or flower beds as it may harm your other plants as well.
5. Pesticide Remover
If you're looking to live a more green lifestyle, you can use sodium bicarbonate as a nontoxic way to remove pesticides from your fruits and vegetables. All you need to do is soak them in a baking soda solution for 12-15 minutes before rinsing them off. Be sure to rinse your fruit and veggies in cool water to remove any and all of the powder.
6. Whiten Your Teeth
Sodium bicarbonate is a natural way to whiten your teeth. This is because it has mild abrasive properties that can break the bonds of the molecules that stain your teeth. Additionally, it has antibacterial and antimicrobial properties that fight bacteria on your teeth. You can make toothpaste by combining baking soda with water or you can use it as a scrub.
You can also use this baking ingredient to freshen your breath. This is because it neutralizes the acids in your mouth that cause bad breath. You can either gargle with a baking soda solution or add it to your toothpaste.
7. Remove Odors
Baking soda is also effective at removing odors. This is because it absorbs moisture and eliminates bacteria. You can use it to remove odors from your refrigerator, dishwasher, or carpets.
Baking Soda Health Benefits
Not only does this common household ingredient have more uses than just baking, but it actually has quite the list of health benefits as well. Here are several ways baking soda is healthy for you:
1. Can Help Relieve Heartburn and Indigestion
Baking soda can help relieve heartburn and indigestion by neutralizing the acids in your stomach. To do this, mix 1/2 teaspoon of baking soda with a glass of water and drink it. Be sure and consult with your medical professional.
2. Helps Relieve Constipation
If you're having trouble going to the bathroom, baking soda can help. Mix 1/2 teaspoon into a glass of water and drink it. Baking soda will help to increase the pH of your intestine and make it less acidic, which will then help to soften your stool and make it easier for you to use the bathroom. Be sure and consult with your medical professional.
3. May Help Cancer Treatments Work Better
Some studies have shown that baking soda can help make cancer treatments, like chemotherapy, work better. This is because it can help to increase the pH in tumors, making them more alkaline. This may make it easier for the chemotherapy drugs to kill the cancer cells. Be sure and consult with your medical professional.
4. May Slow the Progression of Kidney Disease
People who have chronic kidney disease slowly lose their kidney function. One study showed that taking a daily dose of this common household ingredient may help to slow the progression of kidney disease. Be sure and consult with your medical professional before using it.
5. Helps with Itchy Skin and Sunburns
Sodium bicarbonate can be used to help soothe itchy skin and sunburns. You can make a paste by mixing baking soda with water, and then applying it to the affected area. Leave the paste on for a few minutes, then rinse it off with cool water.
6. Reduces Inflammation
This common household ingredient can help to reduce inflammation in your body. This is because it helps to neutralize acids in your blood, which can then reduce swelling and pain. Be sure and consult with your medical professional.
7. Could Improve Exercise Performance
Did you know that sodium bicarbonate is a popular supplement among athletes? This is because it can help to improve exercise performance. It does this by helping to keep your body from becoming too acidic, which can then cause you to fatigue more quickly. In fact, one study found that people who took it exercised for an average of four and a half minutes longer than those who didn't.
Does Baking Soda Go Bad?
It doesn't really expire. In fact, it is good indefinitely past its best by date. However, over time, it can lose its potency. If you're not sure how old your baking soda is or if it has lost its potency, there's a simple test you can do to find out. Just pour a little bit of vinegar into a bowl and add some baking soda to it. If it fizzes and foams, it's still good. If not, you'll need to get replace it. Please remember to rotate what you stock. When in doubt, throw it out.
Baking Soda vs. Baking Powder
Baking soda is often confused with baking powder. Both do many of the same things, but have a different makeup. Baking powder is made up of sodium bicarbonate, but it also has an acid, such as cream of tartar, in it. Baking soda on the other hand does not have acid in it. Therefore, recipes with other acids in them would require sodium bicarbonate, and recipes with no acids use baking powder.
Final Word
When it comes to prepping and stocking, baking soda should be something you make sure you have. You can use baking soda in the house for a variety of reasons other than baking, but it also has several health benefits. Keep it stocked, and check it periodically for potency if it's past its expiration date. Remember, luck favors the prepared. May God Bless this world, Linda